Chronic recurrent multifocal osteomyelitis (CRMO) is a rare, genetic auto-inflammatory disease that affects 1 of every 1,000,000 children.
Children with CRMO experience severe bone pain and have elevated levels of inflammation markers in their blood. However, little is known about genetic mutations that lead to the development of CRMO.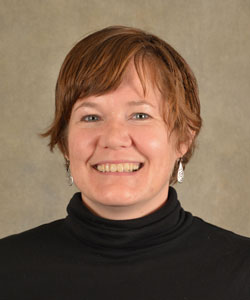 Allison Cox's dissertation work provided a better understanding of the genetic basis for CRMO. Using family-based analyses, she concluded that multiple genes in the same biological pathway are likely involved in this complex disease.
The Graduate College awarded Cox with the Rex Montgomery Dissertation Prize for her dissertation, "Whole Exome Analysis of Individuals and Families with Chronic Recurrent Multifocal Osteomyelitis (CRMO)." Cox, who earned her Ph.D. in genetics at the University of Iowa in 2016, will be honored during a ceremony at the James F. Jakobsen Graduate Conference in March 2018.
Linking gene mutations to CRMO
Cox used over 70 DNA samples from patients and their family members as the primary method of mutation detection. In a family, exome sequencing identified 22 genes. Of the 22 genes, FBLIM1 stood out as it was the most differentially expressed gene in a CRMO mouse model and given its documented role as an anti-inflammatory molecule involved in bone remodeling.
She also performed a genetic analysis of two families where either a child or children with CRMO have a strong family history of severe psoriasis. The top gene likely to cause disease from each family is involved in the same pathway as FBLIM1.  In an overall association analysis comparing cases to controls, another gene involved in both inflammation and bone remodeling, was found to be significantly enriched for rare mutations. 
"The candidate genes I found are all connected to the same pathway and I think in some children, more than one mutation is required to cause disease, like one mutation induces chronic inflammation, and another mutation disrupts bone remodeling" Cox says.
Clinical impact
According to UI faculty members who worked with Cox, her genetic research could impact clinical treatment of patients with CRMO.
"I anticipate that Allison's work will culminate in the development of a panel of genes used in the diagnosis of CRMO, as well as novel treatments for the disease that may also be used to treat the more common auto-inflammatory diseases psoriasis and inflammatory bowel disease," says Alexander Bassuk, professor of pediatrics, faculty member in genetics, and Cox's advisor.
Cox is currently a post-doctoral scholar under the supervision of Dr. Benjamin Darbro at the University of Iowa. In December, she will start a job and fellowship in clinical genetics at Yale University.