Based on their excellence in doctoral research, three University of Iowa graduate students have been recognized for having the best dissertation in their fields at the UI in 2016.
The Graduate College honored Effie Kapnoula with the D.C. Spriestersbach Dissertation Prize and Deborah Burdsall and Ernest Chivero with the Rex Montgomery Dissertation Prize.
Kapnoula, who earned her Ph.D. in psychology in 2016, won the Spriestersbach Prize in the social sciences.
Burdsall, who earned her Ph.D. in nursing in 2016, and Chivero, who achieved his doctorate in molecular and cellular biology in 2015, both received the Montgomery Prize, which is awarded annually in the biomedical and health sciences disciplines.
The scholars were nominated by members of their dissertation committees and will be honored during a ceremony at the James F. Jakobsen Graduate Conference on March 25, 2017.
Dissertation prize namesakes
The Spriestersbach Prize is named for Duane C. Spriestersbach, who served as Graduate College dean from 1965 to 1989. When the prize was founded over 30 years ago, Spriestersbach hoped it would "serve as tangible evidence—as 'gold standards'—of the outstanding work of which graduate students are capable and to which all others should aspire."
As winner of the Spriestersbach Prize, Kapnoula is the UI's nominee for the Council of Graduate Schools/ProQuest Distinguished Dissertation Award. This national award is the most prestigious dissertation prize in the country. Iowa has had five national winners, more than any other public institution.
The Montgomery Prize is named for Rex Montgomery, an emeritus professor of biochemistry in the Carver College of Medicine (CCOM). Montgomery began at the UI as an assistant professor in 1955 and became a full professor in 1963. He was associate dean for academic affairs in the CCOM from 1974 to 1995 while also serving as associate dean of research in the CCOM and interim vice president of research.
Insight into early stages of speech perception
Effie Kapnoula's dissertation, "Individual Differences in Speech Perception: Sources, Functions, and Consequences of Phoneme Categorization Gradiency," examined speech perception, specifically the nature of the categories we use to process speech. The big question of speech perception is whether its categories are categorical (people retain only Effie Kapnoula whether a sound is "ba" or "pa") or gradient (they preserve how "ba-like" or "pa-like" a sound is).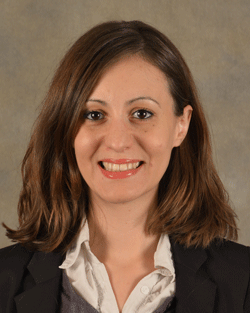 What makes a listener gradient? What are the consequences for other aspects of perception?
To answer these questions, Kapnoula conducted four studies with over 450 participants.
Kapnoula concluded that a gradient description characterizes people on average, but when you look at people individually they differ. Some are categorical and others are gradient.
In addition, she discovered that there are two ways to show a gradient pattern of performance. You can be truly gradient or you can unsuccessfully attempt to be categorical (making an either/or decision). People with impairments (dyslexia, brain damage, etc.) are the latter.
Furthermore, Kapnoula showed that more gradient people are better able to integrate multiple cues to verbally distinguish one word from another.
"It's rare that a dissertation is 100 percent successful, but Effie's was," says Bob McMurray, professor of psychology and Kapnoula's dissertation advisor. "It has opened up our understanding of speech categorization like few other bodies of work I can think of; it makes clear links to practical concerns, and it links brain and behavior like few other projects."
Kapnoula is advancing her research as a postdoctoral fellow at the Basque Center on Cognition, Brain, and Language in Spain.
Preventing infection
Deborah Burdsall's dissertation, "Exploring Inappropriate Glove Use in Long Term Care," took a significant step in identifying an overlooked cause of healthcare associated infections (HAIs): inappropriate use of gloves by healthcare providers.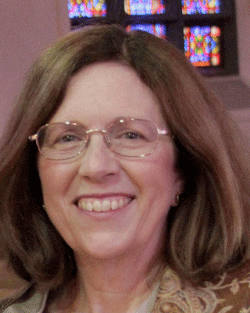 HAIs are a major cause of health concerns in people treated in healthcare facilities. Decreasing HAIs would substantially prevent the associated complications and save millions of healthcare dollars. Burdsall addressed the issue of HAIs by developing a glove use tool (GUST), which is the first tool of its kind. Her dissertation found that health care providers may be overusing gloves.
Burdsall's findings show that contamination of the patient and/or environment with gloved hands far exceeds contamination with bare hands. Appropriate glove use must be incorporated with hand washing measures to prevent cross-contamination and HAIs.
"I believe this tool will be widely adopted by health care providers in order to decrease the inadvertent spread of infections within the healthcare environment," says Sue Gardner, professor in the College of Nursing and Burdsall's dissertation advisor.
Fighting virus with virus
Ernest Chivero's dissertation, "Tropism of Human Pegivirus (formerly known as GB Virus C) and Host Immunomodulation: Insights into Viral Persistence," focused on an unusual human virus: human Pegivirus (HPgV), one of only two RNA (ribonucleic acid) viruses that cause persistent human infection, the other being hepatitis C virus. Chivero characterized cells containing HPgV RNA and found it in several cell types (T and B lymphocytes, NK cells, and monocytes). Interestingly, he found HPgV RNA in small vesicles of human origin that are able to transmit this viral RNA to various immune cells, thus contributing to viral spread. These findings could explain the reduction in immune activation observed in individuals infected with HPgV and HIV.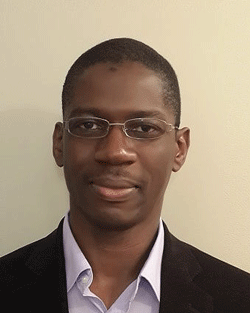 Despite use of antiretroviral therapy, immune activation and inflammation continue to affect a large proportion of individuals. HPgV infection, while causing no apparent disease of its own, has been shown to prolong survival in individuals infected with HIV.
In an effort to understand why an RNA virus could persist even for decades, Chivero examined the effects of HPgV on natural killer cells that, among other immune cells, play important roles in viral clearance; he found that HPgV
inhibited IL-12 receptor mediated signaling in these cells, thereby reducing immune activation.
"Dr. Chivero conducted extremely creative work with direct clinical and translational application during his Ph.D. training period," says Jack Stapleton, professor of internal medicine and microbiology and Chivero's dissertation advisor. "The studies described in his thesis are creative, original, and of high impact in understanding virus-host interactions associated with persistent infection."
Chivero currently is a postdoctoral research associate in the Department of Pharmacology and Experimental Neuroscience at the University of Nebraska Medical Center.