Based on their excellence in doctoral research, three University of Iowa graduate students have been recognized for having the best dissertation in their fields at the UI in 2015.
The Graduate College honors Erin Peters and Karen Thompson with the D.C. Spriestersbach Dissertation Prize and Sajan Lingala with the Rex Montgomery Dissertation Prize.
Peters, who earned her Ph.D. in art history in 2015, won the Spriestersbach Prize in the humanities and fine arts. Thompson, who received her doctorate in biology in 2013, won the Spriestersbach Prize in the biological and life sciences.
Lingala, who earned his Ph.D. in biomedical engineering in 2013, received the Montgomery Prize, which is awarded annually in the biomedical and health sciences disciplines.
The scholars were nominated by members of their dissertation committees and will be honored during a ceremony at the James F. Jakobsen Graduate Conference in late March 2016.
The nexus of Roman and Egyptian temple art
Under the first Roman emperor Augustus (27 BCE-14 CE), at least 24 temples in Egypt were newly built or expanded. Peters's dissertation, "Egypt in Empire: Augustan Temple Art and Architecture at Karnak, Philae, Kalabsha, Dendur, and Alexandria," challenges the current scholarly tendency to separate the art and architecture produced in Egypt under Augustus from that produced in the rest of the Roman Empire.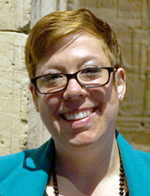 By advancing an incorporative approach that considers Augustan temples in Egypt as part of the Roman Empire, Peters enriches the current understanding of Roman art. She considers what the decorative and architectural details of temples built in Augustan Egypt can reveal about each monument's religious and social significance within overlapping contexts and communities.
Peters's research illustrates that, via the medium of architectural design, Augustus and his advisers were keenly engaged with the religious and aesthetic conventions of the ancient and prestigious culture they witnessed first-hand after Egypt's annexation into the Roman Empire in 30 BCE. Peters demonstrates how architecture was used as a means to mediate complex and changing political, social, religious, economic, and artistic contexts as Egypt was integrated into the wider Roman world.
"Her dissertation, which examines not only how the emphasis of the temple complexes change in the Augustan period but also how the image of Augustus is incorporated into temple scene after temple scene, transforms some of the basic assumptions scholars have been making about art in Roman Egypt for over a century," says Brenda Longfellow, associate professor of art history and Peters's dissertation advisor.
Peters currently holds a joint position as assistant curator at the Carnegie Museums of Pittsburgh and as a lecturer in curatorial studies at the University of Pittsburgh.
Understanding how neurons find their targets
To gain a better understanding of how sensory and motor neurons navigate the sensory cells of the inner ear, Thompson experimented on frogs, surgically transplanting their ears. Her dissertation, "Ear Manipulations Help Model Neuroplasticity Limitations," shares her unique findings.
Transplantation of developing tissues has long been used to test the potential of developing brain tissues to interact with novel targets. While three-eyed frogs were first studied in the 1970s, Thompson's study extended this work to the auditory system by transplanting ears to generate "three-eared" frogs.
By transplanting ears to new locations in the frog or by adding a third ear, Thompson created a novel situation to study how the brain adapts to a new sensory system. In addition, by removing a frog's existing ear, she examined the influence an established sensory system has on the development of neurons in the brain. Sensory neurons convey sensory impulses from sensory organs toward the central nervous system, which includes the spinal cord and brain.
Her results indicate that auditory and visual systems appear to use similar molecular and physiological mechanisms to properly integrate information within the brain.
"Karen has in a unique way combined classical transplantation techniques with modern tract tracing and computer assisted 3D reconstruction to analyze the impact of inner ear sensory neurons on the dendritic development of a single identifiable neuron in the frog brain, the Mauthner cell," says Bernd Fritzsch, professor of biology and Thompson's dissertation advisor.
Thompson is continuing her work as a postdoctoral research fellow in biology at the University of Iowa.
Next generation rapid MRI technology
Lingala's dissertation, "Novel Adaptive Reconstruction Schemes for Accelerated Myocaridal Perfusion MRI," addresses fundamental slow imaging speed limitations of MRI, and provides tools for rapid MRI technology.
While an MRI is a non-invasive procedure, traditionally it has also been slow and complicated, which greatly limits its clinical translational value for a cardiac workup. The rapid MRI tools in Lingala's dissertation positively impact diagnosis and treatment selection for coronary artery disease, which is associated with many types of cardiovascular disease (CVD).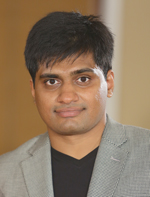 According to the latest heart and stroke statistics from the American Heart Association, CVD is the leading global cause of death, accounting for 17.3 million deaths per year.
Lingala's dissertation develops advanced magnetic resonance imaging (MRI) techniques to improve the sensitivity and specificity of myocardial perfusion MRI. Myocardial perfusion MRI is a promising tool to identify cardiac muscle tissues that are "at risk" by measuring the underlying blood flow.
"Lingala produced novel, innovative rapid MRI imaging tools targeted towards enabling whole heart free breathing myocardial perfusion MRI, which was not possible before and has high clinical prognostic value in assessing perfusion defects over the whole heart," says Mathews Jacob, associate professor of electrical and computer engineering and Lingala's dissertation advisor. "This reliably identifies sub-endocardial defects—all of which are targeted towards improved diagnosis and management of CAD patients."
Lingala is working as a postdoctoral research associate in electrical engineering at the University of Southern California.
Namesakes of dissertation prizes
The Spriestersbach Prize is named for Duane C. Spriestersbach, who served as Graduate College dean from 1965 to 1989. When the prize was founded over 30 years ago, Spriestersbach hoped it would "serve as tangible evidence—as 'gold standards'—of the outstanding work of which graduate students are capable and to which all others should aspire."
As winners of the Spriestersbach Prize, Peters and Thompson are the UI's nominees for the Council of Graduate Schools /University Microfilms International Distinguished Dissertation Award. This national award is the most prestigious dissertation prize in the country. Iowa has had five national winners, more than any other public institution.
The Montgomery Prize is named for Rex Montgomery, an emeritus professor of biochemistry in the Carver College of Medicine (CCOM). Montgomery began at the UI as an assistant professor in 1955 and became a full professor in 1963. He was associate dean for academic affairs in the CCOM from 1974 to 1995, while also serving as associate dean of research in the CCOM and interim vice president of research.