In 2009, Tatiana Mishanina began graduate school at the University of Iowa as a student. Five years later, she successfully defended her dissertation as a scientist.
Mishanina credits this change to her advisor, Amnon Kohen, a UI professor of chemistry in College of Liberal Arts and Sciences.
Kohen is winner of the 2014-15 Graduate College Outstanding Faculty Mentor Award in Mathematics, Physical Sciences, and Engineering. Kohen was nominated for the award by his students and colleagues.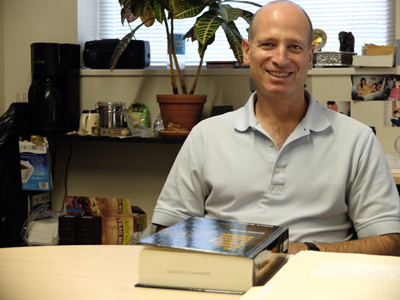 "I came to graduate school a shy, soft-spoken student," Mishanina wrote in her nomination letter on Kohen's behalf. "I walked away a confident, inspired scientist unafraid of asking questions and taking risks in research and education." Mishanina currently is a postdoctoral fellow in biological chemistry at the University of Michigan.
Kohen trains his Ph.D. scientists to be knowledgeable and open-minded. He encourages his students to develop scientific curiosity and consider alternative solutions to their research problems.
"My students do not work for me but with me," says Kohen, who studies enzymes that are important in many biological processes such as de novo DNA synthesis. "In my mind, that encourages open discussion and prepares them to take control of their project, career, and life in general."
This scientific curiosity translates into journal publications and conference presentations.
Since joining the UI faculty in 1999, Kohen has mentored 12 Ph.D. graduates and four Master's graduates. All his doctoral students have graduated with between 4 and 9 publications, mostly in top-tier journals in their field. His students also have graduated with at least 10 presentations at local, regional, national, and international conferences.
"I help students understand early on that if you haven't communicated your research to the broader scientific community and the public, it didn't happen," Kohen says.
Once Kohen's students get their degrees, he wants them to become leaders, whether it's a group leader in industry or government, or an investigator in academia.
The transformation from student to scientist occurs after his mentees take ownership of their projects.
"I have really strong expectations that my students will question the questions that I am asking and will have enough familiarity with the topics and what other groups are saying to develop new questions of their own," Kohen says.
Kohen makes departmental contributions
In addition to mentoring graduate students, Kohen has provided valuable leadership as Director of Graduate Studies in Chemistry since 2006.
Kohen has spearheaded several major changes within his department. Those changes include revision of the department's graduate student handbook, implementation of a desk rotation of incoming students, and changes to the graduate student proficiency requirements.
Sarah Larsen, professor and chair of chemistry, has observed Kohen help graduate students navigate issues such as conflicts with research advisors, changes in research groups, and personal difficulties that have affected their graduate studies.
"In each of these cases, Professor Kohen has handled the matter skillfully, confidentially, and with the best interests of the student as his top priority," Larsen wrote in her nomination letter on Kohen's behalf.
Kohen also serves students as director of both the Pre-doctoral Training Program in Biotechnology and the admission committee of the Carver College of Medicine's Medical Scientist Training Program.
Third winner in chemistry
Kohen is the third chemistry professor to be honored with the Graduate College Outstanding Faculty Mentor Award. Vicki Grassian and James Gloer received the award in 2008 and 2010, respectively.
"I am not the exception in the Department of Chemistry. We have several very good mentors," Kohen says. "It's great to join the group of people who have received this award. It's a great honor that goes back to my students."
The 2014-15 awards recognize faculty in Mathematics, Physical Sciences, and Engineering and Social Sciences. In alternate years, the awards are presented to faculty in Humanities and Fine Arts and Biological and Life Sciences.
Michael O'Hara, professor of psychology, was selected winner of the 2014-15 Graduate College Outstanding Faculty Mentor Award in Social Sciences.