Wednesday, March 25, 2015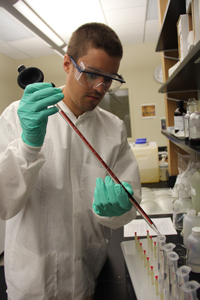 A study by University of Iowa doctoral student Andrew Nelson and his colleagues on the most effective method for measuring radium in flowback water (FBW) has been selected one of the best papers of 2014 by the journal Environmental Science and Technology Letters.
In the paper "Matrix Complications in the Determination of Radium Levels in Hydraulic Fracturing Flowback Water from Marcellus Shale", Nelson and his team investigated the effectiveness of several types of common radium analysis methods, including gamma-ray spectroscopy, emanation techniques, and EPA method 903.0.
The researchers found that a high salt concentration in the FBW sample interferes with the EPA wet-chemistry method traditionally used for drinking water analysis. They also discovered that gamma-ray spectroscopy and emanation techniques are not as affected by the high salt concentration, allowing for more accurate radium readings.
The paper was one of five honored by the journal earlier this month as the year's best.
Nelson, first study author on the paper, is a Presidential Graduate Research Fellow in the Interdisciplinary Graduate Program in Human Toxicology.
In addition to Nelson, the research team included Michael Schultz, UI associate professor of radiology and radiation oncology and senior study author; Dustin May and Marinea Mehrhoff of the University of Iowa State Hygienic Laboratory; Andrew Knight and Eric Eitrheim, UI graduate students in chemistry; Robert Shannon of Quality Radioanalytical Support, LLC in Grand Marais, Minn.; and Robert Litman of Radiochemistry Laboratory Basics in The Villages, Fla.