Tuesday, January 13, 2015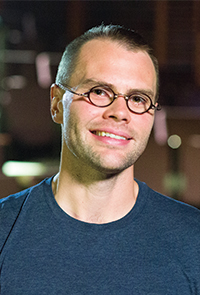 His time at Iowa aided his career
Samuel D. Hunter, who received a Master of Fine Arts from the University of Iowa in 2007, has been named a winner of a 2014 MacArthur Fellowship, also known as the "genius grant."
Hunter crafts moving portraits of unlikely protagonists and explores the human capacity for empathy through the prism of his characters' struggles. Born and raised in a small Idaho town, he sets much of his work in his native region, within the nondescript confines of staff break rooms, cramped apartments, and retirement homes inhabited by ordinary people in search of more meaningful human connections.
The Iowa Playwrights Workshop—the UI Department of Theatre Arts' MFA Program in Playwriting—is an intensive three-year program dedicated to educating playwrights for the professional theater. Hunter received an Iowa Arts Fellowship from the Graduate College to fund his education at the UI.
"The decision to apply to Iowa was probably one of the most important professional decisions I ever made," Hunter told the University of Iowa Theatre Arts Department. "Not only did it give me three years to find my voice as a writer, but through a nearly constant stream of guest artists I was able to get a sense of how someone gets their plays out into the American theater. I still have relationships with some of the artists I met while in Iowa."
The MacArthur Fellows Program awards unrestricted fellowships to talented individuals who have shown extraordinary originality and dedication in their creative pursuits and a marked capacity for self-direction. Each fellowship comes with a stipend of $625,000, paid out over five years.
Recent UI-affiliated recipients include alumnus and historian Jacob Soll (2011) and Tim Barrett, former director of the UI Center for the Book (2009).
Hunter is the second Iowa Playwrights Workshop alumni to win a MacArthur Fellowship. Naomi Wallace, a 1994 MFA graduate, received the honor in 1999.