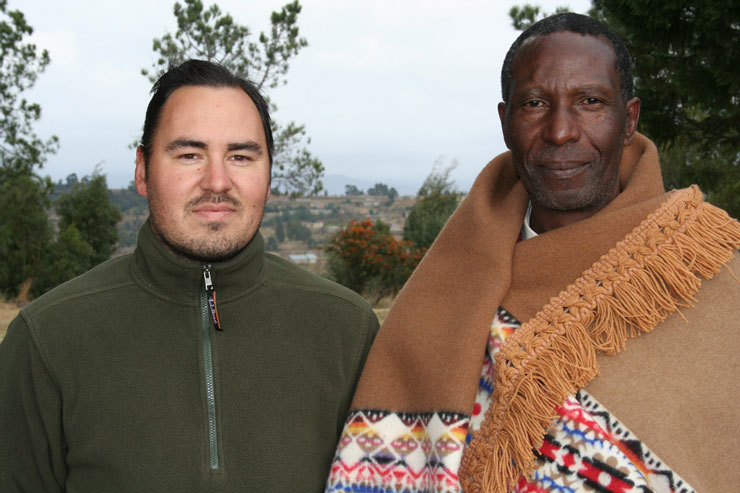 As a Ph.D. student in art history at the University of Iowa, David Riep embarked on a personal journey to complete the first catalog of the art of the South Sotho cultures in the Republic of South Africa and the African kingdom of Lesotho.
Identifying the artistic styles of South Sotho peoples—thrown together from different backgrounds under political circumstances—was challenging, but not impossible.
Having moved his family to South Africa to live among the people in Lesotho, Riep learned to speak SiSotho and earned the villagers' trust. He spent countless days with artists, learning art-making skills, attending private art-related celebrations, and immersing himself in daily interactions with their history and culture. Through in-depth conversations, observations, and meticulous documentation, Riep synthesized volumes of information to gain an understanding of how the South Sotho people have used art to express their identity throughout history.
Riep's research culminated in his dissertation, "House of the Crocodile: South Sotho Art and History in Southern Africa", which will serve as a primary document for the people of Lesotho and South Africa for generations.
"One of the main things that I take away from this experience is having worked with local communities in southern Africa," Riep says. "The kings and chiefs were shocked to see some white guy from a foreign place showing an interest in who they are and their culture. They were blown away, and that makes me smile, too."
Based on his excellence in doctoral research, Riep, who earned his doctorate in 2011, was awarded the prestigious D.C. Spriestersbach Dissertation Prize in humanities and fine arts by the Graduate College.
"I really invested a lot of myself in this research. I was overseas in southern Africa for a combined five of the last 10 years. To see this kind of recognition is amazing," Riep says. "I never thought it would have gone this far."
The Spriestersbach Prize is named for Duane C. Spriestersbach, who served as Graduate College dean from 1965 to 1989. When the prize was founded over 30 years ago, Spriestersbach hoped it would "serve as tangible evidence – as 'gold standards' – of the outstanding work of which graduate students are capable and to which all others should aspire."
Riep's research is certainly a worthy standard.
"Dr. Riep's dissertation is ground breaking, because it produces new data and then makes sense of that new data from a previously little understood field of artistic and cultural production," says dissertation committee member Barbara Burlison Mooney, UI associate professor in art history.
Wallace Tomasini, longtime UI professor of art history and another of Riep's committee members, emphasizes the far-reaching impact of this research.
"Dr. Riep's dissertation helps us to better understand that most unstable of continents will continue to be of great importance to the future positive development of our global culture," Tomasini says.
Riep, assistant professor in the MA program in museum studies at Southern University in New Orleans, traveled to South Africa and Lesotho between 2007 and 2010. He photographed approximately 20 museum and private collections of South Sotho objects, some of which had never been studied. This allowed him to compile over 1,500 images, which were a crucial part of his research, used as the basis for his methods of analysis.
Before Riep could photograph and interview South Sotho individuals, he had to earn their trust and friendship over the course of time.
"Without his detailed knowledge of the people and his friendship with his informants, it would have been impossible for him to take these photographs," says Christopher Roy, Riep's dissertation advisor and professor of art history.
"I came away with amazing research that I am very proud of. It's a valuable archive for the South Sotho people to have," Riep says. "But bigger than that, I came away with relationships and friends that I will carry with me for the rest of my life."