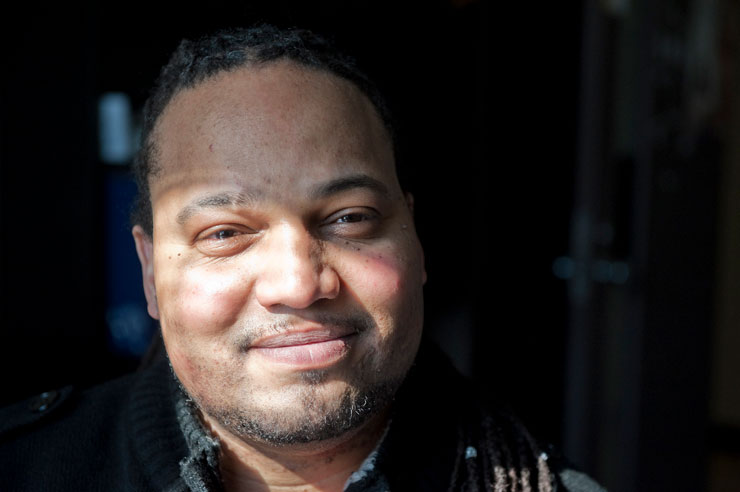 Diversity and ethnic identity were part of everyday life during André Brock's adolescence in New York City. But he was not forced to confront the realities of his own racial identity until he attended graduate school at Carnegie Mellon University in Pittsburgh, Pa.
"Carnegie Mellon was the first school I attended where I was questioned about my academic abilities because of my skin color," Brock said. "Before I even opened my mouth, they were sure I had received an affirmative action or special dispensation to get in, even though I was sure that I had better scores and better grades than pretty much everyone in my cohort.
"Before I was just smart, but now I wasn't smart. I was just lucky and black. That didn't make any sense."
At that point, Brock decided to study race and how it shapes peoples' opinions about another person.
An assistant professor at the University of Iowa since 2007, with joint appointments in the Project on Rhetoric of Inquiry (POROI) and School of Library and Information Science, Brock studies the complex interactions between race, gender, and technology.   
In February 2010, he was a panelist during POROI's public rhetoric seminar titled "Media, Space, and Race: The Case of the 'Southeast Side' of Iowa City." Brock examined online blog commentary associated with an Iowa City Press-Citizen article about a local curfew. Some of the comments contained highly-charged, negative remarks about race and ethnic diversity.
"People go online to be themselves, not to be online people or digital citizens. People use technology, like many other things, to define who they are," Brock says.
In his presentation during POROI's public rhetoric seminar, Brock reminded local residents that Iowa City isn't immune to racial strife.
"When talking about the blogs, I said people try to construct them as 'not Iowa City,' but people who contribute to the Press-Citizen blog are your colleagues or next-door neighbors," Brock said. "People were shocked, because the Iowa City they had in their minds is not this place where people are close-minded and prejudiced. But that is Iowa City as well.
"There's been a history of discrimination here that the southeast side only encapsulates because of changes in policing practices and perceptions. The state of Iowa has been progressive, but it's still America, so it has interesting attitudes toward race and community solidarity that make it a good place, but occasionally challenging for people of color who decide to live, work, and go to school here."
Brock has been selected as an Obermann Scholar for the Spring 2012 Cmiel Research Semester. He will contribute to discussions on the topic "The Dis-Integration of Black America? Post-Civil Rights African American Culture."  
Brock and the other participants will gather weekly at the UI Obermann Center for Advanced Studies to  pursue individual projects while also exchanging ideas on approaches to the study of post-Civil Rights African American culture. The goal is to advance important scholarly and creative work as participants strengthen their projects through collaborative interaction, resources, and work-in-progress in the context of weekly seminar discussions.