Tuesday, November 16, 2021
The UI Center for the Book, housed within theGraduate College, is nearing the end of a philanthropic matching gift challenge. They have raised more than $2.29 million of the $2.5 million needed by Dec. 31, 2021, to receive the matching funds from the Windgate Charitable Foundation. The challenge grant money will address three crucial needs: student funding, endowed faculty support, and professional travel. Read more about the UI Center for the Book, the matching gift challenge, and how you can donate.
As an MFA student in the Center for the Book, Katharine DeLamater loved her Fridays. Her busy weeks always concluded with a trip to the Oakdale Research and Production Paper Facility to create hand-crafted paper alongside renowned papermaker Tim Barrett, who was the main reason why she chose to attend graduate school at the University of Iowa.
Two of DeLamater's mentors at Mount Holyoke College in Massachusetts studied under Barrett at the UI, so she already knew quite a bit about this "genius" papermaker.
"His reputation precedes him, and I was so excited to meet him," DeLamater recalls. "I couldn't believe I was going to have that opportunity when I was looking at the Center for the Book.
"He exceeded my expectations. Getting to know Tim is getting to spend time with somebody who you genuinely want to spend time with. A great way to spend a Friday is out making paper and learning a lot along the way."
This spring, DeLamater was in the final cohort of papermakers who earned their MFAs under Barrett during his illustrious 34-year career at the Center for the Book.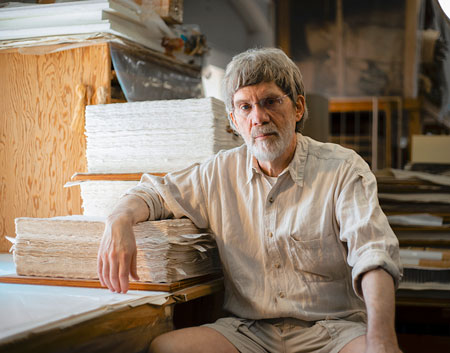 The recently retired Barrett joined the Center for the Book on the ground floor as a paper specialist in 1986 and served as its director on two separate occasions. The professor in the School of Library and Information Science taught courses that addressed the history, technique, science, and aesthetics of hand papermaking, and also oversaw the Oakdale Research and Production Paper Facility.
"The UICB began as a place for printing and publishing literature. Tim arrived to add papermaking to the mix around the same time Bill Anthony founded the Book Conservation Lab at the UI Libraries," says Julie Leonard, associate professor and director of graduate studies at the Center for the Book. "Tim turned this into an amazing experience for young papermakers and expanded the range of what the UICB was doing, including helping to realize its first educational credential that ultimately led to our offering an MFA in the Book Arts."
The road to the UI
Barrett earned a bachelor's degree in art communications from Antioch College in 1973 and later spent two years working with Kathryn and Howard Clark at Twinrocker Handmade Paper, Inc.; and two years under a Fulbright Fellowship studying papermaking in Japan.
Upon returning from Japan in 1977, Barrett had no idea how he would make a living at papermaking. He didn't see a path forward for traditional handmade papermakers. Barrett decided to set up a workshop in his parents' barn, and do his best to become engaged in the craft of papermaking.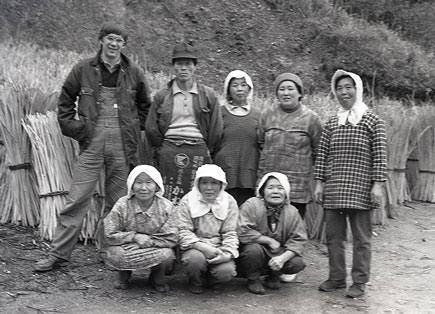 "You could see from (my archives) that I was really having a hard time making paper and selling it," Barrett says. "I was writing books about Japanese papermaking, hosting conferences, and taking classes at Western Michigan University."
Kim Merker took notice of Barrett and his talents. When creating the Center for the Book in 1986, Merker managed to convince university administrators of the importance of hiring specialists in bookbinding and papermaking.
Barrett accepted Merker's offer to join the University of Iowa, and quickly began honing his papermaking skills in this unique program that integrates training in book arts practice and technique with research into the history and culture of books.
The art of papermaking
At the UI, Barrett followed a different path than many of his peers in papermaking who either made paper for other artists or made art in paper. He was more interested in the aesthetics of traditionally made sheets, while also making paper for conservators who needed old books and documents repaired and preserved.
"What's driven me has been paper aesthetics. Japanese papers were lustrous and shiny and had a wonderful soft, crisp feel," Barrett says. "When I came back from Japan, I got interested in 15th century European papers. They are very light in color, supple, and strong, and they have a lot of integrity and authenticity about them."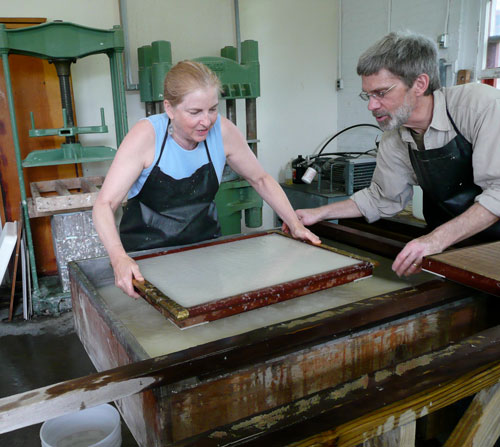 From early in his career, Barrett wasn't trying to make substrate materials for his own drawings or prints. People were left wondering why he didn't do anything with the paper he created by hand. Barrett simply always has been happy to see other people use his work.
In 1999, the National Archives in Washington, D.C. commissioned Barrett, along with his staff and his graduate students, to fabricate soft, unbleached, acid-free paper to re-house the Declaration of Independence, the Bill of Rights, and the Constitution as part of the "Charters of Freedom Re-encasement Project."
The paper, crafted from textile quality American-grown cotton, helps enhance the light appearance of the translucent parchment, provides a soft, stable cushion between the document and the perforated metal plate below, and stabilizes the humidity within each encasement.
"That's a good story for people in the state of Iowa who don't understand why universities exist," Barrett says. "What are you really doing that matters to me? This is definitely something to be proud of."
Barrett's national notoriety continued to grow a decade later. In 2009, he was a recipient of a fellowship from the John D. and Catherine T. MacArthur Foundation. The $500,000 MacArthur Fellowships, popularly known as "genius grants," are awarded to 24 individuals per year in a variety of fields who have shown exceptional originality and dedication to their creative pursuits.
"He's won a MacArthur Award, and that signals him as a 'genius.' What did he do with that award? He immediately kept learning and kept teaching. He worked on global ways of understanding papermaking," says Matthew Brown, associate professor of English and current director of the Center for the Book.
The Center's storyteller
Brown describes his colleague as a storyteller on one hand and a walking archive on the other.
"As a walking archive, he knows about things that aren't written down in books," Brown says. "He's been able to share that knowledge with students and transmit for the future a set of skills and craft-based knowledge that otherwise wouldn't exist. In terms of storytelling, he transmits it through stories, so it's a sign of what a great teacher he is."
Even with her mentor's many accolades, DeLamater always felt like she was treated as an equal by Barrett.
"He'll present to you what his suggestion might be for the type of paper you're trying to make. But he'll let you have free reign over how you actually want the project to end up," says DeLamater, who will spend the next six months in Brooklyn, N.Y. on a West Bayview Foundation Fellowship from the Dieu Donne Papermaking Studio. "Meaning if I had a different approach I wanted to take, that was a welcome way for me to proceed."
In retirement, Barrett plans to set up a small workshop in his basement, where he will make small sheets of paper, which is how he got his start in papermaking many years ago. He also would like to volunteer at the University of Iowa Libraries' Special Collections and help the Center for the Book with its fundraising efforts.