Wednesday, December 30, 2020
While classics scholars focus their research or teachings on the past, they often find that their studies offer plenty of insight to the world we live in today. One graduate student, Ryan Tribble, is focused on helping his students discover these connections. His efforts have already garnered well-deserved accolades.
Tribble has been nominated by the Graduate College for the Midwestern Association of Graduate Schools (MAGS) Excellence in Teaching Award. Tribble, a doctoral candidate in Classics, is being recognized for his innovative pedagogical style and dedication to ensuring the success of his undergraduate students – on top of excelling in his own scholarly work.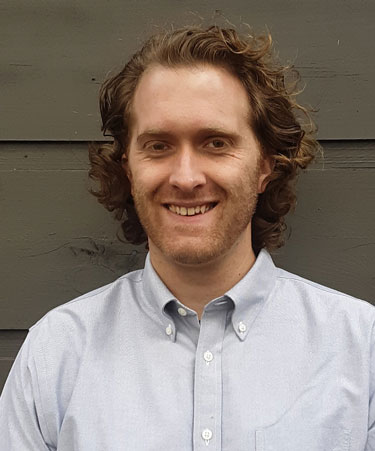 "I'm honored by this nomination and it feels good to receive some validation for the effort and risks I've put into teaching," says Tribble. "I'm really excited to have this opportunity to represent Iowa and the Classics Department and I'm grateful to all those who have been involved in this process. It's been a rough year, but I feel encouraged by this nomination to keep improving my teaching and maintaining my teaching role as I finish my program."
Tribble began his graduate program as a teaching assistant for the Rhetoric Department. He reflects that it was a great, albeit intense way to jump right into teaching from day one.
In those first two years, Tribble appreciated the autonomy he was afforded in regard to his teaching style. There would be times when faculty or colleagues would ask him about his teaching methods, but always with the intention of learning more from him or offering insight into different ways to deliver material. He credits this flexibility in his first years teaching as being meaningful in developing his own teaching style and becoming comfortable in the role.
"My experiences in the Rhetoric Department helped me obtain more confidence in improvising with situations that are hard to control," says Tribble. "My early years of grad school were very fast-paced, so keeping up with my graduate work while trying to prepare for Rhetoric and come up with new material oftentimes was challenging. That led me to become more responsive in teaching; I started focusing more on how my students engaged with the material, so I could improvise by making whatever changes were most appropriate in the moment."
Tribble began teaching within the Classics Department in his third year of the program, where the courses he was asked to teach aligned more closely with his own studies and interests. Once again, he felt he was afforded a level of independence in his teaching methods. He is grateful to leadership and fellow students within the department for their willingness to openly discuss new strategies and encourage one another's creativity.
"The community in the Classics Department has been great and its graduate students offer a lot of support for one another," says Tribble. "We would always talk through problems or ways to improve assignments together, as well as offer emotional support to each other overall. I've loved teaching in the Classics Department and I've learned a lot with all this support."
After years honing his approach, Tribble sees his teaching style defined by maintaining humility and honesty – particularly with the material. He seeks to help his students better understand the lessons and is up front that he doesn't know everything. Mostly, Tribble is interested in getting students involved in active discussions during class and seeing them engage with each topic that is discussed.
"I never wanted to pretend that I was the expert on something, rather than a guide for my students," says Tribble. "I want to find ways to start those discussions and get them talking about it in class, so being honest about what I know is important. Even teaching in the Classics Department – where I know the material better – I still make it clear that I don't know everything and that I'm interested in what my students' thoughts are."
Tribble also believes that approachability is a key aspect of his teaching style. He recalls several professors from his undergraduate program who were very knowledgeable in their areas, yet also very accessible and affable outside of class. This exposed him to a more personal approach toward mentoring that he appropriated into his own teaching methods. One of his similar goals is to be responsive to his students' needs and to make it easier for them to speak with him when they have questions or are struggling with their studies.
To show the relevance of the material he's teaching, Tribble also identifies and shares connections between the study of classics and his own life with his students. The opportunity to help his students make similar connections is motivating for him because he sees it as an important way to keep them engaged and interested in the subject.
"Classics has plenty of these applications," says Tribble. "We can look at old texts and think about our own values and attitudes toward the world in that context. We can think about what attitudes are harmful or beneficial, such as what we're doing for climate change. I don't think the Greeks and Romans necessarily have a solution for us, but they help us think about who we are and what we're doing today."
Tribble's passion for classics is evident in his teaching efficacy and the acclaim he has garnered from students over the years. It is only matched by his dedication to his students and the enthusiasm he brings to the classroom.