Graduate students often regard excellent mentors as those who become lifelong friends or colleagues and are personally invested in seeing their former students succeed. For two professors at Iowa, this type of guidance is second nature.
The Graduate College recently recognized Leslie Schwalm and Carolyn Brown with the 2019-2020 Outstanding Faculty Mentor Award. Recipients of this prestigious award are selected based on the research guidance, professional development, and general assistance they provide as mentors to graduate students.
Schwalm has been recognized with the mentor award in the Humanities and Fine Arts. She is a professor in the Departments of History and Gender, Women's, and Sexuality Studies, which she also chairs.
Brown is recognized with the mentor award in the Biological and Life Sciences. She is a professor in the Department of Communication Studies and Disorders and is also Director of PhD Studies within the department.
Leslie Schwalm
Schwalm views graduate student mentoring as a challenging but deeply rewarding aspect of teaching. While setting high standards for her students and teaching them the skills they need to develop beyond their programs, she also strives to maintain respectful relationships with her mentees and recognizes their unique individual circumstances. This differentiated approach allows her to better identify the needs of each of her students.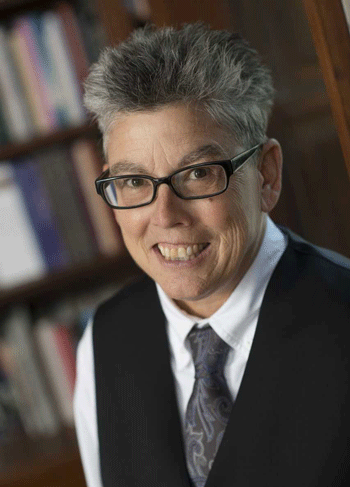 "Our job as mentors is to translate for professionals in training what they need to know and learn in order to be successful themselves," says Schwalm. "My most successful mentoring has been collaborative, where I'm learning from the student and the student is learning from me. It has been a particular pleasure to work with students from underrepresented populations in academia; together, we have worked to make change in the academy."
Schwalm focuses on imparting her own professional knowledge and experience to her mentees. She strives to teach students everything they need to know about their discipline beyond the classroom, so they are professionally prepared.
"I derive great joy from the successes of people I have had the privilege of working with," says Schwalm. "Some of them have found great homes at universities and colleges, and others have found great careers outside of the world of academia. I am always just thrilled for them. They have found lives that are productive and meaningful to them, and that's the best outcome of all."
Her students have taken a variety of career paths, but Schwalm notes that they have all been similarly invested in helping others become well-educated citizens. She considers it a privilege being able to mentor these students during their graduate studies as they develop and make important professional decisions.
"As my advisor, I have greatly benefited from Professor Schwalm's vast knowledge, research and writing experience, astute critiques, and attention to detail," says Dwain Coleman, a PhD candidate in History. "Her years of experience as an advisor and scholar are evident in the advice she gives. I have found her to be a very patient and encouraging mentor who truly wishes to see students excel."
Schwalm has taught at Iowa for nearly three decades and has touched the lives of countless students along the way. While she cherishes seeing them succeed, she feels humbled to be recognized with the mentor award for her efforts.
"I'm very grateful to my current and former students who wrote the letters nominating me," says Schwalm. "I feel quite overwhelmed by the acknowledgment because I know a lot of very excellent people have preceded me in getting this award. I'm very grateful and appreciative."
Carolyn Brown
Brown regards graduate student mentoring as one of her favorite aspects of teaching. She defines the role as a mixture of advising and coaching, while also helping students refine their skills and advance toward their degree. Although Brown sees many of her students driven by scientific curiosity, she recognizes the need to take a one-on-one approach to mentoring. Identifying her mentees' individual needs begins with actively listening.
"One of the challenges with being a mentor is sometimes knowing how to help students," says Brown. "You have to really listen and hear what they are struggling with. You have to be able to refer them to the right people, but it's also important to be empathetic and help them feel comfortable talking to you when they need to."
Brown relies on her own graduate student experience to inform her role as a mentor. She recalls how effective her mentor was at Iowa, as he took an individualized approach catered to her needs. Similarly, Brown is careful not to assume she understands the experiences of her students. Her focus is to empower students to make their own decisions and support them throughout their academic journey.
"Carolyn Brown is a phenomenal professor and mentor who truly cares about the success and inclusion of all of her students," says Brianna Kelley, a former mentee and graduate of the Speech Pathology and Audiology MA program. "As a student who came to Iowa facing many different challenges, she took me under her wing and encouraged me at every step along the way."
This formal accolade caps many years of informal recognition and appreciation that Brown has received from former students. In return, she says she is extremely grateful to all of the students she has worked with at Iowa.
"Winning the mentor award was a big surprise and quite an honor," says Brown. "It's a very humbling thing and it makes me very happy. One of the most rewarding things is seeing the growth in my students as they go on to become colleagues and friends. I'm so pleased with my students and proud of them all. I don't think there is another award at the University that I would want more."