Thursday, September 3, 2020
Growing up in Buffalo, N.Y., Stephanie Houser witnessed the effects of pollution firsthand in Lake Erie and began to recognize the importance of clean water. Now, the longtime water aficionado has the chance to advocate for it on a larger scale.
Houser was recently chosen as a finalist for the prestigious John A. Knauss Marine Policy Fellowship by the National Oceanic and Atmospheric Administration's (NOAA) Sea Grant Program. The Knauss Fellowship allows graduate students with concentrations in marine science or policy to spend one year working alongside leaders in Congress and teams from other federal agencies.
Houser, a PhD candidate in the Civil and Environmental Engineering's Sustainable Water Development Graduate Program, is one of just 74 students across the country to be selected for the fellowship. While many fellows have a background in marine biology or conservation, she is approaching water management from a human health and environmental engineering perspective. This restorative approach to water management is clear in her various research areas.
Water contamination issues focus of research
Houser is currently studying water issues in developing countries as one focal point of her research. This involves conducting health risk assessments for children based on breakdowns in water and sanitation infrastructure in impoverished neighborhoods. In addition to looking at developing countries, Houser is tackling water contamination issues close to home.
"Looking at northeast Iowa, many people have well water alongside septic tanks or even waste lagoons from swine and bovine farms," says Houser. "There are all these chances for that fecal contamination to get into water sources because wells are just pulling from the subterranean flow. It's the same type of disease risk you see across the world – it's just higher in some places than others."
Northeast Iowa is of particular interest to Houser because it is a karst landscape. These landscapes are characterized by subterranean chasms forming when surface water permeates the subsurface. Because entire networks of subterranean flow can develop underground and surface water enters quickly with little filtration, pollutants can move rapidly into aquifers and contaminate drinking water sources. Houser is concerned that regional water problems like this often go overlooked even by those directly affected.
"We have a lot of water issues in this country and they don't get as much attention as they need," says Houser. "We tend to take water for granted. I think a lot of us don't even think about what comes out of our taps."
Along with her research on subterranean flow contamination, Houser has investigated surface flow water pollution. She previously focused on green-infrastructure technologies that could reduce the amount of nutrients being put into our waterways. Minimizing this type of pollution is critical in states like Iowa – where high amounts of nitrate runoff from agriculture flow into the Mississippi River and exacerbate the hypoxic area (dead zone) in the Gulf of Mexico.
Legislative approach to water management
Houser has also studied a variety of water issues and will continue working from a broad approach as a Knauss Fellow. She plans to serve as a researcher and advisor in Congress on a committee or within a legislator's office. With a deeper career interest in policy advising, she is eager to begin researching and making policy suggestions to our nation's legislators on a range of water management issues.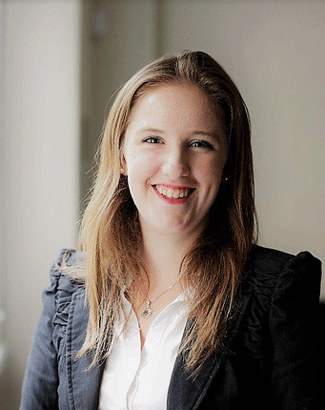 Houser plans to encourage a comprehensive approach to water management because she sees many interconnected issues in the field. The Sea Grant Program focuses mainly on the Great Lakes and oceans as water resources, so university-based programs are concentrated in coastal states. Houser herself had to apply for the fellowship through the Wisconsin Sea Grant Program because Iowa does not have one. Although many landlocked states do not have regional divisions of the program, she wants to reiterate the importance of sound water policies and management across the board.
"At the end of the day, all of our bodies of water are connected in some way," says Houser. "No matter where you are – even if you're not next to a Great Lake or the ocean – there are still a lot of water issues. That's why I think there needs to be a greater emphasis on programs like this beyond the states that already have programs."
Houser credits David Cwiertny, William D. Ashton Professor and Director of Graduate Studies in Civil and Environmental Engineering, for helping prepare her for the fellowship. He taught one of her first classes in the program, which gave her hands-on practice with many of the tasks she will be tackling moving forward. Houser also appreciates the insight Cwiertny offered as she developed her application and decided between the legislative and executive branches of the Knauss Fellowship.
"Stephanie came to Iowa with a tremendous record of accomplishment and a strong commitment to use her expertise in the environment and sustainability to help inform sound policy," says Cwiertny. "We are thrilled to have such an exemplary member of our Sustainable Water Development Graduate Program receive this prestigious distinction."
Houser will take a break from the program and her research assistantship when she begins the fellowship in February. While the fellowship offers the opportunity to gain legislative experience in Congress, build policy advising skills, and work in the heart of our nation's politics, Houser is most looking forward to effecting positive change.
"With her focus and drive, Stephanie will make the most of her fellowship experience while working in Washington, D.C.," says Cwiertny. "We are eager to see all that she'll accomplish in her new role as a Knauss Fellow."