Cheryl Hayes did not realize there was racism in the world until third grade, when she was not invited to her best friend's birthday party because she was black. Recognizing that made a huge impact on many facets of her life.
Since then, Hayes, a master's student in social work at the University of Iowa, has taken on a variety of roles in addressing racism and the other systems of oppression.
Hayes spent most of her career working for telecommunications company US West. In addition to her role as sales manager, Hayes served as a diversity facilitator. These positions provided her early experience addressing discrimination and oppression with tenets of social work.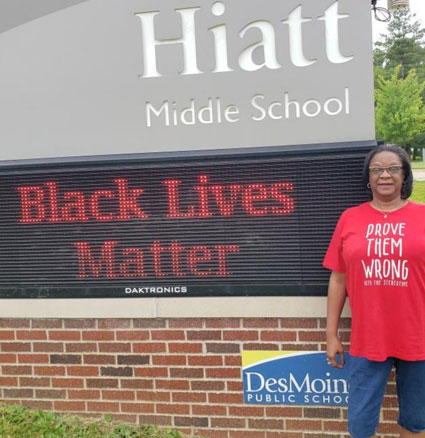 As a diversity facilitator, she led workshops for employees on issues like sexism and systemic racism. Although training for this role was extensive, it helped broaden her understanding of the different forms of oppression.
"We had to go to one training called Hell Week, which started on a Sunday," says Hayes. "They fed us steaks and drinks, but then told us we would be crying by Tuesday. They really stressed knowing your own issues before you could go out and talk to others. That really changed my life."
Hayes continued her facilitator role within the company while also providing representation for diverse groups of employees and creating a platform for them to effect change.
When Hayes retired from the company in 2005, she was initially unsure of where her passion would take her next. She began taking college courses and subsequently transferred to the UI to complete her bachelor's degree in applied studies. Her volunteer efforts as an undergraduate student ultimately fueled her passion for the social work field.
As a volunteer court watcher, Hayes has spent countless hours monitoring juvenile justice courts and ensuring kids are properly represented. She also has volunteered as a mediator with Let's Talk, a Des Moines area program that allows volunteers to teach restorative justice practices to children and adolescents in schools.
"What we are trying to do is stop the school-to-prison pipeline," says Hayes. "We go into the schools when kids are having issues and we show them how to work through their conflicts without adults telling them what to do."
These valuable volunteer experiences prompted her to pursue her Master of Social Work (MSW) degree at the University of Iowa's extension program in Des Moines.
"A lot of my classmates looked up to me and asked me a lot of questions," says Hayes. "I found that they really appreciated what I had to say. My life experiences truly helped me through the program."
While her life experiences became helpful resources for Hayes, she also endured several major adversities. She and her husband found out on their 42nd anniversary that he had been diagnosed with cancer. The support offered from her fellow community members and those in the MSW program resonated with her.
Hayes did not originally intend on completing the program when she left for that year. Her husband, however, was crucial in encouraging her to finish her degree. In his final days, he overheard his wife's plans and urged her to go back and complete the program. Several faculty members later reached out to support and encourage Hayes, as well. After one year away, she returned to complete her final semester.
Hayes credits her late husband as being her biggest supporter throughout her life and in pursuing an MSW degree. She is also grateful to her peers and the faculty within the program, including Eileen Swoboda, an adjunct faculty member in the School of Social Work.
"While Cheryl was in the MSW program, it was fascinating to observe how she drew people to her," says Swoboda. "One of her most impressive gifts is her ability to be absolutely candid without conveying any personal criticism. She inspires trust and confidence."
Swoboda went on to praise Hayes for the way she approaches difficult conversations. The respect and goodwill demonstrated by Hayes made it easy to deal with tough subjects.
"Cheryl wants to make the world a better place for all people," says Swoboda. "She knows this cannot happen without getting 'real' in a conversation and fearlessly acknowledging what is happening from all perspectives. She makes us all better."
Her peers honored Hayes by selecting her to be their commencement speaker last May. She was also granted the Director's Award during the ceremony, which honors graduating students who demonstrate outstanding academic achievement, creativity, leadership, and service.
At 62, Hayes is now the second-oldest person to graduate from the Des Moines program. She has already accepted a position as a therapist with Des Moines Public Schools and plans on continuing with her volunteer commitments. Hayes especially sees the need to maintain her mediator role with Let's Talk as she sees issues of oppression increasing and becoming more blatant.
"I want to keep my mediation skills up because the environment in the last several years has gotten worse," says Hayes. "Things that people used to say at the kitchen table are now being said out in the middle of the street. So, when kids have that feeling that they're less than because that's all they hear on TV or social media, I have to stay involved in addressing that."