Many students and alumni will say they 'bleed black and gold' as an expression of their allegiance to the University of Iowa. Yet, for the Kollasch siblings, it is easy to say Hawkeye blood runs in their family.
Anna Kate, Zachary, and Anthony Kollasch all came to the University of Iowa to pursue their graduate degrees. While many Hawkeyes can boast having multiple family members graduate from Iowa, the timing worked out this year for all three Kollasch siblings to be on campus simultaneously.
The siblings from Whittemore, in north central Iowa, appreciate being close to each other in Iowa City as they complete degrees in their respective programs. Yet, they each were drawn to the university with different career interests.
Anna Kate Kollasch
Anna Kate completed her undergraduate degrees in biology and medical laboratory science. She knew that she would be pursuing a career in healthcare but wanted more experience to decide on her role. A crucial experience came when she took an internship in public relations and administration with her local hospital back home.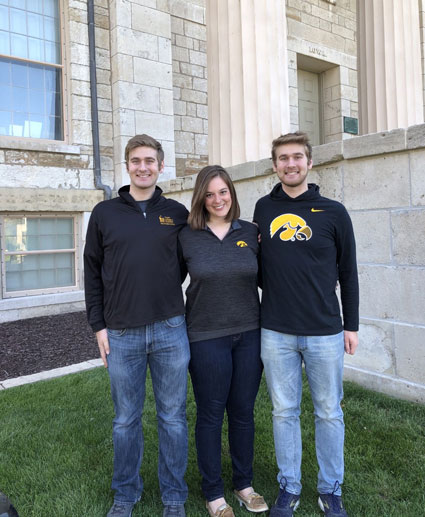 "I had a really great experience there and later on I was able to work with the hospital CEO," says Anna Kate. "He was an alumnus of the Iowa Master of Health Administration (MHA) Program. I saw what he was doing as a leader in healthcare and in our community and that caught my interest."
Anna Kate went on to become a medical laboratory scientist upon completing her bachelor's degrees, but the experience working in hospital administration resonated with her. As she began researching several Master of Health Administration programs. Iowa's MHA program, which was ranked one of the top programs in the nation last year by U.S. News & World Report, arose as a clear pick.
"The Iowa MHA program is a top tier national program, yet it has a lot of collaborative values and your cohort is modeled more like a family," says Anna Kate. "You're really close with your classmates and you're not competing with each other within the program, so that's been a great experience."
Zachary Kollasch
While Anna Kate wrapped up her last semester of the MHA program in May, her brother, Zachary, completed his Master of Accountancy (MAc) program. He began considering a career in accounting as early as high school and studied it further for his undergraduate degree. His decision to continue with the MAc program came from a desire for more experience and preparation.
"A lot of people forego their Master of Accountancy degree and just get their 150 credits to take the CPA exam straight out of undergrad, but I thought I wanted a little extra time to prepare myself for working in the real world by taking master's courses," says Zachary.
After being offered admission to the MAc program in the Tippie College of Business, which was ranked one of the best in the country by Public Accounting Report in 2019, Zachary saw it as an easy choice to pursue his degree at Iowa.
"The University of Iowa has a very well-known Master of Accountancy program, so just having that on my resume definitely helped me get more interviews that might have been a bit more difficult if I had only held an undergraduate degree," says Zachary. "Being at Iowa has opened a lot of doors for me in the professional world."
Anthony Kollasch
As Zachary and Anna Kate complete the last semesters of their programs in May, Anthony continues to pursue his Doctor of Physical Therapy degree within the Carver College of Medicine. Like his siblings, Anthony recognized his career path to physical therapy early on.
"Even throughout high school I felt myself being pulled in by the health field," says Anthony. "I had some really positive experiences in physical therapy as an athlete during those times, so that piqued my interest. The more I looked into it, the more I thought it was something I could see myself doing."
Anthony kept this career in mind as he completed his undergraduate studies and began considering physical therapy programs. When he was accepted to Iowa's physical therapy program, rated a top-five program in 2020 by U.S. News & World Report, he recalls it was an easy decision.
"From the alumni and different faculty members I met, I could tell they were not only dedicated to turning us into great physical therapists, but they also cared about us as people," says Anthony. "Since beginning the program, the faculty and staff have considered us colleagues and made it clear how deeply invested they are in our development as professionals. The program is amazing."
To Iowa City and beyond
Although the Kollasch siblings appreciate their time together this past year, each of them followed an independent path to Iowa City. They were all drawn to the University of Iowa for its prestigious graduate programs in their respective career interests.
"It's kind of by happenstance that we all ended up at the same university," says Anna. "Looking at regional colleges and our in-state opportunities for top-ranked programs, everything happened to be at the University of Iowa."
While all three stress how much they have valued being close to each other this past year, their paths are now taking them in separate ways. Anna Kate and Zachary are moving to different cities while Anthony continues with his DPT program.
"We just have this last month left being together in Iowa City," says Anna. "I don't think we'll all be living in the same city ever again, so it's made us appreciate it that much more."