Antentor "A.J." Hinton Jr., doesn't just see diversity, equity, and inclusion as an ideal to strive for—he views it as a part of his everyday life and fundamental to his work.
The University of Iowa's Division of Diversity, Equity, and Inclusion recently honored Hinton with the 2019-2020 Diversity Catalyst Award for helping create a campus climate that is welcoming to all.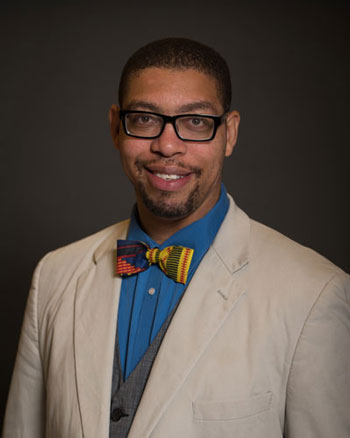 Hinton's longstanding commitment to diversity is evident in his role as a postdoctoral research fellow in Professor Dale Abel's endocrinology lab. In this position, he teaches and mentors undergraduate lab members, working with underrepresented minority (URM) students and promoting career development in his teaching.
"A.J. deliberately asked to work with multiple students, not just one or two," Abel says. "He would tailor a curriculum for each student, working with them very closely and very individually. Importantly, he would find opportunities for them to get national exposure for their work."
Hinton has also advocated for his students to present their research on a national scale at conferences hosted by organizations like SACNAS (the Society for Advancement of Chicanos/Hispanics & Native Americans in Science), NCUR (National Conference on Undergraduate Research), and ABRCMS (Annual Biomedical Research Conference for Minority Students).
Additionally, Hinton began to collaborate with UI Health Care's Office of Diversity, Equity, and Inclusion on medical campus outreach initiatives. He and the team, led by Associate Dean Denise Martinez, discussed the need to further emphasize career development for students. They also recognized the need to increase the diversity of their college's student population. Hinton sought to help address that deficit by becoming a recruiter for the academic medical center, graduate college, and the NIH funded post-baccalaureate program, PREP. Martinez and Abel also worked together to name him an Academic and Career Development Instructor on the diversity team.
"I spend time going to different universities that are still largely underrepresented," Hinton says. "I spend time training their faculty and staff about career development opportunities and how they should think about changing discussions when talking about that or advising their students."
Iowa stands out above the rest
Hinton, who earned his Ph.D. in Integrative Molecular and Biomedical Sciences from the Baylor College of Medicine, had his pick of postdoctoral research positions to choose from after graduate school.
He was struck by the wide range of backgrounds that members of Abel's lab brought to the table, with researchers hailing from countries on nearly every continent. Their varied life experiences allowed for unique research approaches and the opportunity to always think outside the box.
"Everyone's open to different ways of thinking and they're not afraid to challenge you in a very respectful way," Hinton says. "I think that's what draws our science to be reproducible."
Family influence shapes scholar's outlook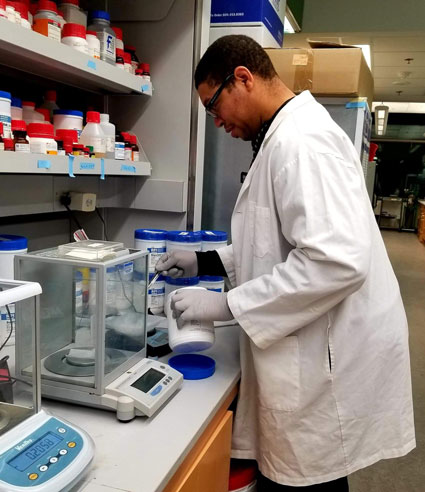 Hinton connects his commitment to diversity, equity, and inclusion to what he learned growing up. His grandparents were born in the Deep South during the Great Depression and lived through the height of segregation. He described learning about their experiences as 'eye opening'.
"My grandfather told me about the time he actually got food from behind restaurants in the back door, but he always told me that there was good in everyone," Hinton said. "He told me that there are other people who will help you."
His grandfather willingly acknowledged the barriers African Americans faced, but also challenged Hinton to look beyond what people normally see—to approach things spiritually. He encouraged Hinton to use his logic, but also look at others' hearts. This offered him a fresh perspective.
"That's where I got that mentality of realizing that people are your allies, not your enemies," Hinton said. "Sometimes there's misunderstanding because people don't understand others' cultures until you sit down and break bread with them."
Paying it forward
Despite all the work Hinton has done for others, he's grateful for the support he's received from mentors and advisors throughout his academic career. He is often reminded of a motto from Alfred Mays, his grant program officer from the Burroughs Wellcome Fund. He paraphrases below.
"No matter how talented you are, you have to pay it forward," Hinton said. "No matter how great you become, you have to pay it forward. No matter how much success you have and how many accomplishments you achieve in your life, you have to pay it forward."
Hinton also recognizes how others have paid it forward and supported him.
"My boss, E. Dale Abel, has allowed me to grow in the space of asking what diversity means to myself and then what it means in the context of benefiting the institution," Hinton says. "His motto is that you pay it forward in the regards of undergraduate mentorship. His big component was developing an understanding of how to mentor and teach."
Hinton also recognized Associate Dean Shelly Campo and Dr. David Drake for their support in his diversity and inclusion work. Campo and Drake both serve as Professorial Advancement Initiative mentors through the Alliance for Graduate Education and Professoriate Transformation.
Among his many accomplishments, Hinton also received UNCF's Ernest E. Just Postgraduate Fellowship in the Life Sciences in March. The highly competitive, three-year fellowship provides an opportunity for African American life scientists and biomedical researchers to further develop their careers in academia and research industries.
"(These awards) mean a lot to me," Hinton says. "It shows me that the work I'm doing at Iowa is both needed and appreciated. I'm glad that people know there are others besides myself who are leading the cause and demonstrating that Iowa is a national leader in diversity, and that we are trying to focus our attention on making it a more inclusive environment for everyone."