Wednesday, March 25, 2020
As an elementary school student, Michelle Tamplin first became aware of radiation and its effects on human health by reading the biography of Marie Curie, the first two-time Nobel Prize winner who discovered radioactivity.
"That opened my eyes to these absolutely beautiful physics principles that govern how radiation interacts with matter, which can be studied and optimized for diagnostic and therapeutic purposes," says Tamplin, a PhD candidate in the Free Radical and Radiation Biology Program at the University of Iowa. "Reading the accounts of doctors on the ground at Nagasaki (a city in Japan where the United States detonated an atomic bomb in 1945) especially opened my eyes to the complex health effects of radiation, which have since been used effectively to treat cancer, but also carry these secondary adverse effects that we critically need to understand."
Tamplin's dissertation research sheds light on the harmful effects of radiation on small blood vessels and how these damaged vessels can lead to vision loss in ocular cancer patients. Research on radiation's damage to small blood vessels is largely limited because scientists are unable to visualize these vessels that provide oxygen and nutrients to normal tissues. However, since the eye is a transparent window, Tamplin uses sophisticated photography methods to take high resolution images of a patient's blood vessels.
"We're trying to obtain data describing how your blood vessels might change over time after radiation exposure and how that would correlate to a loss of neuronal function that would lead to vision loss," Tamplin says. "That is the normal tissue injury for someone who had radiation exposure to the eye."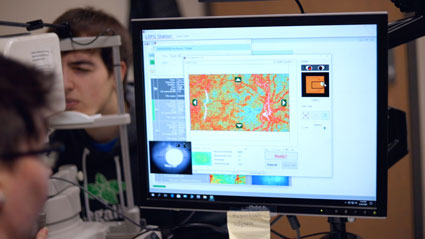 Tamplin and her fellow researchers believe radiation disrupts the natural mechanisms and machinery in human cells, which is really good for treating cancer, but also causes the detachment of cells than line blood vessels in the surrounding healthy tissues. When those cells detach, they can clog blood vessels so the blood can no longer pass through them. As a result, otherwise healthy tissues fed by the blood vessels can't get the blood and nutrients they need to stay alive and function. This loss of function is known as normal tissue injury, and it is observed wherever radiation therapy is given. For the subjects in Tamplin's study, this is manifested as partial or full vision loss.
"By understanding the time course of vascular and neuronal changes in the retina after radiation, the research will help determine the earliest signs of radiation damage to normal tissue and targets for new treatments to prevent the damage and vision loss that occurs from radiation effects,'' says Randy Kardon, MD, PhD, a professor of ophthalmology and visual sciences, and Tamplin's co-advisor.
According to Tamplin and Kardon, information gained about radiation damage and prevention in the eye can help preserve function in other vital organs that receive radiation, such as the brain, heart, lung, and kidneys.
Scholar enjoys interdisciplinary research
Tamplin studied nuclear engineering as a master's student at the University of Utah. Those skills she gained earned her acceptance into the UI's Free Radical and Radiation Biology Program on an Iowa Recruitment Fellowship from the Graduate College.
"People know that good research is being done at Iowa. When I'm in different professional circles, the ability to say I'm an Iowa recruitment fellow carries a little weight," Tamplin says.
Conducting research in the Free Radical and Radiation Biology Program has been a unique opportunity. This interdisciplinary graduate program helps carry out the research mission of the University of Iowa and the Graduate College.
"It's one of the only programs that puts an emphasis on understanding the physical and chemical reactions that happen after radiation exposure, as well as the chemical imbalances present in cancer cells that allow us to design smarter, more effective therapies," Tamplin says.
Tamplin addresses her research questions under the guidance of both Kardon and Isabella Grumbach, MD, PhD, a professor of cardiovascular medicine. Grumbach is her primary advisor.
"At Iowa, interdisciplinary collaboration for translational research is really encouraged, which is especially critical when it comes to biomedical research," Tamplin says. "It's really important to me to combine multiple facets of science and approach these biomedical questions from different perspectives. Here, there is open communication between the biological sciences, engineering, and the clinics themselves, giving us a unique opportunity to conduct really seamless translational research."
Tamplin has been recognized for her research excellence with an NIH T32 Predoctoral Fellowship and an American Heart Association Predoctoral Fellowship. The native of La Habra, Calif., also recently was among 45 graduate and undergraduate students selected to be profiled in the Office of the Vice President for Research's 2020 Dare to Discover banner campaign.