Chad Rhym grew up running through the hallways of the psychology building at the University of Georgia, where his mother is associate dean of arts and sciences.
"When I was 6 or 7, I would meet deans and I didn't know they were deans. I remember seeing those deans riding away on motorcycles," Rhym says. "I also remember my mom going through the tenure track process when I was 14 or 15."
Given his exposure to higher education from a young age, it's no surprise that Rhym is pursuing his doctorate in sociology. The native of Athens, Ga., chose to pursue his graduate studies at the University of Iowa after a spending a successful summer on the Iowa City campus as part of the Summer Research Opportunities Program (SROP) in 2018.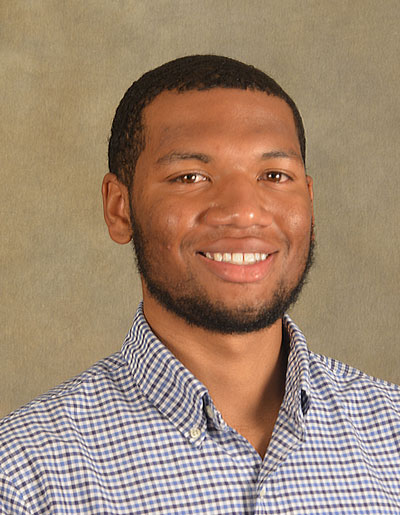 SROP is an award-winning eight-week program designed to provide underrepresented undergraduate students with in-depth research experiences. During the program, Rhym analyzed the effects of teachers' attitudes on their students' academic performance, and the effectiveness of implicit bias training to mitigate these effects.
"Despite being a huge research institution, I felt very accepted by faculty and the people I worked with at the Public Policy Center at the University of Iowa," Rhym says. "I felt at home. I felt like it was a place I could grow intellectually and academically. My mom was very big on Iowa and the Big Ten as a research institution. I trust my mom."
The Graduate College saw something special in Rhym as a SROP scholar.
"What I liked most about him is that he was not only observant and genuinely friendly, but a passionate undergraduate who stepped off the plane onto Iowa's campus wrestling with the concepts of equity and social justice, while being prepared to take full advantage of the university's resources and learning laboratory," says Joe Henry, an admissions and enrollment services specialist at the Graduate College.
As a first-year graduate student at Iowa, Rhym is studying race and ethnicity, social stratification, social and education inequality, and the racial achievement gap.
"The system is built to historically discriminate," Rhym says. "I'm looking at the lack of black male teachers in K-12 education, and how that impacts black students."
Black educators have played a prominent role in shaping Rhym's academic and personal development. He completed his undergraduate education at Morehouse College, a private, historically black men's institution located in Atlanta, Ga.
"In terms of class, I had an interpretation of the black experience as being clustered in this one class, maybe the upper class," Rhym says. "Attending Morehouse showed me that we come from every facet of the world. That was very important to my narrative and learning about my own identity."
Rhym's class graduation from Morehouse drew national headlines in May 2019, when commencement speaker Robert F. Smith, the billionaire investor who founded Vista Equity Partners, announced he would pay off the $34 million student debt of the entire graduating class.
Like his classmates, Rhym was surprised by this generous action.
"We had no idea," Rhym says. "We all learned while we were graduating at our ceremony. After he said it, 10 minutes later we got notifications on our phones from the Washington Post and New York Times saying, 'A Historic Day at Morehouse College.'"
With an undergraduate degree from Morehouse College in hand, Rhym now has his sights set on accomplishing great things at the University of Iowa.