Monday, December 16, 2019
Lynn Nakad was playing a scary virtual reality (VR) game with her brother when she wondered how this technology could help the medical field. 
"It immersed me so much that I got the idea that maybe there's more to this that could be applied to the medical fields," says Nakad. "At the time, I was in nursing school, so I was really looking at everything with a fresh new perspective." 
As a fourth year PhD student in nursing, Nakad's dissertation focuses on the effects that VR has on distracting people suffering from acute or chronic pain. Nakad is currently working on a project to implement VR as an alternative route for pain management therapy at UnityPoint Health - St. Luke's Hospital in Cedar Rapids. 
"It can help distract people in pain much better than music or watching TV could because it immerses them in the virtual environment," she says. 
While St. Luke's Hospital has yet to offer VR treatment to actual patients, Nakad expects to begin pilot testing VR on a single inpatient unit there next spring.
"We've gotten a lot of positive feedback from nurses and administrators at the hospital," Nakad says.
In her latest study, Nakad researched older adults who suffer from chronic musculoskeletal pain. Some study participants said that they forgot about their pain while using VR and found it to be an enjoyable distraction, Nakad says. 
According to Nakad, there are a few different kinds of VR someone can use. One of them is stereoscopic, which uses a monitor or projector to show images on a screen. Another is a head-mounted display, which requires the person to wear a headset or goggles to view three-dimensional images, which is more immersive.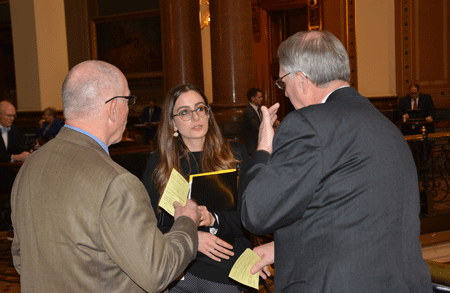 Everyone is different, so the choice of which virtual reality simulation to use for each patient is crucial to the study. If patients are more immersed in VR, they are more likely to be distracted from their pain, which can depend on the type of simulation they are immersed in.  
"Finding that balance is difficult, because every person is different, so people will have different preferences," says Nakad. "If somebody likes golfing, and you give them a golfing simulation they're going to be much more immersed in that." 
By testing the use of VR to help alleviate short-term and chronic pain, Nakad hopes the research will also eventually decrease patient use of highly addictive opioids—a rising health crisis in the United States. 
"This is another alternative therapy that can help either reduce the amount of analgesics or opioids we give patients, or even eliminate it, potentially," says Nakad. "There has been research that shows that it actually does reduce the amount of medications you'd have to give somebody during a procedure, because the person might request less medication." 
However, Nakad says that they will need to conduct more research before declaring that VR is making a considerable difference with regards to the need for opioid medication. 
"Any kind of effort we can make towards reducing the use of opioids when it's not necessary or not appropriate is good," says Nakad. 
Nakad is currently funded by the Dean's Fellowship Award through the College of Nursing and the Graduate College's Iowa Recruitment Fellowship. She plans to continue expanding research on VR for pain management after her graduation in the Fall of 2020.