Thursday, September 12, 2019
Matt McNeill appeared to be traveling on a traditional academic path. He earned his PhD in neuroscience from the University of Iowa in 2009. He then spent four years as a postdoctoral researcher at the University of Illinois.
The logical next step? A faculty position at a research university. Not in his case.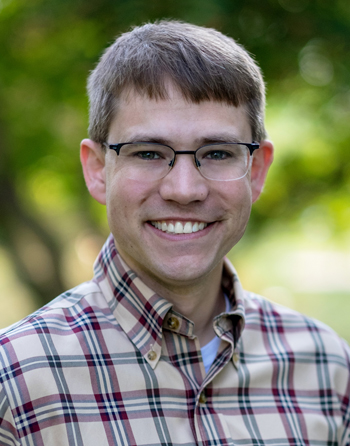 Instead, McNeill took the industry route as a bioinformatics scientist at Integrated DNA Technologies in Coralville, Iowa.
"I knew what I went through and the realization I wasn't going to end up in academics was a bit hard for me," McNeill says. "I believe it's valuable to share my story and the path I took and to share the lessons I learned from the entire process."
The Graduate College has invited McNeill to share his insights with UI students and postdocs as a panelist at the Open Doors career conference and the Jakobsen Conference. He also serves as a co-chair of the Graduate College's Advisory Board, whose members provide an external perspective and counsel as well as advocacy and support for the college's programs and strategic direction.
Find your career path
McNeill enjoyed his time as a PhD student under the mentorship of Robert Cornell—professor of anatomy and cell biology and faculty member in neuroscience—who brought an infectious and energetic personality to work every day. McNeill's dissertation focused on understanding the mechanism by which the Trpm7 gene is involved in zebrafish skin pigmentation and motor development.
From there, it made sense for him to continue this research as a postdoc.
"I did it in many ways for the right reasons, which was because it was the next logical step. I also did it because I wanted to re-train from what I had done as a PhD student," McNeill says. "That to me is the right reason to do a postdoc."
However, McNeill realizes that path isn't for everyone. He advises people to consider what they want to gain from attending graduate school and/or accepting a postdoctoral position.
"You should really take time and think about why you are doing it. It shouldn't be just a next step," McNeill says. "You should have some idea what your desired end point is." He advises collaborating with your advisors to find your own path.
It's often stated that academic professors train academic professors.
But that's not the only path for doctoral students, which is partially dictated by more PhD students being trained than there are academic positions.
"There's been this mystique that people who get a PhD are going to stay in academics. Fifty years ago that would have been possible, but now it's becoming harder and harder," McNeill says. "Especially in the biological sciences, if you go into industry there's been the perception of going to the dark side. However, that has changed and is continuing to change. But I do still hear it when I talk to current PhD students."
McNeill has career questions bouncing around in his mind. Working with the Graduate College helps him work through those questions and better counsel students.
One nagging question addresses the specific value added by pursuing a graduate degree compared to earning an undergraduate degree and immediately entering the workplace.
He believes he has had a good career path. However, he wonders if he would recommend the same path to others.
"Becoming an industry scientist and getting a PhD equivalent by being trained and being a thoughtful individual, it is possible to be paid a higher rate of pay increase," McNeill says. "There are several people I work with who are exceedingly successful (without having received a PhD)."
While McNeill doesn't have all the answers, he is working with the Graduate College to provide valuable career counsel to graduate students and postdocs to enable them to succeed. He hopes his work contributes toward demonstrating that a PhD provides meaningful added value over on-the-job training.
Finding the optimal training path for future PhD students in an ever-changing career market isn't easy. "It's like you're turning a cruise liner. You have lots of people, so you're not going to turn fast," McNeill says. "I absolutely believe the Graduate College is turning (in the right direction), and I believe (Graduate College Dean) John Keller is the right person to help make that happen."