University of Iowa graduate students Banu Gumusoglu and Ana-Monica Racila each received the prestigious AAUW (American Association of University Women) American Dissertation Fellowship to help offset their living expenses while completing their dissertations.
Gumusoglu is a PhD candidate in neuroscience, while Racila is a doctoral candidate in anthropology. Both scholars plan to graduate in Spring 2020. This is the first time since 2006-2007 that two University of Iowa graduate students have won the dissertation fellowship in the same academic year.
"I've been aware of the AAUW and the work they do in trying to deal with the income gap between men and women, tenure gaps, and the problems women face in the academic workplace," Gumusoglu says. "I'm particularly honored to get a nod from an organization that I really admire."
Impact of preeclampsia on developmental disorders
Research has shown that preeclampsia in mothers is correlated with increased risk for children to be born with autism spectrum disorder, ADHD, learning deficits, and other cognitive dysfunctions.
Gumusoglu, a member of Associate Professor Hanna Stevens' laboratory, studies the embryonic brain in mice to gain an understanding of the molecular level that is disrupted in preeclampsia exposure, causing developmental brain disorders and psychiatric conditions.
The Stevens Lab hypothesizes that the developmental disorders can be traced to inflammation and dysfunction in the placenta, which impacts the fetus. Collaborators in the Grobe and Santillan labs have established early biomarkers for preeclampsia in mice in order to detect the condition before symptoms become severe.
"As neurodevelopmental scientists, we want to implement these biomarkers in children, so when a baby is born or potentially before a baby is born we can determine whether the baby is at an increased risk for neurodevelopmental diseases," Gumusoglu says. "The earlier you can intervene, the more you can change that disease trajectory."
Gumusoglu credits her mentor for giving her the guidance necessary to earn an AAUW American Fellowship. She also gives thanks to the Iowa Neuroscience Institute for its infusion of resources such as networking events and collaboration opportunities.
"(Professor Stevens) is incredibly hard working and she's very honest and transparent with her mentees in a way that's rare in academia," Gumusoglu says. "She doesn't try to hide the difficulties of this life from us. I've always really valued that she's treated me as an adult."
Sharing transgender patients' health care stories
Racila's dissertation focuses on amplifying voices that often aren't heard clearly in academic or scientific spaces—voices of transgender and gender-expansive people.
Specifically, the Iowa City native is investigating how assumptions about sex and gender incorporated into healthcare bureaucracy influence transgender patients' care.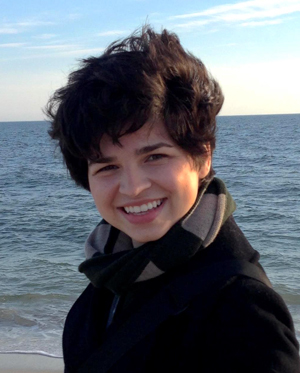 Racila, whose advisor is Associate Professor Emily Wentzell, conducted observational ethnography at two transgender healthcare clinics in Iowa—one a smaller community clinic and the other a larger biomedical clinic. Both clinics were able to launch through guidance from local transgender communities and are staffed by healthcare professionals informed by current research in the field. She talked with various staff members in each clinic over one year and observed their routine bureaucratic practices. She also attended the appointments of around 60 transgender patients who provided consent, and interviewed each of them about their appointment experience.
Racila noticed that the idea that there are two discrete gender experiences (woman and man) definitively linked to two kinds of bodies is widespread in healthcare bureaucracy. For transgender patients who are on hormone medication, the gender markers M and F really complicate matters.
Racila documented the various ways providers built rapport with patients in the two clinics. She also noticed that the insurance issue often causes frustration, talking to many people who were delayed treatment.
For example, a transgender woman who was assigned male at birth and who changes her legal gender marker from M to F may need both testicular screening and a mammography, but insurance could deny the former because, according to her insurance, women aren't supposed to have testicles.
"Everyone's transition journey is different," Racila says. "You have goals in mind for what you want for your body in transition. What might cause a barrier for one person might not for another. It's important to identify these relationships."
Anthropology is about documenting peoples' stories, and it's important for Racila to share these transgender patients' stories.
"I want to raise awareness to all the issues that go beyond access to competent transition healthcare," Racila says.