Tuesday, October 24, 2017
Lulu Merle Johnson's story is a powerful tale of triumph. In 1941, Johnson received a Ph.D. in American history from the University of Iowa, becoming the first African American woman in the state of Iowa to earn a doctorate. She also was among the first African American women to earn a Ph.D. in history in the United States.
The Graduate College is recognizing Johnson for her historic accomplishment by naming the Lulu Merle Johnson Fellowship in her honor. This annual recruitment fellowship funds underrepresented minority Ph.D. students.
"I feel strongly in her accomplishment and it is great for her to be recognized," says Sonya Jackson, Lulu Merle Johnson's great niece. "She was a tremendous person and leader. She was a trailblazer and her story needs to be told."
Graduate College Dean John Keller is pleased to offer a fellowship that provides additional funding opportunities for underrepresented minority students. The first cohort of Lulu Merle Johnson Fellows began at the University of Iowa in fall 2018.
"This new fellowship, appropriately named after Lulu Merle Johnson, will help academic departments recruit talented, diverse students and help the students achieve great academic success, just like Ms. Johnson," says Keller, associate provost for graduate and professional education and interim vice president for research and economic development.
Discrimination didn't stand in her way
Born near the small town of Gravity in southwestern Iowa, Johnson earned her bachelor's degree from the University of Iowa before completing a master's degree in history at the UI in 1930 for a thesis titled, "The Negro in Canada, Slave and Free."
Throughout the 1930s, Johnson pursued her Ph.D. in history at Iowa. During that time, she faced discrimination as a student of color.
Johnson liked telling the story of how she was forced to enroll in a swimming class as a requirement for her Ph.D. even though it had nothing to do with her thesis. Johnson couldn't take the class when white students were in the pool, so she informed her instructor that she would swim at 5 a.m.
Making class time inconvenient for her instructor was a small victory for Johnson.
Johnson also wasn't permitted to live on campus. Instead, she lived on 942 Iowa Avenue in a house resembling a dormitory experience for African American women.
"When Lulu Merle Johnson earned her doctorate in 1941, African American students were not allowed to live in the residence halls. Notwithstanding such discrimination, students of color like Ms. Johnson shared their brilliance with our institution and contributed to making the UI who we are today," says Lena M. Hill, UI's interim chief diversity officer and associate vice president.
Johnson's dissertation was titled, "The Problem of Slavery in the Old Northwest, 1787-1858."
Johnson couldn't teach in Iowa, so after earning her Ph.D., she taught history at Florida A&M University and West Virginia State College, before joining the faculty at Cheyney State University in Pennsylvania in 1952. At Cheyney State, she served as professor of history and dean of women studies.
"Aunt Lulu graduated and wasn't able to teach in Iowa," says her nephew, John Jackson, who lives in Des Moines. "She received a quality education from U of I, but wasn't able to get employment in her home state because of the color of her skin."
Aunt Lulu leaves lasting impact
Growing up, Kim Jackson and her sister Sonya, both graduates of the University of Iowa and members of the Alpha Kappa Alpha Sorority along with their great aunt, spent nearly every summer with Aunt Lulu. They quickly discovered her love of words.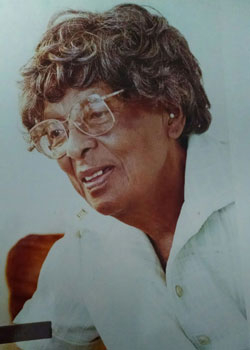 "People need to know how brilliant she was. She had an incredible mind and was a great storyteller," Kim says. "At her funeral, a former student from Cheyney State said Dr. Johnson was a tough lady, but she cared. She pushed students to strive for academic excellence."
Since Lulu believed watching television would ruin your mind, she played a game that would expand her nieces' vocabulary. Sonya and Kim picked words in the dictionary, and Lulu would define every word verbatim.
"When I first saw her do it, I thought it was a crazy party trick. Her vocabulary was so expansive," says Sonya Jackson, who lives in Chicago.
Aunt Lulu also demanded that words be used properly in conversation in her presence.
"As kids, we couldn't even say, 'I am full' when we finished eating," Sonya says. "Aunt Lulu would say garbage cans get full, people have enough. If we said, 'Where's it at?' She would say, 'Behind that preposition.'"
As a child, Sonya Jackson thought Aunt Lulu was a little bit strange, because she was so smart and had such an intense love of books.
Today, Sonya finds herself figuratively standing on Aunt Lulu's shoulders, surrounded by books, with a love of reading.
"For me, that means leaving my mark on the world. Aunt Lulu was the first at accomplishing many things," Sonya says. "What am I going to be the first at?"
Sonya Jackson, who spent twenty-five years leading global corporate foundations, is founder and principal of Mantra for Good, an organization that unites people to collaborate on projects to improve humanity, build community, and impact lives. She uses storytelling, media, technology, and live experiences as a force for good. 
Kim Jackson, who lives in Des Moines, also learned life lessons from Aunt Lulu that she uses daily as TRIO Program director for the Des Moines Area Community College chapter of Upward Bound.
"You can always be the best you can be no matter what obstacle is in your way, because you can overcome that," Kim says. "Aunt Lulu proved that by the many obstacles that she overcame."