By Matthew Brown
UI associate professor, English/Center for the Book
Anna Williams combines artful memoir and meticulous research in her dissertation to consider what it means to finish a Ph.D. in the twenty-first century.
An award-winning teacher and grant-earning scholar, Williams reflects on the rites and conventions necessary for a dissertation. But her stories, reflections, and critique find voice in a unique, twenty-first century form: the podcast.
Williams, who received her Ph.D. on May 10, composed the dissertation as a six-chapter audio essay on pedagogy, gender, and the literary history of the Gothic novel. The dissertation begins with a recording of the prospectus meeting with her supervising committee, itself edited to explore dynamics of education and mastery. Each chapter that follows is an audio treatment featuring her analysis of works by Ann Radcliffe, Mary Shelley, and Charlotte Bronte in conjunction with interviews of leading scholars.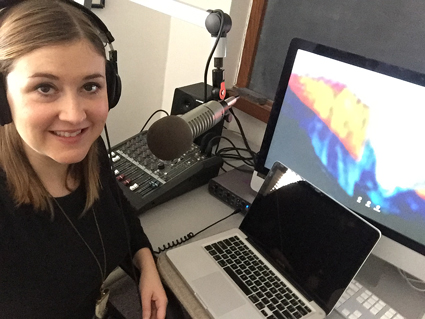 Williams finds a potent analogy between the Gothic, with its emphasis on confinement, gender, and the persistence of the past, and the current plight of humanities graduate students. Doctoral candidates can become trapped in outmoded ways of presenting research and ill-suited styles of training.
In "My Gothic Dissertation," Williams escapes the trap. She jimmied the lock with the podcast medium.
"The genre of many of the most popular podcasts is heavily researched, long-form nonfiction: exactly the same as dissertations, but with much more room for creativity and humor," Williams says.
An audio-essayist and historian of sound broadcast, the dissertation's co-director, Jeff Porter, a professor of English, observes Williams's contributions.
"Anna examines the literary evolution of the British gothic novel, but hers is equally a searching and self-reflexive personal inquiry into the nature of producing a dissertation in the twenty-first century," Porter says.
Co-director Judith Pascoe, the George Mills Harper Professor of English at Florida State University, elaborates by saying, "Anna discusses the relationship between power and knowledge through examining school scenes in iconic texts of the nineteenth century, situating these works in the context of debates about education. She interweaves this analysis with a running commentary on the disciplinary rituals of the dissertation-writing process."
Williams's dissertation directors remark on the use of sounds, voices, pauses, and music to enrich the dissertation.
Consider this contrast in how experts are cited. Instead of printed footnotes, Williams recorded authorities on the Gothic and on the discipline.
"I conducted live interviews with many of the scholars and experts whose works I cited," explains Williams. "It not only provided the valuable opportunity to meet, network, and share ideas with other professionals in my field, but also it gave my interview subjects the chance to see the 'afterlife' of their published works – to know that I was citing them and to elaborate more on their research."
Scholars such as Porter, Pascoe, and Bonnie Sunstein make the UI English Department a hospitable place for such experiments. As department chair Claire Fox puts it, "though highly original, her dissertation is a brilliant reflection of UI English areas of strength."
Nevertheless, the achievement is all Williams's. She worked for Iowa Public Radio during her dissertation years, editing audio stories and producing the podcast Lit City to deepen her skills in broadcast art.
Williams joins the few and the brave. Recent parallel projects include a Columbia University dissertation in the form of a graphic novel and a University of Maryland doctoral thesis in the form of a crowd-sourced digital edition of James Joyce.
"As a serial podcast, Anna's project also promises to take her research public, bridging the gap between the narrow expertise of doctoral study and a more generally educated public," Porter says.
In this sense, Williams blazes a trail for future researchers seeking new knowledge and new audiences.
Williams has both long-term and short-term goals. She will seek to refine the dissertation to make it a working audio serial for a wider public and she plans a second podcast based on her Mississippi family history and the nature of the southern Gothic. More immediately, a recording of the defense itself will be added as an epilogue to this one-of-a-kind dissertation.