Elizabeth Lara is all about building authentic relationships as the Graduate College's new Diversity, Equity, and Inclusion Director.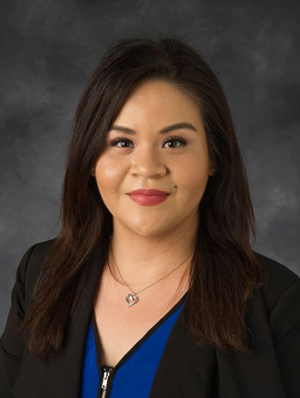 Elizabeth, an alumna of the University of Iowa, strives to build these personal bonds by listening first and foremost in her interactions with graduate students, faculty, and staff. This strategy has worked well for her in previous university positions, including as manager of the Latino Native American Cultural Center from 2012-14, when she routinely attended student meetings.
"Sometimes people just want to be heard," says Elizabeth, who will start at the Graduate College on May 1. "Maybe they don't want you to provide all the solutions and give them all the resources, they just want someone to hear them out. A lot of times, especially for folks from marginalized communities, we don't feel like we have a space to vent without having to justify or explain our experiences. Those people want to know I care."
Elizabeth most recently served as a Diversity Resources Coordinator for the Division of Diversity, Equity and Inclusion for the last two-plus years. In that role, she provided trainings, consultation, resources and skill-building opportunities to students, staff, faculty, and community members to better equip them with the knowledge, skills and ability to dismantle systems of oppression. Elizabeth demonstrates her leadership within opportunities that allow her to create cultural shifts. She is student-centered and is a champion for underrepresented students. Her contribution in creating systemic change at the University of Iowa is evident throughout her work, affiliations, and established partnerships across campus and in the community.
Elizabeth is excited to jump on board at the Graduate College, advising and supporting graduate students who are a lot like her in many ways.
A native Californian, Elizabeth was a first-generation Latina college student who graduated from the University of Iowa with a Bachelor of Arts in Psychology and Sociology. Motivated by her experience in the Summer Research Opportunity Program (SROP) and McNair Scholars program, she went on to receive her Master of Science in Urban and Regional Planning at the UI.
"How I look on the outside matters, and I have different identities I share with underrepresented students as a first generation, bilingual student who is not from Iowa," Elizabeth says. "This position isn't just for me. It's for my entire community (of underrepresented students) to see someone who's first generation from a low socioeconomic status. Technically, as a statistic, I shouldn't be here. That does inspire me to keep going."
Don't expect Elizabeth to sit still in her new position. She wants to establish partnerships with graduate programs across campus to create a sense of belonging and community for underrepresented graduate students.
Elizabeth believes it's important for the students to see her as part of the process.
"I see myself going into what's already out there. I understand different colleges already put on several events and series," Elizabeth says. "Working with other colleges would get me out there and establish my presence. Students are not going to trust someone they don't know, so it's really, really important for them to see me."