Leigh Marshall was 16 when the unexpected happened. Her father was diagnosed with the "C" word—Cancer. One week, he was coughing. By the end of the month, he died.
"I crossed a threshold at a very young age in terms of my knowledge about death,'' Marshall says. "It doesn't mean there was any innocence lost per se, but it just means there was an acquisition of a certain type of knowing."
Marshall, an MFA playwright in the Theatre Arts Program at the University of Iowa, writes plays about her first-hand experience surrounding death. She debuted one such production, Laterality, Feb. 21-24 at the Theatre Building.
Laterality is about two twin brothers; one of whom has lung cancer and the other who is forced to take care of him in a surreal end-of-life situation. The two brothers are drawn to an elusive poet next door who brings meaning back to their lives as death approaches. The play explores both what it means to have lived and what it means to be dying in the context of love and brotherhood.
"Even in those rock bottom moments, the pursuit of love and the presence of love exists powerfully and in a very tangible way," Marshall says.
Marshall's play isn't a direct recounting of her last days with her father, Albert Marshall, however it was written based on her feelings at that time. Her father, a multi-racial man with big green eyes, had cancer of unknown origin that spread to the lymph nodes, lungs, and torso.
"The play came out of what it was like to be in the room with somebody you love who is plugged into an oxygen machine," says Marshall, who received an Iowa Arts Fellowship from the Graduate College. "You have to deal with these finalities and keep everything going. This play is me thinking about what really happens to the body when you have a galaxy of tumors inside of you and how that warps reality."
Marshall remembers hitting rock bottom in the sense that her father, whom she loved so deeply, died out of nowhere. Despite experiencing the pain of losing her father, she still achieved good grades in school and lived her life to best of her ability.
"There wasn't anything unspoken between my dad and me," Marshall says. "In his hospital bed, he told me I had all the tools to do what I needed to do. It's my job to use those tools."
Marshall spent a decade writing Laterality, much of it as an undergraduate at Stanford University, where she went on to work as a research and executive assistant to former Dean of Students and New York Times Bestselling Author Julie Lythcott-Haims.
Described as brilliant, captivating, and conscientious by colleagues, Marshall displayed her in-depth writing talents by creating carefully crafted scenes in Laterality that brought the characters Blue, Skinny, the Poet, and the Professor to life.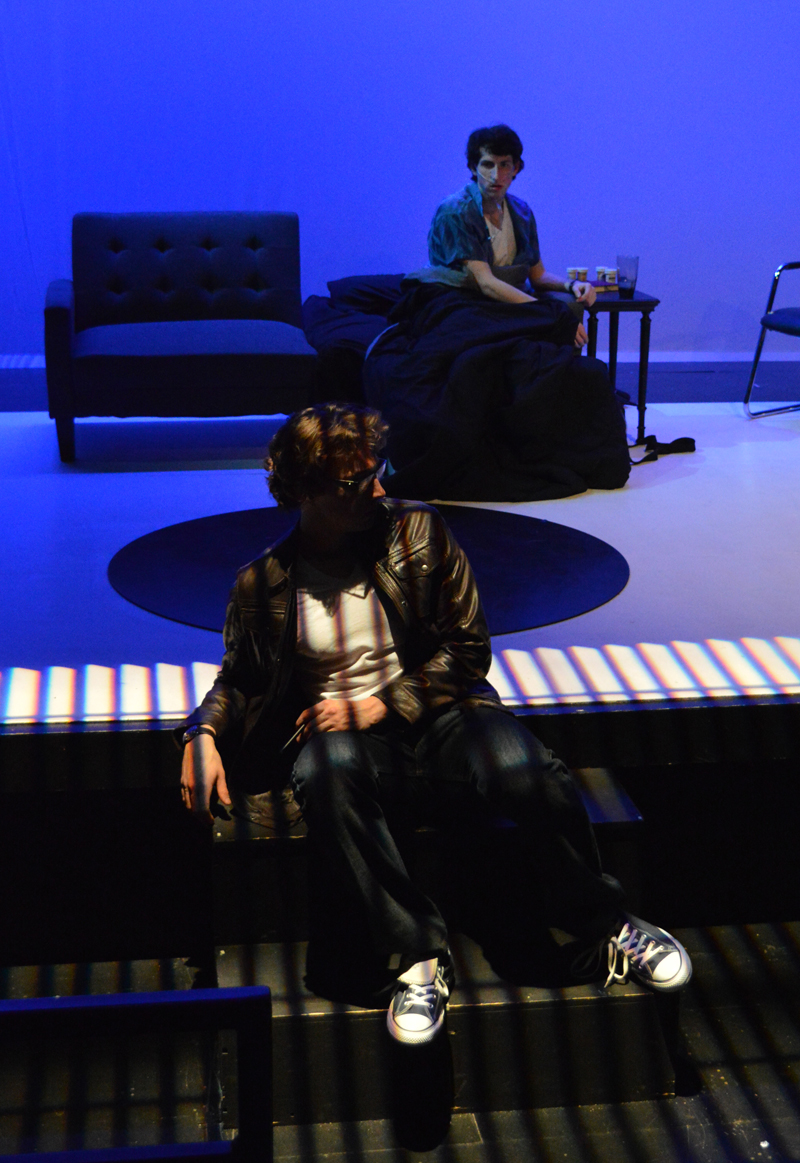 Vinnie Doud, a senior from Stuart, Iowa, played Blue, whose brother Skinny was diagnosed with lung cancer. Blue is a troubled character who is dependent on his vices (smoking, alcohol) and wants to run away from the responsibility of caring for his brother.
After having read some of Marshall's work, Doud jumped at the chance to audition for a role in Laterality.
"She writes these very deep-layered characters who are an extreme challenge, especially for me just because I haven't had the chance to work with that challenging of a character before," Doud says. "It pushes me to be a better actor."
When reading the script, Liat Graf, a first-year MFA actor, was drawn to the fascinating world her character, The Poet, was creating.
"The world created by Leigh is very specific but it still allows me as actor to make it my own, which is really unique and a gift," Graf says. "The play allows everyone involved to make the piece our own as the community who's creating it. It's been a fascinating and fulfilling experience, especially since the play is about something that's so real and that so many people have been affected by."
Marshall is proud of the actors for bringing her play to life.
"Even though Skinny dies at the end of the play, he does live in it, too," Marshall says. "Each of the characters are alive. To witness the process of that happening through the hard work of the actors and the creative team is magical and powerful."
Theatre Arts MFA Program
Iowa City, a UNESCO City of Literature, is a great place to cultivate the creative process. Whether you craft short stories, poems, novels, or plays, the University of Iowa features many incredible writers across all sorts of disciplines.
This storied history was not lost on Marshall when she decided where to pursue her MFA. She recalls a conversation with Art Borreca, UI associate professor and co-head of the Playwrights Workshop.
"During my finalist interview, he told me that every single writer in the room is different from each other and does different work," Marshall says. "That is what sold me. I didn't want to conform to certain artistic standards. I wanted to collaborate with intellectually different writers with different viewpoints.
"One of the fortunate things about being an MFA playwright at Iowa, you're given space, time and resources to devote the majority of your time to the writing of your plays."