Monday, December 17, 2018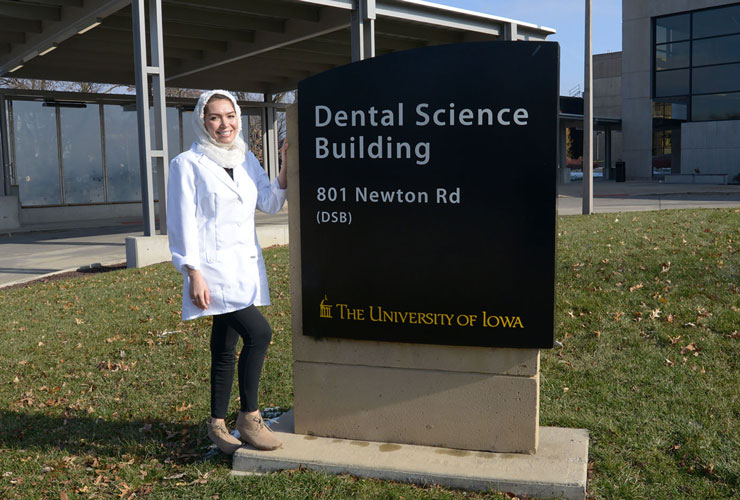 Eman Ismail, a Saudi-trained dentist and a Ph.D. student in the Oral Science Program at the University of Iowa, uses dental composites (DC) to treat broken teeth with the goal of improving outcomes in dental restoration procedures.
This process, however, is no small task. DCs are one of the most used restorative materials in dentistry, yet most of the DC products have poor color compatibility with natural teeth.
Currently, the VITA classical guide is considered the gold standard in dentistry to select the color of a restoration. Yet, according to Ismail, sometimes it is challenging to adequately match the color of the restoration using this shade guide.
"When the color of the dental composite doesn't match the surrounding natural teeth, the procedure must be redone," Ismail says.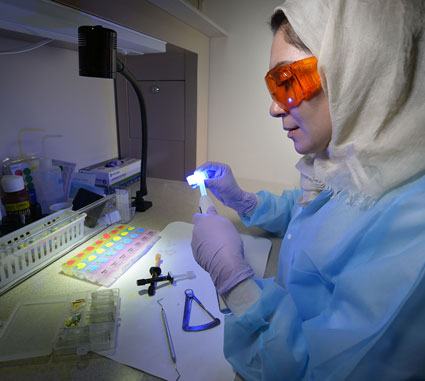 To address issues of color compatibility of dental composites with natural teeth, Ismail's dissertation examines how different components of the double-layered technique, such as thickness, and shades of DC layers can affect the overall color of the restorations.
Her research has found that double-layered DC specimens with varying enamel thickness, intended to replicate one color of the VITA classical shade guide, are not acceptable color matches to the classical guide. Further, her research demonstrated that increasing the thickness of the enamel layer of DC produces darker colors within the VITA guide.
In her research, she also made the connection between the color of double-layered DC specimens to another shade guide.
Ismail added the VITA 3D Master is another shade guide that is under utilized by general dentists, and was supported by other studies to be a superior guide compared to the VITA Classical. The connection between the color of DC material and the VITA 3D Master shade guide has never been established before.
"By establishing this connection we hope that more dentists use this better guide in their routine practice to increase the success rate of highly esthetic procedures," Ismail says.
Ismail's research is already making a significant impact within her field. With the support of a travel award from the Graduate Student Senate, Ismail presented her research at the Society of Color and Appearance in Dentistry Meeting in Newport Beach, California, where she was awarded the VITA Award for Research Excellence.
"The data my research is generating will help dentists make educated guesses when selecting the color of dental composite for esthetic restorative procedures that in return will help increase the efficiency of the dental work and ultimately increase patients' satisfaction," Ismail says.
Research support system
Ismail attributes her success to the unwavering support she has received from her loving father, husband and two young sons. She also credits many individuals who have helped her throughout her journey at the University of Iowa, including her advisor, Rodrigo Maia, assistant professor in the Department of Operative Dentistry, and her Ph.D. committee members. Charles Romans, Director of MERGE protostudios, also helped her create the novel and innovative 3D molds used to fabricate the specimens in her study.
She also credits Azeez Butali, whose day to day encouragement, advisement and wisdom have helped her endure overcome challenges along her journey; Dr. Dina Garcia, her peer mentor; and Dr. Lamia Al Ghaith, her lifelong friend.
Ismail is an active member of Title Boxing Club in Iowa City, which has helped her focus and be more productive in her graduate program. For Ismail, Title Boxing Club not only provides a physical space to exercise, but also gives her sense of belonging to the Iowa City community.
Teaching the next generation
After earning her Ph.D., Ismail will rejoin her family in Saudi Arabia and begin her faculty appointment at the College of Dentistry at Princess Nohra Bint Abdulrahman University, Riyadh. During her time at UI, she prepared herself for her faculty position by earning a teaching certificate from the UI College of Education.
"I was fortunate to learn and work closely with Professor Mitchell Kelly, the director of the graduate teaching certificate," Ismail says. "I consider him as a lifelong friend and a mentor."
Ismail looks forward to educating and training future generations of dentists.
"Nothing gives me more joy than passing my knowledge and clinical experience to young professionals," she says. "If you can't explain it, simply you don't understand it. Being able to communicate my ideas to students is my motivation to keep learning."