Thursday, December 6, 2018
Kathryn Klarich Wong earned the Graduate College's L.B. Sims Outstanding Master's Thesis Award for her novel research that reported the presence of neonicotinoids, a class of insecticides, in drinking water. This class of insecticides is the most widely used insecticide in the world and is used heavily throughout the agricultural Midwest.
Her thesis is titled, "Transformation and fate of neonicotinoid insecticides during drinking water treatment" was selected in the Mathematical and Physical Sciences and Engineering Category.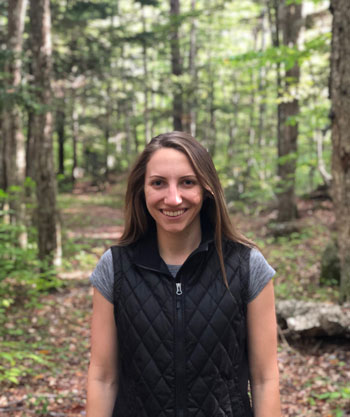 Wong, who earned her MS degree in civil and environmental engineering at the University of Iowa in 2017, discovered neonicotinoid insecticides through an analysis of tap water samples collected from water treatment plants in Johnson County, Iowa.
Wong and her advisor, Assistant Professor Gregory LeFevre, found very low concentration levels of neonicotinoids in drinking water, but concerns exist about what those low levels might do from an exposure standpoint. Wong, however, confirmed that activated carbon filtration systems can essentially negate the presence of neonicotinoids in drinking water.
"Ideally we wouldn't have any of these neonicotinoids in our drinking water, but it's not a perfect world," Wong says. "When neonicotinoids are in water and go through a water treatment plant, they can transform into unknown compounds. The chronic toxicity of neonicotinoids aren't really known, in large because part it's difficult to study chronic toxicity."
Due to its novelty, impact, and relevance, Wong's research was published in Environmental Science & Technology Letters and selected for the journal's Editor's Choice Award. It also was chosen as one of the journal's top papers of 2017 (5 papers were selected in total). In addition, her research was highlighted by news agencies around the world, including the Washington Post and BBC.
Wong, a former National Science Foundation Graduate Research Fellow, wasn't completely surprised her research gained this much notoriety.
The Graduate College nominated Wong for the MAGS (Midwestern Association of Graduate Schools) Distinguished Thesis Award. The Midwestern Association of Graduate Schools is a regional affiliate of the Council of Graduate Schools. MAGS member states include: Illinois, Indiana, Iowa, Kansas, Kentucky, Michigan, Minnesota, Missouri, Nebraska, North Dakota, Ohio, Oklahoma, South Dakota, and Wisconsin.
Iowa now has four MAGS Award winners: Nicholas Borcherding (Pathology) in 2016, Kaylia Duncan (Pathology) and Anna Lynch (Religious Studies) in 2014. Brigitte Hecker Salami (Art History) received the honor in 1999.