Tuesday, December 18, 2018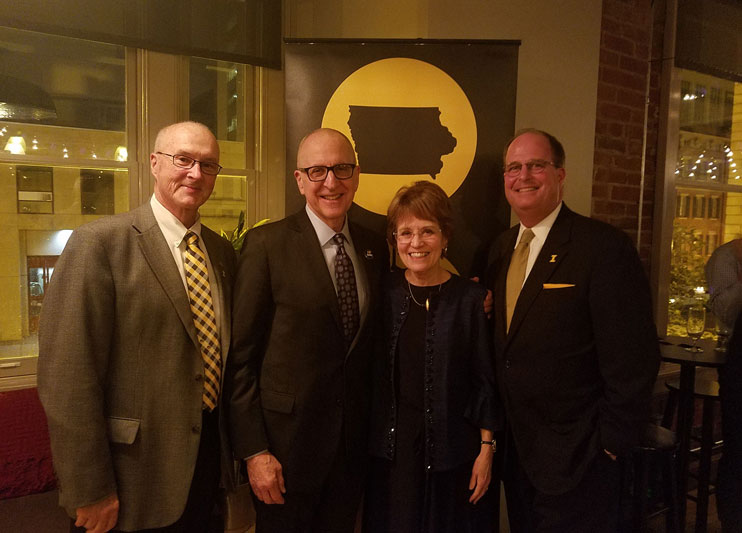 Nestled in the heart of our nation's capital and surrounded by exposed brick decked out in black and gold, DC area alumni and friends recently gathered to hear from past UI presidents Mary Sue Coleman and David Skorton, and current Dean of the Graduate College, John Keller. Attendees consisted of graduates and friends of the college who shared a common interest in their Iowa connection.
The highlight of the evening was a panel discussion about the future of graduate education and the critical role of a research institution to serve the public good. Skorton, the current secretary of the Smithsonian Institution, reflected on his time as president, noting the strong mentoring bonds fostered at Iowa. Keller followed, reminding the crowd of the academic excellence these bonds bring—with 5 national dissertation award winners since the award's inception in 1981 (more than any other public institution).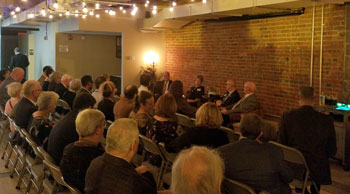 Coleman, the current president of the Association of American Universities, highlighted deep links between The University of Iowa and the state of Iowa's economy. As the state's largest employer and supplier of advanced degree holders, The University of Iowa plays a critical part driving the state's economy.
Both former presidents stressed the inextricable links between the humanities and sciences in training future scholars and leaders -  noting  that Iowa is uniquely suited to provide comprehensive graduate training and leveraging strengths as the Writing University and a top tier medical research institution.
There was also the time and space for levity. Skorton recalled how his wife, Dr. Robin Davisson, started the Iowa tradition of a block party at the president's house—an act that drew the attention of campus police. Yet despite the logistical challenges, the wildly popular event has lived on. Dr. Davisson, faculty at Cornell University, now brings her energy back to Iowa as the head of the Graduate College's External Advisory Board.
Keller remarked on the easy connections between alumni, even those who hadn't met before that night,
"One of the most rewarding aspects of my job is reconnecting with our alumni who have gone on to successful careers and hearing their interest in supporting our current students," Keller says. "To have Mary Sue and David share their time with us is so generous and illustrates the commitment of our Hawkeye family."
Look for more Graduate College alumni events at grad.uiowa.edu.