There's a strong movement in graduate education to re-think the narrative format of the traditional thesis. This shift, which often centers on the inclusion of digital media, is influenced by a challenging job market and the need for graduate students to more effectively communicate their research with the public.
The University of Iowa and the Graduate College provide academic programming and financial assistance to graduate students who may be interested in producing a digital thesis, including a Digital Scholarship and Publishing Studio Fellowship and a Public Digital Humanities Certificate.
Through these ongoing efforts, the UI and the Graduate College strive to support current and future graduate student innovations in scholarship and creative work and the culminating representation of this work through the thesis and dissertation.
DMA Thesis Recording Project
The School of Music's DMA thesis recording option is an example how the narrative thesis is changing on the Iowa campus.
For decades, the School of Music has prepared doctoral-level performance students to play in professional ensembles and teach at the collegiate level. The standard completion requirement has been to produce a narrative thesis, typically consisting of a historical analysis or the creation of a musical edition or pedagogical materials.
Dan Moore, a professor of percussion in the School of Music, helped lead the creation of a recording option to augment the traditional, narrative DMA thesis, in the fall of 2017.
This option consists of a 50-75 minute master recording and an accompanying document that includes a description and justification of the project, program/liner notes, and links to the recordings themselves.
"We want to help our students become more marketable and help them become savvy about what's going on in the workplace," Moore says. "What it takes to be a musician is so different compared to even 10 years ago. We're coming at it in terms of how we can help them create their own paradigm. We want to train students to come out of school and create a new ensemble instead of joining an existing one."
Christine Augspurger, a percussionist, finished her DMA thesis recording in spring 2017 as part of the School of Music's pilot program.
Augspurger's thesis was titled, "Transience: An Album Length Recording for Solo Percussion and Electronics." She performed works by composer Taylor Ambrosio Wood, and oversaw the production of a digital recording. Augspurger believes that completing the DMA thesis recording project, not just the recording, is as daunting a process as writing a dissertation.
"The amount of creativity I had to put into coming up with my project, commissioning the work, creating all the sound, educating myself on the technical and historical side of things is absolutely as difficult as writing a dissertation," Augspurger says. "You have to go through the same steps and struggle with the same things."
The digital dissertation
Graduate students across campus are exploring new ways to craft theses.
Briana Smith, who earned her Ph.D. in history in May 2017, included visual representations in her dissertation which focused on experimental art and cultural politics in Berlin, Germany from 1971-1999. Smith collected photos and audio and video files during her oral history interviews, however, they didn't easily fit within her written manuscript.
To address this issue, Smith created a website to display those photos and videos as well as a digital mapping project.
Professor Elizabeth Heineman served as a strong advocate for Smith as she developed a digital component to support her written dissertation. Heineman encouraged Smith to include hyperlinks to direct readers to additional information.
"The website is a way to connect the written dissertation to additional sources of evidence, such as images and videos. The other piece is bringing my research to broader audiences and making it more publicly accessible," says Smith, a visiting assistant professor in history at the UI who will soon begin a position as lecturer in the History and Literature Program at Harvard University in Cambridge, Mass.
Katherine Walden, a doctoral student in American Studies at the UI, is working on a digital dissertation focusing on professional baseball labor, minor league baseball, and globalization. Her project is using a database, visualization, and mapping components to track demographic trends in Minor League Baseball. This work will provide greater insight into how Major League and Minor League players from outside the United States advance through professional baseball's player development system.
Walden is collaborating with the UI's Digital Scholarship & Publishing Studio on how to visualize the data and different ways to create maps.
Why is it necessary for Walden to have a digital dissertation?
"I could do all this data analysis and just write about it, but that's not going to communicate some of the same things that data visualization could do," Walden says. "We interpret images differently than we interpret text. I think that has a different visceral impact on us. We have different emotions about visualization, but they have a different lasting impact with us than narrative text does."
Walden adds that computational tools are necessary to grapple with a large data set that includes roughly 80,000 players, 12,000 teams, and 500,000 player transactions.
"The project came out of my existing research interests, and the process of shaping it into a dissertation involved realizing there wasn't any way to do the project effectively or thoroughly without digital tools," Walden says.
Walden works as a digital liberal arts specialist at Grinnell College, while finishing her digital dissertation.
UI initiatives support students
In summer 2017, the Graduate College partnered with the UI's Digital Scholarship & Publishing Studio, part of the University of Iowa Libraries, to establish a fellowship, funded by the Graduate College, which supports graduate students as they pursue innovative ways to share their scholarship digitally.
The fellowship allows PhD and DMA, as well as MFA, students to benefit from a mentored digital scholarship internship experience in the Digital Scholarship & Publishing Studio. Students are encouraged to develop their own projects and/or pursue the development of digital scholarly tools.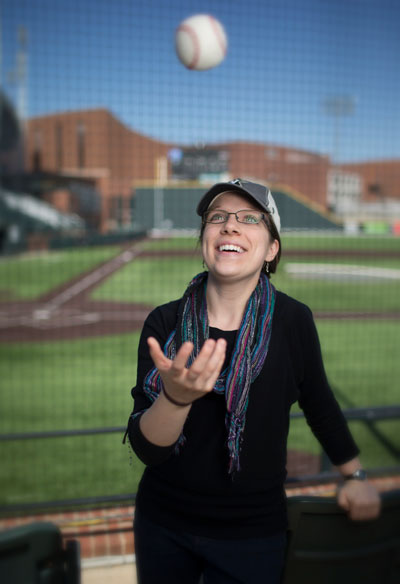 The University also offers a certificate in the Public Digital Humanities, which is available to students with humanities backgrounds who want to gain expertise to work more intensively with technology.
Walden completed the certificate in spring 2018. As a student in the program, she took coursework in digital scholarship and digital humanities, which has helped her think about her dissertation as a public project.
In addition, in 2016, the UI was one of 25 college and universities that was awarded planning grants to enable them to reimagine graduate education with an eye toward preparing Ph.D. recipients for greater career flexibility. This $25,000 year-long grant was matched with $25,000 from the UI Office of the Vice President for Research & Economic Development.
These initiatives provide graduate students with the skills to create digital theses that will diversify their job possibilities following graduation.
Theses' boundaries expanding
Archiving microfilmed theses gave way to online PDF submissions more than a decade ago. Today more and more graduate students seek to expand the "boundaries" of the PDF with embedded images and 3D modeling. Some scholars have begun to, literally, go beyond the PDF with digital recordings and accompanying websites.
Last March, the Graduate College hosted a conference titled, "Beyond the PDF: Planning for the Future of the Dissertation." Representatives from 19 colleges and universities responsible for new-form theses collection and preservation discussed ways to incorporate the new and innovative platforms used by students to showcase their thesis work.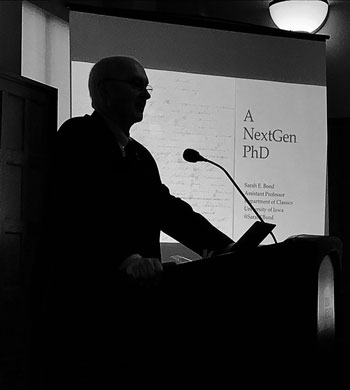 Conference organizer and Graduate College Assistant Dean Heidi Arbisi-Kelm says "the organizing concept for the meeting was to bring together key stakeholders in the thesis lifecycle. As students' scholarship expands beyond the traditional boundaries of a narrative thesis due to emerging technologies and shifts in career outcomes, libraries, graduate colleges, and ProQuest must respond. It is imperative that we develop new practices for collecting and preserving these alternatives to the traditional, narrative, thesis."  
University libraries and ProQuest must find ways to make thesis projects discoverable and viewable by the public despite being in formats that didn't exist a few years ago.
"Our challenge is how to access dissertations and creatively bring them to light," says Austin McLean, director of scholarly communication and dissertation publishing at ProQuest. "Someone told me to get away from the tyranny of the PDF. We need to find a balance (between the PDF and digital theses) and make sure the work is discoverable."
Another consideration: How long should university libraries and ProQuest be expected to preserve these digital projects?
Paul Soderdahl, associate university librarian at the University of Iowa Libraries, says Iowa Research Online will continue to host dissertation-related websites, such as Brianna Smith's, as long as they function with regular maintenance. When that is no longer the case, a snapshot is taken of the website and sent to the digital archive before it's taken down.
The future is now
As the format of theses shifts, graduate-level research and scholarship remains the constant.  As someone whose career has spanned previous evolutions of thesis formats, Soderdahl has advice for graduate students interested in submitting next-generation theses.
"You shouldn't let your thesis content be beholden to current technology, which we know is always changing and will eventually break," Soderdahl says. "You must have confidence that your intellectual argument can persist independent of format so that it outlives the relatively short lifespan of the technology we have today."
The changing nature of the dissertation 'movement' continues to gain momentum as more and more students are exposed to new concepts and tools for creating their work.  
"Iowa faculty prepare leaders and scholars to tackle the most pressing social issues of our time," Arbisi-Kelm says. "When the Graduate College reconsiders policies or advances conversations that enable students to pursue the mode of scholarship that best serves their research, we ensure Iowa students' place in the future economy and contribute to their success."