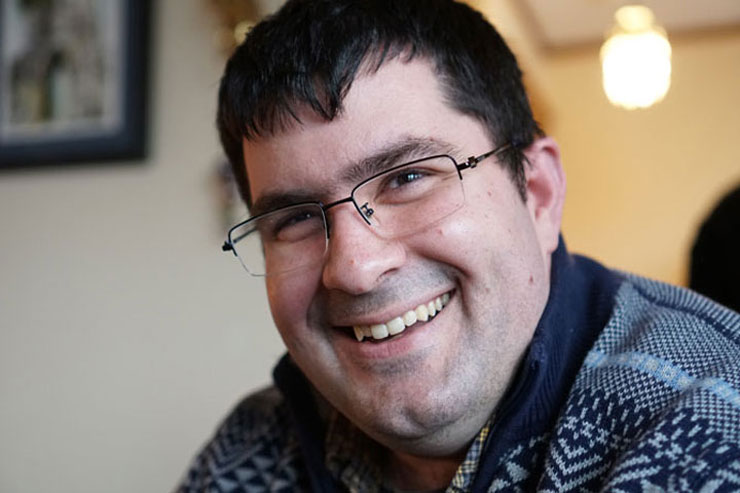 Johnathan Gajdos couldn't turn down an invitation from Dean John Keller to join the Graduate College's External Advisory Board. The opportunity to give back to the University of Iowa, which helped him earn a doctorate and then land a job after graduation, was too good to pass up.
Advisory board members provide external perspective and counsel as well as advocacy and support for the College's programs, strategic direction, and achieving the overall goals of the Graduate College.
"This was an opportunity to share what Iowa taught me and offer some suggestions to the Graduate College as it makes decisions," Gajdos says. "I am indebted to the Graduate College for the financial support it provided to me while I was a graduate student and the education it gave me."
After graduating from Georgetown University, Gajdos chose to attend graduate school at the University of Iowa after being offered the multi-year Presidential Graduate Research Fellowship. He says the fellowship showed a commitment from the University to him, enabling him to make a commitment to the University.
Gajdos left the UI with two degrees, a master's degree (2006) and a Ph.D. (2011), in German, and employment with the Defense Language Institute Foreign Language Center, first as an instructor at its headquarters in Monterey, CA and later as an academic advisor in its Washington, D.C. office. In this position, he uses his knowledge of foreign language education to oversee the contract language training of service members preparing for a variety of assignments in the military.
He wouldn't be where he's at today without the financial assistance from the Graduate College and exceptional mentoring by graduate faculty members.
"Graduate schools don't exist just for the education to occur in a vacuum while you're in graduate school," says Gajdos, who was president of the Graduate Student Senate and served on the Graduate Council. "Graduate schools exist to see how you will use this experience in your career, life, and in the world."
Giving a little helps a lot
As a way to say thanks for receiving a Presidential Fellowship, Gajdos makes in his own words, "very modest financial contributions" annually to the Graduate College to assist its efforts in recruiting top-flight students to the UI and helping them succeed once they're on campus.
"(My financial contributions) are a signal to larger donors that if alumni are willing to support the college and give money back to help students and programs survive maybe I should open my checkbook to give a larger gift," Gajdos says. "It's crucial for alumni to think about what's important. Little amounts of money can make a big difference."
For example, the Graduate College, in conjunction with the Graduate Student Senate, offers travel awards, ranging from $300 to $1,000, to graduate students who make presentations at a domestic or international scholarly conferences.
Gajdos considers the travel awards to be one of the most important sources of funding for the graduate students.
"Most graduate students are living paycheck to paycheck and don't have an extra thousand dollars to go to a conference," Gajdos says. "The small fellowships can really make the difference for students to be able to present their work, engage with the academy, and show the world and other academics what important research is being done in Iowa City."
Take control of your career path
Gajdos makes it a priority to support graduate students on a one-on-one basis. He does so by providing career advice and networking opportunities for attendees of the Graduate College's Open Doors career education conference. He advises students to look at graduate school as a way to prepare themselves for the working world, and encourages them to be their own best manager.
"The person who is best at looking out for the things you need to do in your graduate study is yourself," Gajdos says. "You need to do the networking, you need to put in the hard time, you need to do the research, and you need to ask the right questions."
He stresses to students that it's OK to have dreams and goals, but, regardless of their background or academic field, they must cast a wide net in their job search.
"I found in talking to graduate students and former classmates that the struggles come when you get too set on one particular vision of your future, because it's very hard to see how you get to that point," Gajdos says. "That doesn't mean you shouldn't have dreams, but you also need to be open to exploring new things. You might find yourself pleasantly surprised by the way those doors can open and the way you can end up someplace you didn't expect to be."