The University of Iowa Graduate College recognizes Joshua Weiner and James Giblin for their extraordinary contributions to graduate education through mentoring graduate students.
Weiner, professor of biology in the College of Liberal Arts and Sciences, is the winner of the Outstanding Faculty Mentor Award in Biological and Life Sciences.
Giblin, professor of history in the College of Liberal Arts and Sciences, is the recipient of the 2017-18 Graduate College Outstanding Faculty Mentor Award in Humanities and Fine Arts.
The professors were nominated for the award by their students and colleagues.
Joshua Weiner
Weiner's relationship with his graduate students is based on honest communication. Whether talking about his students' research progress or their post-graduate job prospects, he speaks his mind, with his students' best interests at heart.
"I really need to be able to talk to people to get a sense of how things are going and be completely honest with them," says Weiner, associate director of the Iowa Neuroscience Institute. "If something isn't working I want them to talk with me right away. I try to have a relationship where we trust each other. I think that's how you get the best science done, because all data are considered and all possible interpretations raised."
Weiner treats his students' ideas seriously. He trains his mentees to analyze their ideas critically and turn them into a testable hypothesis.
Early in his students' graduate careers, when they aren't yet under pressure to complete their dissertation or write a comprehensive examination document, Weiner helps them take ownership over their own research ideas. His laboratory identifies molecular mechanisms that control neuronal differentiation and neural circuit formation during brain development.
"I don't really see them as working for me," says Weiner, whose research has been continuously funded since the creation of his lab in 2004. "You're supposed to be developing students to be independent. One way I try to do that is to give students opportunities to develop their own ideas, as well as working on established projects in the lab."
For Weiner, mentoring is all about helping graduate students succeed at the University of Iowa and embark on successful academic and alt-ac careers.
"I'm here for them. They're not really here for me," Weiner says. "Students are different from employees, and they join my lab to be mentored. They have to do a good job, but it's ultimately up to them. They have to be self-motivated, though I try to inspire them as well. I think they will do the best science if they enjoy what they're doing.
"My definition of success for my graduate students is for them to be happy in the path they've chosen."
James Giblin
As a mentor to graduate students, Giblin is most proud of his contribution to student diversity in the Department of History. Many of his doctoral students come from the African countries of Tanzania and Zimbabwe, where he has strong professional relationships with faculty members.
Giblin first visited Africa in 1982 as a doctoral student at the University of Wisconsin-Madison, conducting research with faculty at the University of Dar es Salaam in Tanzania. Since becoming a UI faculty member in 1986, Giblin has returned to Tanzania annually to enjoy the African culture and recruit students to attend the University of Iowa.
"I became interested in training African students, because scholars in African universities need an opportunity to access materials in their field," says Giblin, adding that African scholars lack many resources compared to their Western counterparts. "They need to get exposed to different perspectives and interpretations of history."
Giblin provides these African students with academic advice as well as social and moral support. At the same time, he gets an understanding of their deep sense kindship and family, which aligns with his academic scholarship that focuses on Tanzania and East Africa in the nineteenth and twentieth centuries.
"They know what the tone of relationships are between nephew and aunt and granddaughter and grandfather, for example," Giblin says. "They know the way people relate to each other. Western scholarship approaches this in an abstract way, because we're not in touch with the really intimate details about how relationships work."
Giblin teaches all his graduate students—domestic and international—how to produce scholarly writing that convinces other historians to accept their point of view. After the students graduate, he advises them how to prepare their dossiers, reviews their text before it's submitted for publication, and counsels them on job interviews. 
UIPDA presents Sluka with OUTSTANDING mentor award
The University of Iowa Postdoctoral Association (UIPDA) presented Kathleen Sluka with the Outstanding Postdoctoral Mentor Award.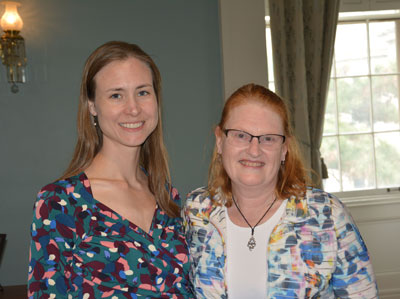 Sluka is a professor of physical therapy and rehabilitation science in the Carver College of Medicine. Her research focuses on the peripheral and central mechanisms of chronic musculoskeletal pain, and non-pharmacological treatment for chronic pain.
In her laboratory, Sluka trains postdoctoral scholars as well as graduate students in the interdisciplinary graduate programs in molecular medicine, neuroscience, and translational biomedicine.
Sluka has mentored students at the University of Iowa for the past 22 years since joining the faculty in 1996.