The University of Iowa's outstanding graduate students, postdoctoral fellows, and staff continue to earn nationally competitive fellowships and awards, bringing prestige, funding, and networking opportunities to their studies and professional endeavors.
Dina Garcia, Iowa Institute for Oral Health Research
Dina Garcia, a postdoctoral fellow, was presented a Mass Media Science & Engineering Fellowship from the American Association for the Advancement of Science (AAAS).
This highly competitive 10-week summer fellowship strengthens the connections between scientists and journalists by placing advanced undergraduate, graduate, and post-graduate level science, engineering and mathematics students at media organizations nationwide. The AAAS Fellows use their academic training in the sciences as they research, write and report today's headlines, sharpening their abilities to communicate complex scientific issues to non-specialists. AAAS typically selects from 15-20 Mass Media Fellows each summer.
Garcia will complete her fellowship work at CNN Español.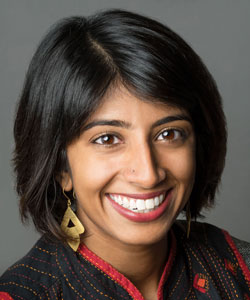 Sanjena Sathian, Creative Writing
Sanjena Sathian was one of 30 recipients of a Paul & Daisy Soros Fellowship for New Americans in 2017. The fellowship is awarded to outstanding immigrants and children of immigrants who are pursuing graduate school in the United States.
Selected from 1,775 applicants, each graduate student was chosen for their potential to make significant contributions to U.S. society, culture, or their academic fields.
The daughter of Indian immigrants who raised her in Georgia, Sanjena studies at the Iowa Writers' Workshop. Her writing engages Hindu and Buddhist philosophy, technology, diaspora, and gender.
Iva Patel, Religious Studies
Iva Patel was awarded a junior fellowship from the American Institute of Indian Studies to carry out her project, "Taming of the Mind: Practice and Pedagogy in the Bhakti Lyrics of the Swaminarayan Sect."
Junior Fellowships are for graduate students doing research for their doctoral dissertations in India. Patel will spend 11 months in India conducting her doctoral research.
Jill Hauer, Genetics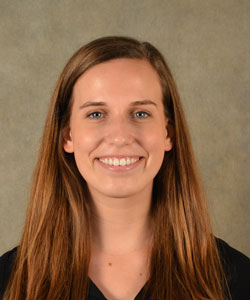 Jill Hauer earned a National Science Foundation (NSF) Graduate Research Fellowship in 2017.
The NSF Graduate Research Fellowship Program (GRFP) awards fellowships to outstanding graduate students based on their demonstrated potential for significant achievements in science and engineering. The GRFP provides three years of financial support within a five-year fellowship period for graduate study that leads to a research-based master's or doctoral degree.
In her application, Hauer proposed to study the genetic basis of C3 glomerulopathy, a disease that causes the kidneys to malfunction. Features of this disease include high levels of protein in the urine, blood in the urine, and low levels of protein in the blood.
Hauer intends to use a combination of computational molecular simulations and experimental assays to analyze genetic changes found in patients with the disease. Ultimately, these methods could help develop a tool to make better patient prognoses and treatment decisions based on patients' personal genetics.