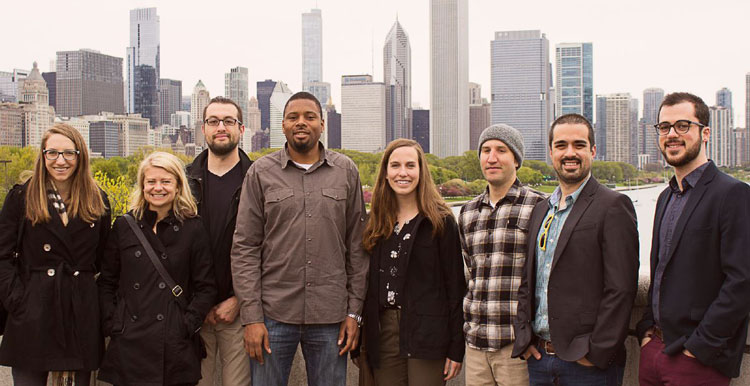 The Graduate College's STEM Leadership Development Program addresses the need to prepare STEM doctoral students for future leadership roles that require a variety of skills, tools, and talents that differ from research in the lab or field.
The National Science Foundation funded this year's inaugural program that supported nine students from seven different doctoral programs for on- and off-campus professional development opportunities to help prepare students for post-graduate opportunities. The program was designed by Associate Dean Sarah Larsen and Assistant Dean Jennifer Teitle.
On-campus activities
On-campus activities included both exploring their own values and talents as well as being offered the perspectives of University of Iowa senior scholars. One on-campus activity centered on exercises to help students explore their personal leadership styles using the Gallup StrengthsFinder. Students were coached on how they can not only understand but also cultivate their own talents identified in the exercise, as well as how they can support unique strengths in others. Students were charged with solving scientific problems as a group. They also met with a panel of distinguished interdisciplinary faculty on campus, including Professor Vincent Rodgers (Physics and Astronomy) and Professor Aliasger Salem (Pharmaceutics and Translational Therapeutics). These faculty members shared insight into the various roles they take as educators and researchers on campus and the greater community.
Students appreciated the exposure to various perspectives.
"It's always nice to meet and hear from someone who has taken an alternative path in scientific careers," says Kathryn Klarich, a doctoral student in civil and environmental engineering. "We don't hear about those types very often from our advisors and often we forget that other options are available."
Learning leadership in Chicago
As a capstone to this leadership training, students traveled to Chicago where they networked with peers from Northwestern University and UI alumni leaders from the Chicago area.
The trip started with a stop at Argonne National Laboratory, a multidisciplinary science and engineering research center. Students met with Perry Motsegood ('12 Ph.D.), a chemist who studies methods for processing used nuclear fuel. Motsegood answered the students' questions, covering topics ranging from daily life in his lab to the impacts of government shutdowns on operations.
Students also toured some of Argonne's facilities, including vehicle research, where they were exposed to research addressing wireless charging of electric vehicles, emissions testing, and efforts to improve the efficiency of conventional diesel engines.
The last stop at Argonne featured a visit with Dr. Richard Coffee at the Leadership Computing Facility. Coffee explained his group's work in supercomputing and the current scope of Argonne's efforts in supercomputing.
Johnathan Culpepper, a Ph.D. student in civil and environmental engineering, valued the opportunity to directly engage with government leaders about their perspective on leadership.
"The opportunity to discuss typical responsibilities within their labs, physically explore such a different working atmosphere, and talk about transitioning from graduate school to a post-doc position or full-time employment has made me open-minded towards opportunities I can explore when I approach my Ph.D. graduation," Culpepper says.
UI's leadership group also met with a cohort of students from Northwestern University for a leadership training session lead by Adam Goodman, director of Northwestern University's Center for Leadership and faculty member in the McCormick School of Engineering & Applied Sciences.
Goodman led an interactive session focusing on the state of effective leadership today and how people learn to become effective leaders. He advised students to not only be aware of their strengths and weaknesses, but to play to their strengths and build a team to compensate for their weaknesses.
"Meeting the other participants was one of the highlights. Everyone was so friendly and genuine," says Rachel Anderson, a Ph.D. student in psychology. "It was nice to meet people from other programs and get out of my small department. Even though we all had different backgrounds, we had common themes and issues that brought us together. I really enjoyed it."
Before returning to Iowa City, the students' experience was capped with a visit with Bridget Coughlin at Shedd Aquarium. Coughlin shared her story of earning her Ph.D. in biochemistry in 1999 from the University of Iowa. After graduation, she began a more traditional research position but realized she craved a more person-focused relationship with science. She served as the vice president of strategic partnerships and programs and adjunct curator at the Denver Museum of Nature and Science, where she worked for a decade. Since 2016, Coughlin has led the Shedd Aquarium as president and chief executive officer.
Coughlin related to students that she believes her love for science and "natural geekiness" is what set her apart from the other candidates in competing for her current role. She shared her plans for expanding on the traditional exhibits and using her geekiness to inspire future exhibits at the museum that highlight the importance of conservation.
"(Coughlin) delved into specifics about how she got to where she is today, which is of great interest to young scientists," says Reinaldo Franqui Machin, a doctoral student in molecular and cellular biology. "I think this definitively opened my eyes to even more possibilities available as a Ph.D."