Wednesday, August 2, 2017
At the University of Iowa, Samuel Jambrović found exactly what he was looking for in a creative writing program in Spanish: world-class faculty, an intimate workshop environment, rigorous academics, and generous funding, all of which made the UI the right choice for this Fulbright Fellow and Brown University graduate.
Receiving an Iowa Arts Fellowship from the Graduate College "sealed the deal" for Jambrović.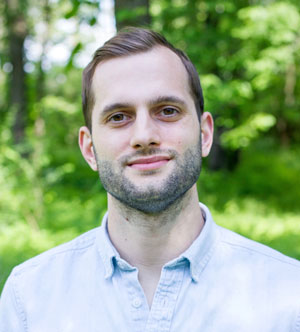 "The fellowship allowed me to take even more classes, which is the reason Iowa was my first choice from the beginning," Jambrović says. "I told myself that if I was going to make the decision to go back to school, I wanted to go all in."
The University of Iowa's Master of Fine Arts Program in Spanish Creative Writing is one of only three in the nation; the others are at New York University and The University of Texas at El Paso.
The UI Spanish Creative Writing Program distinguishes itself from other MFA programs on campus by encouraging students to explore multiple genres. Every fall, students take core workshops in fiction and poetry, and in the spring, there is a rotating offering of classes in playwriting, screenwriting, nonfiction, graphic novels, detective narratives, and children's literature. In addition, students are required to take two traditional graduate-level courses in both the Department of Spanish and Portuguese and related departments.
The UI program requires 48 semester hours of graduate credit taken over four semesters in residence. It also includes an engagement component in which students collaborate with the local Spanish-speaking community through different writing and storytelling activities. The degree culminates in a creative thesis, completed during the final semester in the program.
As a second-year student, Jambrović is embracing every aspect of this challenging MFA program.
STAGING A THESIS
As as undergraduate, Jambrović began exploring the world of linguistics, and these interests have resurfaced at UI in full force: in addition to his MFA coursework, he has taken two linguistics classes every semester and is now a member of the Linguistic and Language Acquisition Lab. Branching out into new disciplines has been one of the "best surprises" of his time at UI, and he cites a seminar on discourse analysis, taught by Professor of Spanish Mercedes Niño-Murcia, as being particularly influential.
"This course helped me make new connections and understand how humans construct realities through language. I would have never predicted this a year ago, but I now find myself walking the line between literature and linguistics and am a better writer because of it," Jambrović says. "Each field informs the other in fundamental ways, and I know everything will come together in my thesis and what I will do after the MFA."
His thesis, a play in five acts that he hopes to stage in the spring, explores the intersection of gender, sexuality, class, and representation in dialogue with Don Quixote.
OUTREACH COMPONENT
Jambrović is a devoted volunteer with the Spanish Creative Literacy Project (SCLP), founded in 2010 by Ana Merino, Professor of Spanish and Director of the MFA Program. The SCLP's primary mission is to inspire Spanish-speaking youth in Iowa City to develop their creative talents.
"His participation in the Spanish-language program at Helen Lemme Elementary School has been key," Merino says. "Sam is not only a superb writer, but also a very generous person, and he has been an inspiring role model for both our students and his fellow volunteers."
The SCPR offers workshops and afterschool programs to foster the creativity of Hispanic students through reading and writing activities in Spanish. These programs also are open to non-Hispanic youth who have an interest in creative writing and learning about other languages and cultures.
"By using Spanish in the classroom, we help students see that it is just as valid as English in an academic setting," Jambrović says. "They might not think much of it now, but this is a powerful image that we hope will stay with them as they begin to question constructions of language and identity in our society."
Learn more about the UI's Spanish Creative Writing Program.