Developed in 2008 by the University of Queensland, Australia, 3MT offers a forum for graduate students to share their dissertation research with a general audience in an oral presentation lasting three minutes at most.
The competition has since grown to include more than 125 universities worldwide, including 45 in the United States. The Ph.D. winner of the UI competition advanced to a regional competition hosted by the Midwestern Association of Graduate Schools.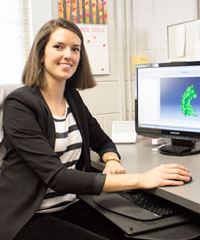 Kirsten Stoner, Biomedical Engineering
A Pain in the Neck: Modeling Cervical Myelopathy, 1st place, Doctoral Category
Kirsten Stoner is a fourth-year graduate student in the Department of Biomedical Engineering under the mentorship of Professor Nicole Grosland. She completed her bachelor's degree in Mechanical and Aerospace Engineering and master's degree in Biomedical Engineering at Cornell University. Her research focuses on utilizing finite element modeling of the neck and spinal cord to better understand spinal cord mechanics in diseased and operated states.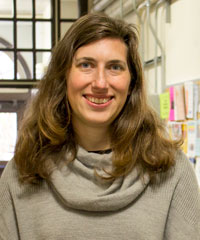 Sara Knox, Social Work
How Helpful Are Specific Techniques in Online Counseling?, 1st place and People's Choice winner, Master's Category
Sara Knox is a second-year Master's student in social work at the University of Iowa where she previously completed a BS in Economics. Since 2007, Sara has volunteered on the crisis hotline
and worked as a trainer of suicide intervention skills at the Crisis Center of Johnson County. Her research focuses on online crisis intervention and how online counselors can best help people who use that resource.
Magdalene Ameka, Pharmacology
Lose the Weight by Ignoring the Fat, People's Choice, Doctoral Category
A third-year graduate student in the lab of Dr. Matthew Potthoff in pharmacology, Magdalene Ameka came to the US from Kenya in 2006. She received her Bachelor's degree from the University of Houston in 2009 in biochemistry and biophysical sciences. She is currently working to understand how the liver-derived hormone Fibroblast Growth Factor 21 (FGF21) regulates energy homeostasis.
Vijay Permeswaran, Biomedical Engineering
Reverse Shoulder Replacement, Honorable Mention, Doctoral Category
Vijay Permeswaran is a fifth-year Ph.D. student originally from LeMars, IA completing a degree in biomedical engineering. He earned his bachelor and master's degrees in biomedical engineering from the University of Iowa in 2012 and 2014, respectively. He works in the Orthopedic Biomechanics Laboratory, where his research focuses on improving patient outcomes following reverse shoulder arthroplasty.
Anh-Vu Do, Chemical and Biochemical Engineering
Using Ultrasound to Enhance Tumor Cell Killing, Honorable Mention, Doctoral Category
Anh-Vu Do is a fourth-year Ph.D. student in chemical and biochemical engineering. He has multiple bachelor degrees from the University of Georgia, majoring in psychology, biology,
and biochemical engineering. Under the guidance of Professor Aliasger Salem, Do's research focuses on designing novel methods of controlled drug delivery to enhance cancer treatments and tissue regeneration.