The National Institutes of Health (NIH) is the largest public funder of biomedical research in the world, investing more than $32 billion a year to support thetraining of biomedical, behavioral, and clinical researchers.
The NIH's Kirschstein-National Research Service Award (F30) seeks to enhance the integrated research and clinical training of promising pre-doctoral students who are in a combined MD/PhD or other dual-doctoral degree training program. The Kirschstein-National Research Service Award (F31) works to help promising pre-doctoral students develop into productive, independent research scientists while conducting dissertation research.
Five University of Iowa graduate students earned National Research Service Awards during the 2016-17 academic year.
Nicholas Borcherding, Molecular and Cellular Biology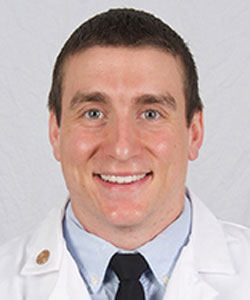 New cases of breast cancer affect 232,000 people in the United States and 1.7 million people globally each year.
In the United States, 20-25 percent of these new invasive breast carcinoma cases are categorized as HER2+. Being HER2+ means that the breast cancer cells produce too much human epidermal growth factor receptor 2 (HER2), a protein that signals cell growth.
"Overall, the project aims to develop a better understanding of the disruption in regulators secreted by the pre-malignant field in tumor-initiating cells that are permissive to HER2-positive tumor initiation," Nicholas Borcherding wrote in his public health relevance statement as part of his F30 application.
Caitlin Cosme, Psychology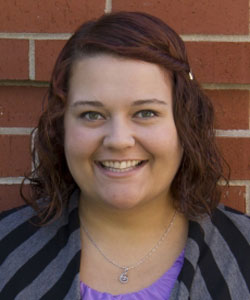 In her NIH research description, Caitlin Cosme wrote that, "cocaine addiction remains a costly and debilitating disorder in large part due to the high relapse rates observed in individuals addicted to different drugs of abuse."
Cosme's proposed experiments will investigate the neural circuitry underlying the insular cortex's regulation of cocaine-seeking behavior.
"The results from these studies will be critical for developing new treatments that target this region as part of the ongoing effort to reduce relapse among drug-addicted individuals," Cosme wrote in her public health relevance statement as part of her F31 application.
Kelly Falls, Free Radical and Radiation Biology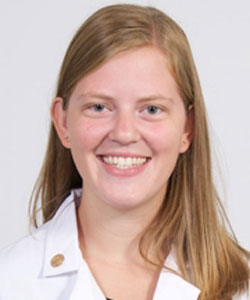 Despite extensive treatment, 200,000 people die annually in the United States from lung and breast cancers.
This high death rate suggests that new treatment approaches are needed. Falls will investigate two FDA-approved drugs currently used for other conditions that may also be effective against cancer cells.
"By determining how these drugs exploit fundamental differences in oxidative metabolism between cancer versus normal cells, we can gain better understanding of the mechanisms by which they selectively target cancer cells for the development of new combined cancer therapies to improve outcomes and limit progression of disease," Falls wrote in her public health relevance statement as part of her F30 application.
Andrea Hallberg, Molecular and Cellular Biology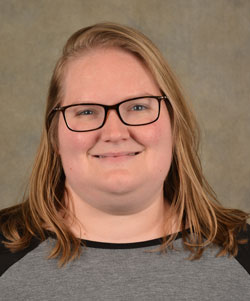 Andrea Hallberg seeks to understand the processes by which craniofacial regions develop in embryos. She proposes to characterize the regulation of the tfap2 gene (part of the neural crest specification gene regulatory network) using zebrafish, a common model organism for embryonic development.
"The proposed research aims at understanding, at a genetic level, neural crest specification, one of the very first steps in craniofacial development," Hallberg wrote in her public health relevance statement as part of her F31 application. "It is relevant to public health because craniofacial defects are the second most common birth defect in the United States."
Bianca Mason, Molecular and Cellular Biology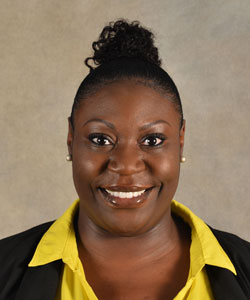 Bianca Mason's research uses genetic and pharmacological methods to study migraine-like behaviors in a pre-clinical rodent model; her current project examines the neuron peptide CGRP.
"Migraine is a debilitating disorder that is accompanied by sensory alterations such as photophobia," Mason wrote in her public health relevance statement as part of her F31 application. "This study seeks to identify how peripheral CGRP causes light aversion in mice, which may help identify new targets for the development of better treatments for migraine.