Friday, September 23, 2016
The University of Iowa's Department of Dance has a strong national reputation, drawing top performers to campus. In 2015, Dance-Colleges.com ranked Iowa sixth in its list of the top 50 dance schools in the United States.
"We're included on the short list when people are thinking about going to graduate school," says Jennifer Kayle, director of the M.F.A. Program and associate professor. "We're able to recruit amazing people."
Typically, Iowa recruits two or three critically-acclaimed professionals in each cohort. The last two years combined, however, the Dance Department has landed 11 such performers from dance meccas like Chicago and New York City.
What draws these dancers to the University of Iowa for graduate school?
"I've toured in Iowa City twice, my first time in 2010, and there's always an energy about the city and the Dance Program, which is very attractive to me," says Marc Macaranas, a first-year M.F.A. student who performed with major Chicago contemporary dance companies, including Lucky Plush Productions, DanceWorks Chicago, and Luna Negra Dance Theater.
The University of Iowa's M.F.A. Dance Program offers first-rate teaching opportunities and fellowship support that is almost second-to-none. Eight current students are partially funded by Iowa Arts Fellowships from the Graduate College. This combination of funding support and teaching opportunities sets Iowa apart from many of its competitors.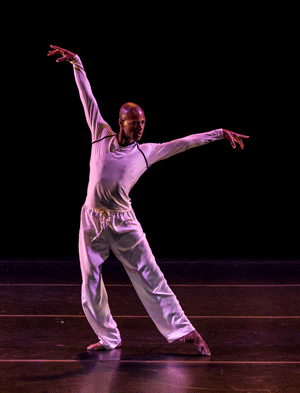 "Not many programs offer what you get at the University of Iowa as far as funding and an ability to teach while also working on your M.F.A.," says Ramon Flowers, a second-year M.F.A. student who performed in Matthew Bourne's Swan Lake on Broadway and in Julie Taymor's Broadway production of The Lion King. "That aspect of the program was very attractive to me."
Setting the The UI's M.F.A. Dance Program combines a rigorous studio curriculum with theoretical, conceptual, and historical coursework designed to prepare these performers to teach in academia.
Iowa also offers a strong curriculum for undergraduate non-major students. These dynamic graduate students, who have reached great heights in their profession, inspire and exhibit passion as they teach technique classes in ballet, modern dance, jazz, and hip-hop to about 800 students a year.
"I've had my career as a performer. I'm here primarily to become a better instructor and teach students how to become performers," says Flowers. "I intend to set the stage for the next generation. It's time for me to give back. A lot of what I did (as a performer) was innate to me. Now, I'm here learning how to better translate what I'm doing to someone else."
Autumn Eckman, a second-year M.F.A. student from Atlanta, Ga., credits the UI program for teaching M.F.A. students how to speak about their work to a non-professional dance audience.
"You can be a career-long dancer and never be able to articulate exactly what you're doing, or have the time to immerse yourself into why you're doing what you're doing," says Eckman, who danced professionally for the world-renowned company Hubbard Street Dance Chicago and was resident choreographer and assistant artistic director at Giordano Dance Chicago.
"(At Iowa), while you're focusing on your (academic) track, you're also learning to teach and articulate your work. You're bridging the gap between many different aspects during this immersive time."
The University of Iowa's Department of Dance excels at preparing its M.F.A. students to teach in an academic institution and/or train pre-professionals in dance studios. Graduates of the M.F.A. Dance Program have teaching positions at institutions all over the country, including at the University of California-Berkeley, University of New Mexico, University of North Carolina-Charlotte, Penn State University, University of Utah, Berklee College of Music/Boston Conservatory, and the University of Iowa.
"With fellowship support from the Graduate College, we're allowing them to teach and gain really vital experience necessary for getting jobs in higher education," says Rebekah Kowal, chair of the Dance Department and an associate professor. "At the same time, we're providing them space for the artistic development. The money is key, and the experience is here."
Iowa dancers on national stage
Iowa will enhance its already-strong national profile in February, 2017.
A group of UI dancers — 13 undergraduates and 4 graduate students — has been invited to perform at the Joyce Theater in New York City as part of the Martha Graham Dance Company's University Partners Showcase, which highlights groups that have performed the work of Martha Graham at a high level during the year.
Second-year M.F.A. student Jesse Factor, a former dancer within the Martha Graham Dance Company, is staging Graham's "Ritual to the Sun," the final section of a larger work titled, "Acts of Light." Factor is currently rehearsing undergraduate and graduate students.
Factor is honored to share this experience with the UI's younger dancers.
"The Joyce is really a premier venue for modern dance in New York City," says Factor, a native of Marcer, Pa. "Dancing at the Joyce for the first time was a watershed moment in my dance career. It's thrilling to facilitate this experience with young dancers as they move forward in their artistry and professional careers. To see the students embrace the art form and embody it with such enthusiasm and vigor is really inspiring."