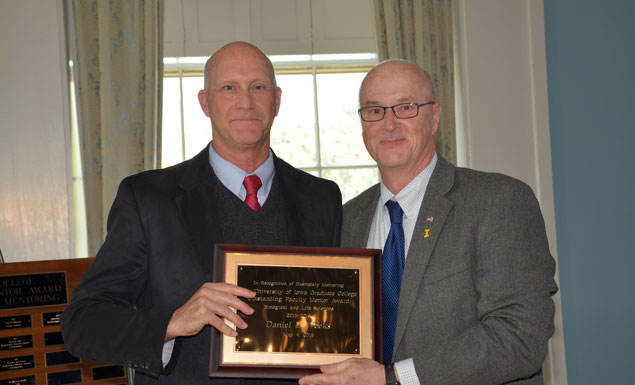 The University of Iowa Graduate College awarded Dorothy Johnson and Daniel Weeks top recognition for excellence in mentoring graduate students.
Johnson, Roy J. Carver Professor of Art History in the College of Liberal Arts and Sciences (CLAS), is winner of the 2015-16 Graduate College Outstanding Faculty Mentor Award in Humanities and Fine Arts. Weeks, professor of biochemistry in the Carver College of Medicine,.
The professors were nominated for the award by their students and colleagues.
Dorothy Johnson
Johnson believes it is extremely important to nurture students to pursue their interests, to build on their strength, and to guide them to strengthen areas in which they are less strong.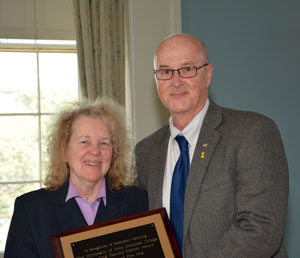 "It is my responsibility to hone their research skills, sharpen their critical thinking, strengthen their writing skills especially in terms of building persuasive arguments based on research and thinking, and expand their knowledge of past and current developments in the discipline," says Johnson, who studies eighteenth and nineteenth century French Arts and is the leading authority on Jacques-Louis David and on the subject of classical mythology in the painting and sculpture of that epoch.
Since 1995, Johnson, the current DGS in Art History, has attracted over 25 graduate students into the School of Art and Art History, 17 of whom have completed their Ph.D.
Daniel Weeks
As a mentor, Weeks serves as a GPS for his graduate students.
"The student and their mentor establish destinations, but it's the graduate student who needs to make the trip," Weeks says. "The precise route may vary, but the mentor needs to be able to suggest an attainable path, all the while monitoring progress and even helping the student by entering 'recalculating' mode when an unplanned or unanticipated turn is made."
For the past 28 years, Weeks, an internationally known nucleic acid biochemist and developmental biologist, has trained 12 Ph.D. students, 2 Master's students, 7 postdoctoral/medical fellows, and 35 undergraduates on research projects focused on heart development.
UIPDA recognizes Herwaldt with mentor award
The University of Iowa Postdoctoral Association (UIPDA) presented Loreen Herwaldt with the inaugural Outstanding Postdoctoral Mentor Award.
Herwaldt is a professor of internal medicine in the Carver College of Medicine and professor of epidemiology in the College of Public Health. She is a well-respected researcher and clinician in infectious disease. Despite her busy schedule, she always makes time to listen to her trainees and provide insight and assistance.
"(Herwaldt) is skilled at providing oversight while allowing significant autonomy that was crucial for allowing me to think critically about my research," says Samuel Bailin, a resident in internal medicine at Vanderbilt University Medical Center who studied under Herwaldt while in medical school at the UI. "She is a role model not only because she is a great clinical researcher, but also because she teaches how to be a great clinical researcher."