Friday, February 19, 2016
Five years have passed, but Robert (Ted) Gutsche, Jr. continues to practice lessons learned as a fellow at the University of Iowa's Obermann Graduate Institute on Engagement and the Academy.
Now as an assistant professor in the School of Journalism and Mass Communication at Florida International University, Gutsche inspires hundreds of high school and college students from Miami to collaborate on collecting and interpreting data related to rising sea levels and to educate the public about the region's changing environments.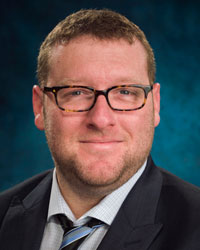 "I've found that it's great to have students and community members interested in this type of work, but there's an intentionality necessary in communicating how and why this work matters—even among those interested in collaborative work," Gutsche says. "Faculty and staff at the University of Iowa, and particularly at the Obermann Center, helped me shape pedagogy and partnerships during my time at Iowa that I turn to every day in my current work."
Gutsche, who earned his doctorate in mass communication at the UI in 2012, is a shining example of successful engagement by Obermann graduate alumni. For 10 years, the Obermann Graduate Institute has helped nearly 200 UI graduate students from across disciplines think about how to weave engagement into their research and teaching.
Taking it to the Streets was a symposium, held on March 3-4, that commemorated the 10-year anniversary of the Obermann Graduate Institute. Graduate alumni, including Gutsche, and other esteemed guests will participate in roundtable discussions, workshops, and keynote addresses about what makes engagement work worthwhile.
"After 10 years of touching so many students and faculty members as far as helping to build a community around engagement on this campus, it was important to pause, acknowledge, and celebrate what the Obermann Graduate Institute has meant," says Jennifer New, assistant director at the Obermann Center.
About the Institute
In 2007, Professors Teresa Mangum and David Redlawsk started the Obermann Graduate Institute on Engagement and the Academy as a one-week interdisciplinary institute in which UI graduate students from across campus explore how civic engagement can enhance teaching, research, and creative work. Students selected to participate in the Graduate Institute receive a $500 stipend from the Graduate College.
During the week, participants discuss theories of engagement and meet with experts, including former Obermann Graduate Fellows, faculty members, UI administrators, and potential community partners. They develop their own engaged project, which they present in draft form at the end of the Institute.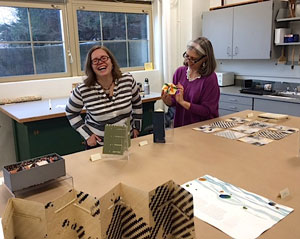 Mangum was co-director of the Obermann Graduate Institute for three years, and has been director of the Obermann Center for the past six years. During a distinguished teaching career spanning nearly three decades, Mangum hasn't experienced anything quite as rewarding as the Graduate Institute.
"This is what universities are supposed to be about; real learning, real risk taking, incredible growth, and openness to radically new ideas as students talk across disciplines," Mangum says. "Our students come to us eager to feel more connected and hungry to find ways to take what they're studying and bring it to bear on real world issues. This Institute is really the bridge for them to do that."
Jessica Pleyel, an MFA candidate in art and art history, learned the importance of collaboration and listening to multiple voices as an Obermann Scholar in 2015. Pleyel's thesis entitled To(get)her would have been just a "seed if it wasn't for the inspiration I received from the Obermann Graduate Institute."
To(get)her was a large-scale collaborative performance in which over 25 self-identifying women from a variety of backgrounds came together to destroy five wax assault rifles with domestic tools. These guns acted as a metaphor for the violence that happens to many women on a daily basis.
"This project is interdisciplinary, and connected me with activists, scholars, community members, and many others," says Pleyel, an Obermann Senior Fellow this year. "The Obermann Graduate Institute not only brings together people with a passion for community engagement but also helps them learn to bring these messages to their classrooms, their projects, and their communities at large."
Faculty join the Institute
Developing a rotating group of faculty leaders has been one of the biggest changes in the Institute through the years. Each year, two professors serve as co-directors of the Institute, assisted by Jennifer New and one or two returning Senior Fellows. Often, these faculty directors hail from seemingly disparate fields, such as this year's co-directors, Jennifer Kayle from dance and Craig Just from engineering. One happy result of this is that the Institute has contributed to building a network of publicly engaged faculty leaders.
A major goal of the week is for the students to understand the differences between outreach and engagement.
"We want to train them about how engagement helps inform your scholarship," says Just, assistant professor in civil and environmental engineering and co-director of the Graduate Institute in 2015 and 2016. "As you're out engaging, the work has to feed your scholarship. Otherwise, you're volunteering. One way to have your work help your scholarship is to measure its impact in the public domain through interviews and surveys."
Life after the Institute
Institute graduates report that their experience and familiarity with public engagement helped them to secure job interviews, some of which translated into positions that include strong engagement components.
Bridget Draxler, a 2009 Obermann Graduate Fellow, shifted her career focus from a traditional academic position to one that also uses her skills in the digital humanities and civic engagement as well as her training in literary studies. Her dissertation, "Novel spectators: spectatorship in the eighteenth-century novel" argues that engaged spectatorship offered an important theatrical model for protagonists in the eighteenth-century novel.
Draxler, who earned her Ph.D. in 2011, found her perfect job at Monmouth College, a liberal arts college in Monmouth, Ill. She is an assistant professor of English and director of Communication Across the Curriculum, an interdisciplinary writing program that promotes civic engagement and teaches the use of digital tools to help students become better communicators. She also runs the campus writing center.
"Going to the Obermann Institute gave me the sense that there could be more to academia," Draxler says. "It was inspiring to see people encouraging their students to be change-makers in their community. It was really radical teaching. It allowed me to see different possibilities for what a career in academia could look like."
Gutsche credits the Obermann Graduate Institute for helping make his research and engagement matter.
"I found the Institute helped me complicate my questions about community and injustice that placed people and process at the center of my scholarship and directly made my studies even more personal," Gutsche says. "In the end, that added meaning helped me with my studies and fueled my interests in graduating and finding a place to make a difference in my career."