Wednesday, January 13, 2016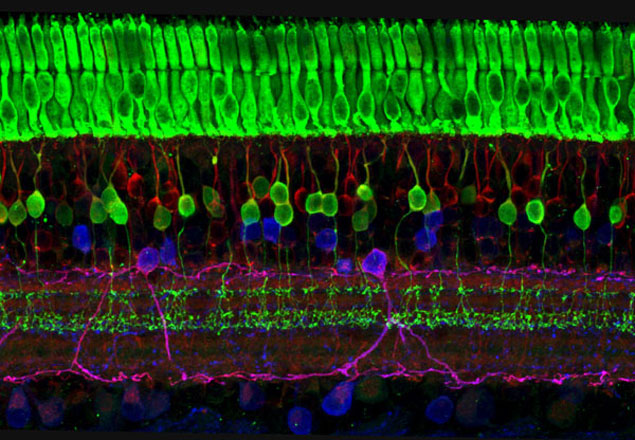 When accepted into the University of Iowa's Interdisciplinary Graduate Program in Neuroscience, Brittany Williams understood that she needed to display a tireless work ethic to make a successful transition from an undergraduate student to a graduate student.
Brittany's father gave her advice that has helped her achieve success as a graduate student at the University of Iowa.
"My dad said, 'Brittany, if you want to sit at the head of the table, you have to put in the work,'" says Williams, a native of Gainesville, Fla. "He told me to not get distracted and go for what I want. Additionally, my mom calls me every day to check on my progress and share words of encouragement."
Keeping their advice and words of encouragement in mind, Williams, 26, set her sights on a National Research Service Award from the National Institutes of Health. Williams crafted what she believed to be a strong scientific proposal. The NIH's review committee agreed. In fact, the committee gave her a perfect score of 1.0 on her NRSA grant application.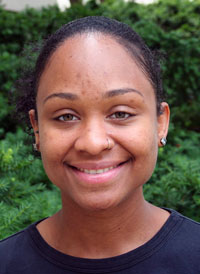 Williams is the second UI neuroscience student to receive a perfect score in the last five years. In 2010, Rupa Gupta also achieved a 1.0 score on her grant application.
The NIH awarded a three-year grant of $28,471 to the UI to fund Williams's research project entitled, "Characterization of a Human Cav1.4 Splice Variant." The award will cover Williams's stipends, tuition and fees, and institutional allowance (health insurance, research supplies, etc.).
Williams proposes to provide a further understanding of how calcium channels are regulated, specifically how alternative splicing of Cav1.4 may contribute to visual signaling in the retina.
"There are several mutations in Cav1.4 that cause visual impairments. How Cav1.4 works compared to other family members is not really known," Williams says. "It's like a big puzzle with a bunch of missing pieces."
National Research Service Awards
The National Research Service Awards (NRSA) are a family of grants provided by the National Institutes of Health (NIH) for training researchers in the behavioral and health sciences.
According to Elizabeth Savelkoul, postdoctoral research scholar in the Office of Graduate Student Success, the NRSA proposal (NIH F31) is one of the more complex external funding applications for which graduate students can apply.
Savelkoul says the main "research strategy" section must explain the project's importance to a lay audience, define clear objectives for up to five years of research, and propose experimental procedures to not only get validated results but also to distinguish between alternative explanations.
"Getting a perfect score means that Brittany communicated all these things in an extremely clear and intellectually compelling way," Savelkoul says.
During the application process, Williams not only gained valuable feedback from her advisor, Amy Lee, but also from her family. Through video calls, her siblings provided her with perspectives from a psychologist, electrical engineer, architect, and hair stylist. 
"If they didn't understand it, I went back to the drawing board. We went back and forth and they were really good with that," Williams says. "My family is really important to me. I go to them for everything."
The UI neuroscience family
Williams is big on family, and the University of Iowa had to be a special place for her to move halfway across the country.
She received her first exposure to the UI while attending the Annual Biomedical Research Conference for Minority Students (ABRCMS). Joe Henry, outreach and recruitment coordinator for the Office of Graduate Inclusion (OGI), approached Williams on her way to speak with a UCLA recruiter. She was impressed hearing Henry talk about the Iowa's research history and campus environment.
Williams applied to the UI's Neuroscience Program and wasn't disappointed when she visited campus.
"I completely fell in love with the University of Iowa. Everybody was like a family," says Williams, who received her Bachelor of Science degree in biology from Delaware State University (DSU) in 2012.
For Williams, DSU and Iowa are two different worlds in regards to research. Although she gained research experience in the laboratory of Professor Princy Mennella at DSU, she has been exposed to a wide range of scientific topics and tools as a doctoral student at the UI, enabling her to further develop as a scientist.
Dan Tranel, director of the Neuroscience Graduate Program, saw in Brittany an eager, enthusiastic scholar who was willing to take risks.
"Coming to Iowa to study neuroscience was a major step out of her comfort zone," Tranel says. "She saw the potential of our place, and we saw the potential in her. She has risen to the top through hard work, perseverance, having outstanding mentoring, and being surrounded by an incredible cohort of graduate students." 
Williams is grateful for the continued guidance from Tranel and her advisor, Amy Lee, professor of molecular physiology and biophysics, neurology, and otolaryngology. 
"I look up to Dr. Lee, because not only is she a phenomenal scientist, but she is also an outstanding mentor," Williams says. "She strives to take research to the next level, and that is exactly what I want to do."
Calcium channels' role in the retina
Cav1.4 is a calcium channel that plays a vital role in vision. Calcium entry through these channels plays a critical role in the transmission of visual information from the retina to the brain. Mutations are known to cause several visual impairments, including congenital stationary night blindness type 2, cone-rod dystrophy, and X-linked retinal disorder.
In previous work, Williams used electrophysiology to characterize different Cav1.4 variants. During this process, she noticed certain Cav1.4 variants displayed altered channel activity and some of these phenotypes have been observed in visual impairments, such as congenital stationary night blindness type 2.
With her NIH funding, Williams will use Human Embryonic Kidney 293T cells to determine the functional and structural significance of a particular Cav1.4 variant, and she will characterize its expression in human retina.
"I've shown that there are alterations in the channel's activity due to alternative splicing," Williams says. "Next, I want to study why and how that happens. We know that there are certain proteins involved with regulating Cav1.4 activity. Do these proteins also play a role in these changes that I have observed?"
Gaining more insight into how calcium channels operate in the retina could possibly lead to corrective strategies for people who suffer from Cav1.4 visual impairments.