Tuesday, December 15, 2015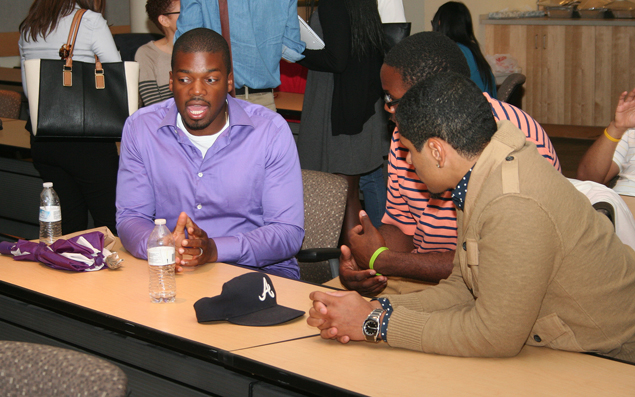 The Graduate College's Office of Graduate Inclusion (OGI) has recently developed programming that focuses on scholar activism, public engagement, building community, and tips and strategies for navigating the academy.
OGI has offered three workshops this semester designed to serve and support under-represented students as they pursue their graduate degrees.
In September, Keisha Blain, assistant professor in the UI's Department of History, hosted a workshop titled "Lessons from the #Charlestonsyllabus," in which graduate students and postdocs learned strategies for effective public engagement as well as resources for teaching.
Blain is co-developer of the #Charlestonsyllabus, a Twitter movement and crowd-sourcing list of reading recommendations created in response to the racially motivated shooting in Charleston, S.C., in June 2015.
"OGI graduate students don't have the opportunity to hear from and have conversations with faculty of color," says Diana Sproles, diversity and inclusion coordinator at the Graduate College. "It's important that they be able to utilize faculty outside of their programs as mentors and part of their community of support."
In October, Blain also led an informal discussion focusing on strategies that students of color can use to navigate the academy and create a balance between coursework, writing, teaching, and public engagement.
"Providing workshops is essential. We can go weeks without seeing people of color, which can be difficult if you're coming from a diverse city, have classes with few people of color, and do not know people in this new environment," says Lisa Covington, a doctoral student in sociology.
Covington's major takeaway from Blain's recent talks was not to be afraid to do research that impacts the communities that students of color call home.
"Doing research you're interested in benefits those communities, paves the way for students who come after you, and sets the tone for a career that values contributions by scholars of color," says Covington, who studies African-American girls' experiences in schools, families, and communities.
OGI offers valuable resources
OGI is committed to serving and supporting under-represented graduate students to be successful in their pursuit of graduate degrees.
OGI assists students by helping create an inclusive and supportive community. OGI provides a safe space for students to have conversations and address concerns, serves as a liaison for connecting students with campus and wellness resources, and offers programming and networking opportunities to help students negotiate the challenges of graduate school.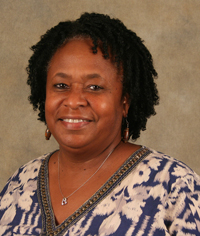 "We want to make the students feel like they are supposed to be here and shouldn't have to be questioned about where they came from," Sproles says.  "The students deal with that consistently, but don't really have a place to go to get their issues resolved."
Sproles and Joe Henry, OGI's outreach and recruitment coordinator, welcome all questions and concerns from students. OGI also created a seven-member advisory council to give a voice to graduate students from under-represented populations. Council members are graduate students Lisa Covington, Gifty Crabbe, Reinaldo Franqui, Jasmine Mangrum, Eric Moy, Cristina Munoz, and Bryan Range.
"I know Ms. Sproles and Mr. Henry will be receptive to listening to ideas, thoughts, and experiences of graduate students of color. It is one of the few places on campus where I speak and know that I will be heard," Covington says. "Institutionally, racism has to be addressed for things to change, and the OGI Advisory Council is a good start to that."
Covington, who earned her master's degree at San Diego State University, believes it's important for students of color to understand the sacrifices their parents, grandparents, and ancestors made for them to "be here to do this work."
"I have ancestors who were punished for being able to read and because of that I get to read books all day," Covington says. "If you're not thinking in terms of standing on the shoulders of people who sacrificed for you to be in graduate school and thinking that 'I'm meant to be here, this research is very important, and I'm very smart' then you leave your feelings and credentials in the hands of people who can subjugate them."
OGI's November workshop will focus on what it means to be a scholar activist. OGI also will offer a workshop about the importance of mental and physical health in graduate school as well as establish blogs for students to discuss critical issues in higher education.