Tuesday, December 15, 2015
With 25 graduate programs ranked among the top 25 best programs in the nation (U.S. News and World Report, 2016), the Graduate College remains committed to fostering a diverse intellectual environment that inspires research, scholarship, and innovation.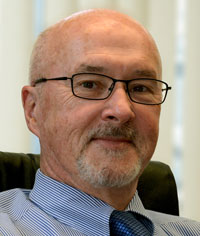 John Keller, who serves the University of Iowa as Graduate College dean and associate provost of graduate and professional education, spoke with the Graduate College's Office of External Relations about such topics as the college's investment in student success, new administrative leadership, and ongoing diversity initiatives.
Q: How is the landscape of graduate education changing?
There is increasing focus on graduate education. The Graduate College's goals are more prominent in the university's current strategic plan and are likely to be prominent as we move into the future. Nationally, the American Association of Universities (AAU) presidents are discussing the quality of students who are coming into graduate education, the diversity of that population, as well as retention and completion and professional development opportunities. At Iowa, we are very focused on our students' success. We are working to attract talented graduate students and support them throughout their graduate experience. We are developing comprehensive support and professionalization services: travel grants, teaching and research awards, dissertation completion awards, and career services.
Q: How are Graduate College resources impacting graduate students?
The past year, we've funded over 350 doctoral students, compared to about 260 students the previous year. Almost 100 more students are being supported by funding from the Graduate College. We're redistributing the same amount of resources for different purposes and for different lengths of time. We're trying to get as much money as we can in the hands of more students to be used as effectively as possible. The more we put resources into retention and completion fellowships—like summer fellowships, dissertation-year support, and support for students who just completed their comprehensive exams—the better off we're going to be. Our data over the last 10 years showed us that well over 90 percent of students who received summer fellowships and dissertation-year fellowships completed their Ph.D. Students need different types of resources at different points of their graduate career to be successful. We're moving in the right direction and our goal is to continue to move in that direction.
Q: Why is the Graduate College emphasizing professionalization offerings for graduate students?
Recently, the AAU graduate deans working group drafted a vision for doctoral education. They recognized that graduate education supplies the skillset needed for high-level leadership in industry, government, military, cultural and non-profit sectors—not just academics. We know that only about 20 percent of our students move into tenure-track positions right out of graduate school. The question is what types of experiences do those students need to pursue these positions and where are these positions? High level research and critical thinking skills are important, but what other competencies do students need to be able to move into other kinds of careers? Do they have leadership experience? Do they have experience with high-level teaching? Do they have communication and writing skills? Talking to non-scientific groups is very important. In the past year, we have served over 1,200 graduate students and postdoctoral scholars through Graduate College professionalization offerings emphasizing these skills.
Q: How does the appointment of new administrative leadership fit into the college's strategic plan?
We've appointed individuals with a student-centered view of graduate education. Shelly Campo joins us as an administrative fellow working with responsible conduct of research, postdoc initiatives and special projects. Our new assistant deans, Heidi Arbisi-Kelm and Jennifer Teitle, are running the Office of Academic Affairs and the Office of Graduate Success, respectively. Our new associate dean, Sarah Larsen, oversees how the offices work together. Dean Larsen is critical for that overall view for how students develop from start to finish.
Q: How is the Graduate College supporting diversity initiatives on campus?
We don't have the breadth of participation in graduate education that we need to have right now. The Graduate College seeks to support the recruitment and training of diverse graduate students and postdoctoral scholars through a variety of programs. Our Summer Research Opportunities Program (SROP) draws in talented students from under-represented backgrounds to come to Iowa and work with our top researchers. Many of the SROP students go on to join our programs here. Our Office of Graduate Inclusion supports the networking, social, and cultural opportunities of all students.
Q: How does the quality of research being conducted by doctoral and master's students at the University of Iowa compare with other institutions?
Our graduate students fare extremely well in terms of internal and external awards in many disciplines. The Council of Graduate Schools/ProQuest Distinguished Dissertation Award has been in place for approximately 25 years and we've won five of those awards and had 12 finalists. Iowa has been recognized more times than any other public university and is tied with Yale, which also has five winners. We also had five students receive National Science Foundation (NSF) Graduate Research Fellowships in the 2015-16 academic year and one student receive a grant from the Fulbright-Hays Doctoral Dissertation Research Abroad Fellowship Program. We have very high quality students doing cutting edge research.
Dean Keller plans to deliver the second annual State of Graduate Education address this spring.   
This story appeared in the Fall 2015 Graduate Education at Iowa News Magazine .