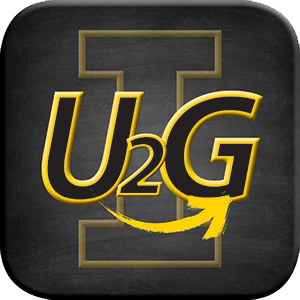 The Graduate College has launched a new initiative to promote five-year programs that begin with undergraduate study and lead to a master's degree.
The UI's undergraduate to graduate programs—promoted under the name Iowa U2G—offer clear benefits for UI students. Through streamlined studies, students can maximize their tuition dollars and position themselves for career placement.
"The Iowa U2G initiative makes more visible the many degree options and programs that serve the interests of our students," says John Keller, associate provost for graduate and professional education and dean of the Graduate College. "In the past, these programs have been approached individually by students and their departments. U2G marks a new era in our efforts to make these programs available to eligible students."
History of U2G success
The University of Iowa has a history of success with combined programs in several fields of study. The UI College of Engineering was the first to initiate a combined degree program in 1982. As interest in such programs has grown, other UI graduate programs have developed U2G degree tracks as a means to encourage promising scholars to continue their education at Iowa.
Currently, the UI offers twenty-two U2G programs in a variety of areas ranging from German to Public Health. The University of Iowa offers more combined bachelor's and master's programs than any other Big 10 institution.
The decision to launch the initiative grew out of the need to help students address pressures to achieve higher levels of education while facing rising costs of attending college.
Mike Paulsen, professor in the higher education program in the UI College of Education, is a specialist in both higher education and economics. Paulsen outlines the benefits of Iowa U2G, saying, "U2G pathway programs are very really exciting because of all the benefits to students and their families. Combined programs offer substantial reductions in overall tuition costs and significant reductions in the time to complete both degrees. Because students enter the job market more quickly, they also see a faster return on their investment in higher education."
In addition, Paulsen notes that U2G programs can narrow pay gaps between disciplines. For example, a student with an Iowa U2G master's in social work or education spends only one additional year in school to earn a salary approaching that of a student who completes a bachelor's in a STEM field.
The U2G process at Iowa
Iowa U2G programs follow a straightforward process. First, undergraduate students must meet the application standards, including a GPA of at least 3.25 and a minimum of 80 semester hours completed. Some programs require more than 80 hours.
Next, students work with their department to select courses to take during their fourth year. Generally, courses allowed for U2G programs count toward both the bachelor's and the master's. At the end of the fourth year, students earn their bachelor's degree. During their fifth year, students devote their time to completing their master's degree.
Rising interest in U2G
Although the programs are popular across campus, some have seen considerably growth. Interest in UI College of Public Health combined programs has increased substantially since the college launched its first in 2012.
"Students with graduate education in public health represent the next generation of public health leaders and innovators. By 2020, the Association of Schools and Programs of Public Health reports the U.S. will face a shortage of 250,000 public health workers," says Mary Lober Aquilino, associate dean in community and behavioral health. "The changes in health care needs and health care delivery in the U.S. and abroad are providing expanded opportunities and employment prospects for students with public health knowledge and skills."
Aquilino says Iowa's programs will help with the shortage. "The undergraduate to graduate program allows students to be prepared in a health field with high workforce demand and to enter the workforce sooner."
Keller agrees that Iowa U2G programs will serve students well. "There are many reasons this initiative is timely: U2G programs reduce education costs while increasing career earnings potential. More employers need the type of skills that a graduate degree provides, and U2G programs will also help attract our top undergrads to pursue their graduate degrees at Iowa."