Four University of Iowa graduate students and one alumna with UI graduate degrees won Fulbright funding to continue their research and creative work next year in locations around the world.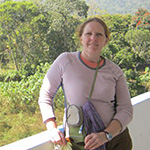 Gloria Wenman
Gloria Wenman, of Oxford, Iowa, is currently pursuing a graduate teaching certificate and holds an M.S. in urban and regional planning from the UI, an M.P.A. in public administration from Upper Iowa University, and a B.A. in psychology and creative writing from the UI.
Wenman, who is also a member of the U.S. Army, will use her Fulbright U.S. award to address individual learning needs of students and engage them in conversations about American culture as an English teaching assistant in Mongolia.
Beatrice Smigasiewicz
Beatrice Smigasiewicz, of Chicago, Illinois, graduated with an M.F.A in literary translation in May 2014 and will earn a second M.F.A. in nonfiction writing from the UI in May 2015.
Smigasiewicz will use her Fulbright U.S. award to investigate the representation of post-Soviet Polish identity in Krakow, Poland, through interviews, museum research, and study of Polish literature and architecture. She will use her research to write a book of essays titled Recovered Futures.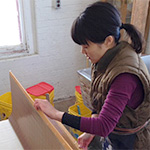 Steph Rue
Steph Rue, of Cleveland, Ohio, is expected to graduate with an M.F.A in book arts in May 2015.
Rue will use her Fulbright U.S. award to investigate the history and technique of Korean book arts with a special emphasis on paper making in South Korea. She will also create a series of artist books and paper artwork in Seoul that will incorporate her research on traditional bookmaking methods. Her project is intended to help preserve the spiritual and historical tradition of Korean book arts.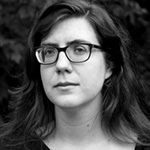 Clare Jones
Clare Jones of New Orleans, Louisiana, earned an M.F.A in creative writing (poetry) from the UI Writer's Workshop and an M.A. in book arts from the UI Center for the Book in May 2014. Jones will use her Fulbright U.S. award to investigate the potential of new creative writing publishing initiatives to bring Pacific area cultures and climate change activism to the attention of the global community and encourage collaboration between specialists within environmental conservation groups and the arts in New Zealand and Polynesia. She will also research and write a book of poetry, Neotype, that weaves together themes of botany, ornithology, and geology of that area.
Daniel Goering
Daniel Goering, of Agency, Iowa, is a Ph.D. candidate in organizational behavior and human resources in the UI Tippie College of Business.
With his Fulbright U.S. award, Goering will study work-life balance issues and investigate methods to increase resilience to work-family stress with experts at the University of Tokyo in Tokyo, Japan.
The Fulbright Program is the flagship international educational exchange program sponsored by the U.S. government. It is designed to increase understanding between people of the United States and other countries by providing participants opportunities to study, teach, conduct research, and contribute to finding solutions to shared international concerns.
Recipients of Fulbright grants are selected on the basis of academic or professional achievement, as well as demonstrated leadership potential in their fields.