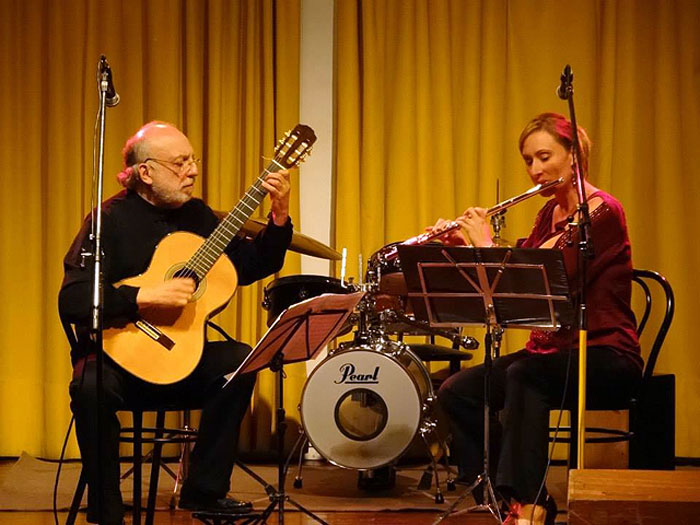 At age 9, Lisa Schroeder sat mesmerized in front of the television as world-renowned flutist Sir James Galway performed Concerto in G Major by Mozart. She knew from that moment she wanted to play that beautiful instrument he played so effortlessly.
"It feels like your feet are not even on the ground. You are transported somewhere else," says Schroeder, describing her sensations of hearing Galway play the flute. "His playing makes you forget all your worries. You have a relaxed state of mind."
Schroeder is a Doctor of Musical Arts candidate in flute performance and pedagogy at the University of Iowa.
As the founding member of Noteworthy Duo, a professional flute and guitar duo, Schroeder has played over 100 concerts in 26 states. She performs with Jose Luis Merlin, a guitarist, professor, and composer from Buenos Aires, Argentina.
Edward F. Gobbel, manager of Altus Flutes, describes Schroeder as a performer who "possesses a depth of expression that never fails to involve you in the musical moment."
"I like to feel that everyone is participating in this journey with me," Schroeder says. "My hope is that people have fun with the music. Raw emotion is required to have fun with the music. I love it when I see that while I'm playing."
Education's importance
Prior to enrolling at the University of Iowa, Schroeder was an applied flute instructor at Vanguard University in Costa Mesa, Calif., Cerritos College in Norwalk, Calif., and Golden West College in Huntington Beach, Calif.
In 2011, Schroeder, a native of Saginaw, Mich., received an Iowa Performance Fellowship from the Graduate College to attend the UI to pursue a doctoral degree.
"I've always wanted to get my doctorate. My grandmother instilled in me that no one can take your education away from you," says Schroeder, who is expected to complete her doctorate in December, 2014.
Schroeder's dissertation is titled "The Flute and Guitar Duo (1986 to 2014): The Role of the Guitar and its Evolution from Accompaniment to Equal Partner." Professors Nicole Esposito and Kristin Thelander are co-advisors on her dissertation.
Schroeder is surveying over 100 professional flute and guitar duos, documenting and analyzing performance techniques to expand our understanding of how the two instruments work in ensemble.
"I want to show that the flute and guitar have become equal partners within the last 20 years," says Schroeder. "They're both playing melodies and playing as equals, not as accompanist and soloist."
Schroeder and Merlin perform as equal members of Noteworthy Duo. However, maintaining an even balance between instruments can be challenging.
"The hard part about a flutist playing with a guitarist is not overpowering the guitar," says Schroeder, who plays the C flute, alto flute, and bass flute—all made by Altus Flutes. "Classical guitar is a softer instrument. As the player is more accomplished with classical guitar, they can project more sound, but it's still a softer instrument."
Opportunities of a lifetime
Last September, Schroeder was selected to perform at the prestigious World Flutes Festival in Mendoza, Argentina. She received funding from the Friends of Flutes Foundation, Inc., University of Iowa School of Music, UI Graduate College, and UI Graduate Student Senate to attend the festival.
For Schroeder, performing at the World Flutes Festival was an opportunity of a lifetime. However, it wasn't her first chance to work at such a high level. In 2007, Schroeder was one of only four flutists chosen to play for Galway during his master class in Napa Valley, Calif.
Galway remains an inspiration for Schroeder, the flute performer and educator.
"My ultimate goal is to touch even just one life the way Sir James and many of my teachers along the way have touched mine," Schroeder says.