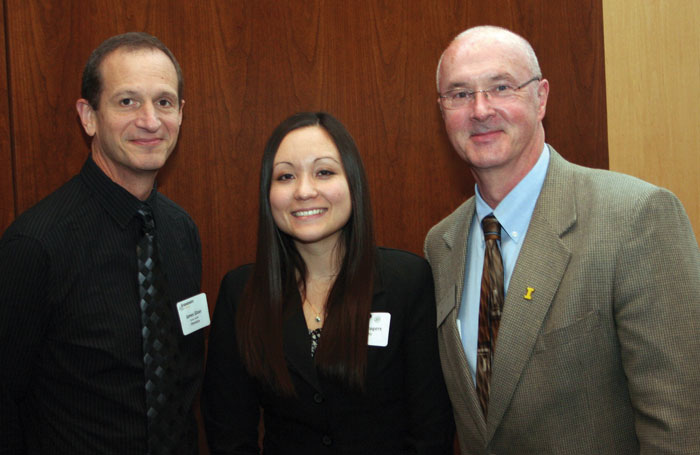 Kristina Rogers-Szuma, Ph.D., is an associate scientist working in research and development in Kemin's division of human nutrition and health.
At Kemin, Rogers-Szuma works in a team environment on projects focused on producing naturally-sourced dietary ingredients.
Rogers-Szuma was the lead research and development scientist on the team that formulated a supplement for ocular health.
The product, ZeaONE Zeaxanthin, includes lutein and zeaxanthin, both of which are found in the macula and block damaging light from the sun, indoor lighting, and computer screens.
As the result of good mentoring and excellent course offerings in the UI's graduate program in chemistry, Rogers-Szuma felt well-prepared for her career move into industry.
She offers the following advice to current and prospective graduate students interested in broadening their career options:
Q: How did you prepare? Were there certain courses you took that proved helpful?
A: I focused on learning basic research skills. For my degree program, I focused on learning as much as I could about plants and natural products research. If you focus on acquiring solid, basic research skills, you'll be able to use those in many types of jobs.
Q: What did you learn outside the classroom?
A: At Kemin, I draw on communication skills I learned while I was at Iowa. Experience in the UI's Graduate Student Senate (GSS) helped me gain many skills that are important in my current job—skills I would not necessarily have learned in the classroom in my program of study.
The team environment at Kemin includes working with people in quality control, sales, marketing, regulatory affairs—there are many moving parts and a variety of disciplines. Collaborative skills are key. Make and maintain professional relationships with people who have different knowledge sets. GSS helped with this, since we worked with students from across all graduate programs on campus. The global aspect of industry means it's important to learn more about other cultures. Throughout my graduate program, I got to know students from other cultures, and that's been helpful.
Q: How important is it to find a good mentor?
A: It is very important. Dr. Jim Gloer provided expert mentoring by setting an example of how to behave professionally. I would sit in meetings observing Dr. Gloer interact with others in delicate communications situations. Watching him, I learned skills that have proved invaluable. Dr. Gloer also served as a mentor by caring about the team, and he provided guidance to the group members to help them achieve their goals.
Q: How do you start looking for a job in industry?
A: Network. I sent hundreds of resumes, but found the job through networking. Keep in touch with alums and people from your cohort. Directly contact recruiting agencies. Google the metro area in which you want to work and find out about the agencies recruiting for companies there. You can also use resources like Career Builder, but recruiting agencies are good because they look for a good fit between the person and the company. On your resume, be sure to include details on your specific skills because data searches look for specific skill matches.
Q: What if you don't know whether a job in industry is the right fit?
A: Once you get in, you can find opportunities to tailor the job. Don't be afraid to forge your own career path by transferring within the company. Industry can be a fluid and dynamic environment where you're encouraged to move around to gain more experience.