Friday, September 20, 2013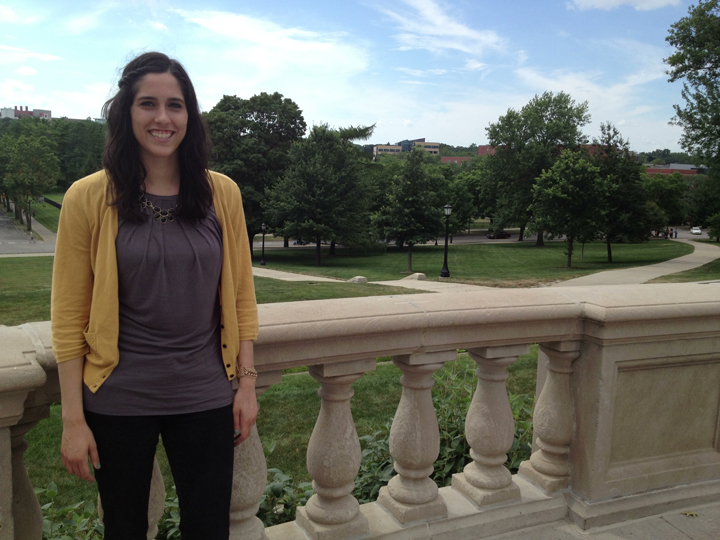 By David Schwartz
One key challenge with Alzheimer's disease treatment is how late in the illness that symptoms present. By the time significant symptoms show, the disease is so far along that there is little caregivers and health care providers can do.
Amanda Ward is looking at Alzheimer's from a different perspective: sense of smell. If the clinical psychology Ph.D. student's research is successful, it could mean earlier detection of the disease. Earlier detection could ease suffering and, one day, lead to even bigger Alzheimer's breakthroughs.
Ward, a Dean's Graduate Research Fellow, studies olfaction—sense of smell—because many Alzheimer's patients exhibit smell deficits early in the disease. The brain region involved with smell is closely connected to other regions of the brain that are crucial for higher functions, such as decision-making and memory. She conducts various tests with both Alzheimer's sufferers and non-sufferers to see whether smell deficits are present and whether there might be relationships between smell, decision-making, and memory.
Daniel Tranel, Ward's mentor and UI professor of neurology and psychology, says the long-term implications of Ward's research are potentially far-reaching.
"Many diseases are best treated and are even curable if caught very early. Cancer is a classic example. Many cancers, if you catch them early, are 100 percent curable," says Tranel, also director of the Interdisciplinary Graduate Program in Neuroscience. "Many diseases in neurology—and Alzheimer's disease is a great example—you don't see patients until they have a lot of symptoms. We can't do much at that point. A big focus of our field has been to try to move the detection point up a lot sooner, like medicine has done for many cancers. If we can move the diagnosis up when patients might not even be symptomatic, there might be something we can do to actually prevent further decline and maybe even cure people.
"We're not treating people effectively, not curing anything. We're just managing things. Early detection is important."
Dedicated to the research
Ward's unique approach to Alzheimer's is not the only way she is setting herself apart. Ward is known for leaving the lab and engaging directly with Alzheimer's patients and their loved ones. She says attaching real faces to the disease motivates her to continue her research, such as when she attends community walks to benefit Alzheimer's awareness.
"We see the suffering. We see what they go through," Ward says. "Anything we can do to even get a small step closer to figuring out this disease, we are more than willing to do so. It just really pushes us to do more.
"We talk to the caregivers. We know the hours they put in, what they go through and the heartbreak they experience in everyday life. The fact that we talk to them and tell them, 'We're trying to do something,' gives them a little bit of hope."
Pathway to the University of Iowa
Ward, who earned her undergraduate degree at Truman State University in Kirksville, Mo., knew she wanted to spend graduate school studying the brain. She attended a graduate student fair in Columbus, Ohio, where she met John Keller, Associate Provost for Graduate Education and Dean of the Graduate College.
Ward liked what she learned about UI's Graduate College. Combined with an influential paper on memory and emotion written by former UI graduate student Justin Feinstein, Ward knew that Iowa was the right place to continue her education.
"I have a lot of freedom to pursue what I want to pursue," Ward says. "I think that makes researchers even more passionate and more motivated to get great work done. I'm really glad that I picked a place that lets me work on something that I really care about, and I think that's what Iowa has done for me."
Getting to work with Tranel has enhanced the experience. Their approaches mesh because both understand the value of conducting research with real-life consequences.
"That's the definition of Dan Tranel's lab—the connection between science and applying it to the real world," Ward says. "That's what really matters. Our research studies are impacting people who care about this disease."
Tranel is glad to have Ward in the UI family.
"I think she has developed a sensitivity for the importance of the issue, the importance of the problem we're studying," he says. "Her (attendance at Alzheimer's awareness events) is a great reflection that she's taken it upon herself to get out there and do something for the cause. It's a great sign that she's really embraced the importance of the area she's working in."