For Brett Coppenger, the classroom is not a place of anxiety or trepidation.
Teaching college students just a few years younger than himself is a source of excitement and accomplishment for this new faculty member at the University of Minnesota Duluth.
Coppenger, who earned his Ph.D. in philosophy at the University of Iowa in 2012, holds this view after gaining valuable experience as a teaching assistant at the UI.
"The Philosophy Department at the University of Iowa takes very seriously its role in preparing teaching assistants for future success," says Coppenger, assistant professor of philosophy. "Because I was relatively new to teaching, I found the guidance of the faculty members extremely helpful. I was able to get hands-on experience teaching while still having someone there to offer advice when things weren't going well. 
"My experiences in the classroom as a TA established a sense of confidence and comfort that is essential to being a successful teacher. As a result, the transition to teaching full-time at the University of Minnesota Duluth has been very smooth."
Teaching award
UI students and faculty noted Coppenger's efforts to hone his teaching skills. In 2011, the UI Council on Teaching presented Coppenger with an Outstanding Teaching Assistant Award for demonstrating outstanding ability as a teacher.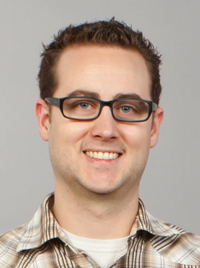 Coppenger is honored to have received this recognition. "Receiving the Outstanding Teaching Assistant Award was very fulfilling," Coppenger says. "The money that came with the award was nice, but knowing that I was having a positive influence on my students and knowing that I was succeeding at the job I was being paid to do was what really mattered."
In the classroom, Coppenger works to ensure that his students are interested in and engaged by the course material. He teaches an array of courses, including Theories of Knowledge, Medical Ethics, Philosophy and World Religions, and Introduction to Philosophy.
"It has been my experience that excited students are interested students; and interested students are overwhelmingly successful students," Coppenger says. "The best way I know for generating this kind of excitement in my courses is to make obvious the enthusiasm I have for teaching the material."
Richard Fumerton, UI professor of philosophy, mentored Coppenger on his dissertation and supervised him when he taught discussion sections of Philosophy and the Just Society. Fumerton attended several classes and noticed Coppenger's strong classroom presence. 
"Brett comes to class clearly prepared and conveys the contagious enthusiasm he has for the material he is teaching," Fumerton says. "But he also is completely relaxed. He brings humor to the class, and has a real knack for making the students feel comfortable engaging in the give-and-take of discussion that is so essential to successful teaching of philosophy."
Funding for dissertation 
The Graduate College awarded Coppenger a Ballard and Seashore Dissertation Year Fellowship in 2011-12. This final-year fellowship is intended to help students in the social sciences and humanities complete their dissertations.
"The support I received from the Graduate College was essential to the timely completion of my degree," Coppenger says. 
"The Ballard Seashore Fellowship allowed me to focus my time and energy on completing my dissertation during my last year at the University of Iowa. In particular, I was able to use money from the fellowship to cover childcare expenses. Working on a dissertation tends to be much easier when you are not also trying to keep a two-year-old entertained."
Researching beliefs
Coppenger's research looks at productive ways to examine one's beliefs. Such processes can be opportunities to scrutinize inherited beliefs, make sense of long-held beliefs, or question beliefs that can no longer be justified.
While we might examine a belief in order to decide whether it's either true or false, Coppenger encourages us to seek and consider both the justifiable and unjustifiable aspects of that belief.
Given situations in which our beliefs drive our actions and choices, a careful, balanced analysis of those beliefs can help us make better decisions. "As a result, one might hope for an analysis of justified belief that can be both intellectually satisfying (one that holds up to philosophical scrutiny) and capable of making sense of many of our commonsensical beliefs (one that avoids skepticism)," Coppenger says.
"The account of justification developed in my dissertation is able to deliver both of these goals. If I am right, then we can make sense of how many of our commonsensical beliefs are in fact justified while also taking skeptical arguments seriously." 
In his current research, Coppenger continues to focus on the practical implications of justifying belief in our daily lives. He uses a variety to tools to examine these issues, including epistemology (the study of knowledge), modern philosophy, and the philosophy of religion.