Wednesday, October 10, 2012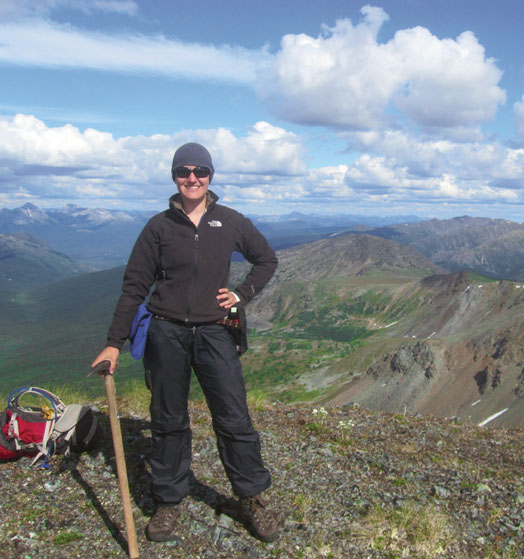 Despite getting good grades in high school, Meredith Petrie was terrified of science.
However, Petrie didn't sell herself short as an undergraduate, deciding to pursue an academic career in a STEM field. She took a chance and tackled the math that provided a foundation for her doctoral program.
"As an undergrad, I went for the 'scary' math and I didn't bomb it," says Petrie, a Ph.D. candidate in the University of Iowa's Department of Geosciences. "I worked really hard, and once you get past the math, you get into the fun grit that is geology. The best part about geology is it is hands on. You get to touch, taste, smell, and see what you're working with."
Looking at the Earth's crust to learn its secrets
Petrie studies tectonic plate activity in the St. Cyr area, a high-pressure terrain within the Canadian Cordillera mountain belt in the Yukon Territory, Canada. She studies metamorphic rocks, which make up a large part of the Earth's crust.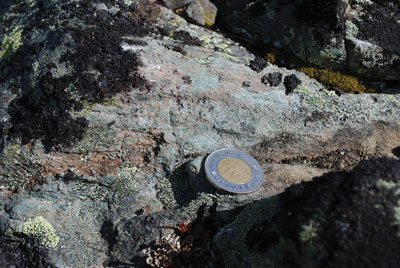 "These rocks are one of the tools we use to understand the processes that happen deep in the earth," Petrie says. "We use what's on the surface to extrapolate what's going on deep in the earth. It's important to understand the basic processes of the earth in order to utilize the earth the best way that we can."
Such knowledge helps researchers maximize land and resource use. For example, tectonic research like Petrie's can help predict the locations of mineral deposits without disruptive or unnecessary excavation.
"If we can't understand the basic principles of what's going on in tectonics and in the evolution of the crust, how are we going to understand the best way to extrapolate oil out of shale," Petrie says, "or the best way to delineate where that oil is?"
Support from the Graduate College
Petrie is grateful to be funded by the Graduate College, through a Dean's Graduate Research Fellowship and as an AGEP Scholar.
The AGEP Program seeks to increase the number of Ph.D. degrees awarded to underrepresented U.S. students in science, technology, engineering, and math, which are known as the STEM fields.
"The funding from the Dean's Fellowship helps with my living expenses, and the extra money I get as an AGEP Scholar helps fund textbooks and any field equipment I might need," says Petrie, who is part Puerto Rican.
Petrie and other underrepresented graduate students turn to the Graduate College's Office of Graduate Inclusion (OGI) for support. OGI strives to build an inclusive and welcoming community for all underrepresented students.
"OGI and the Graduate College, in serving underrepresented students, create a bridge between their academic earning experiences and the workforce," says Tarrell Portman, Graduate College assistant dean and director of the Office of Graduate Inclusion. "We help supplement graduate students' funding through our fellowships. These fellowships, in partnership with support from their departments, help the students succeed in a timely matter with less stress and worry about the financial  side of things.
"We also provide employers with talented minority candidates who are trained very well in a rigorous environment," notes Portman.
In addition to the academic and career development support it provides, OGI offers personal and social support for students who may be experiencing the normal joys, stresses, or worries in the midst of their academic progress.
"It's been extremely huge, in the community sense, to have Dr. Tarrell Portman as a mentor," Petrie says. "I see what she's done to come from her background and get a Ph.D.  She's so supportive of everything that we do. It's really nice to have that extra support."
Inspiring others
Petrie does her best to pay the support forward, exposing students to the exciting world of geoscience. She serves as the American Association of Petroleum Geologists (AAPG) Student Chapter President at the UI.
"We want the AAPG group to include any undergraduate or graduate student who is interested in a geoscience career," Petrie says. "We invite speakers from economic geology to the oil business to environmental consulting. This club gives you an idea of what to do after you graduate."
In 2011, Petrie received the Minority Award from the Geological Society of America for promoting and supporting minority students in the geosciences.
"Everybody from every background brings different perspectives and views," Petrie says. "Those are people who challenge the old way of doing things. That's why it's really important to include minority students."