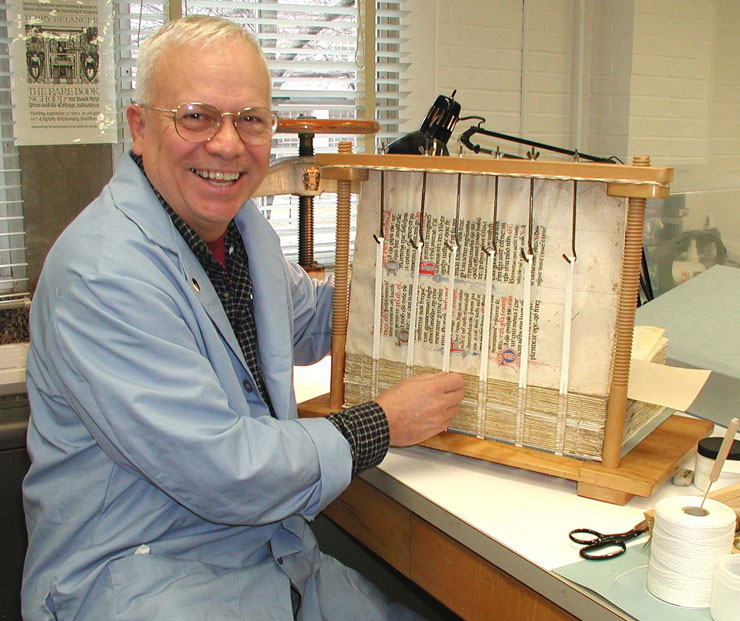 Gary Frost has always been an eager early adopter of new technology. Growing up in Chicago in the 1940s and '50s, Frost recalls being enthralled by his family's television, despite the one channel, which was broadcasted for only three hours a day.
Frost, an adjunct assistant professor in the Center for the Book and a conservator in the University of Iowa Libraries, remains eager to embrace new technologies, such as ebooks. He views such innovations as equal and effective collaborative partners with printed books.
With a master's degree in art from the School of Art Institute of Chicago, Frost has spent many years dedicated to the conservation of books. While in school, a class project in book binding led him to a library building he hadn't visited before.  His career began after a coincidental inquiry for a job opening; Frost became a bookoiler, refurbishing books.
Since then, Frost has continued working in conservation, but in ways he never anticipated. For the past 12 years, Frost has also been researching the emerging force of ebook technology. He maintains a website, Future of the Book, which monitors the technological development of the book.
"Books will not disappear, but I do believe their status will change drastically," Frost said. "They won't be these iconic exclusive transmitters of information but they'll be this emergent fit, complimentary between print and screen books. The full effect of this relationship between print and screen is still emerging, and I believe we have to remain aware as it continues to unfold."
The role of books, both screen and print, is to serve as a type of cultural transmission system, and Frost is confident that will not go away. Over time, reading behaviors, library preservation, and other aspects of book use will determine how this symbiotic relationship will unfold.  Many literature enthusiasts tend to disagree, he said, often taking a side – refusing to let go of print or quickly latching onto ebooks.  In academia, Frost said, faculty members remain conflicted, with cautious enthusiasm for ebooks alongside print books.
"In this country and in some of the library/university cultures, there is this fear of appearing regressive in terms of new technology for research and learning," Frost said. "The last thing you want to be identified with is resistance to welcoming new ways of incorporating the whole panoply of media into teaching methods."
Frost arrived at the UI in 1999 after faculty stints at Colombia University in New York and the University of Texas at Austin.
In 2008, Frost directed extensive field work to conserve historical libraries in Arequipa, Peru. Frost is the recipient of the Lifetime Achievement Award for 2010 by the Guild of Book Workers and the Banks and Harris Award from the American Library Association. He has also been named a fellow of the American Institute for Conservation.
With the continuous presence of technology in literature, Frost admits that the role of today's conservationists will need to shift in order to keep step with the changing needs of society.
"Should book conservation remain? Yes of course, but whether or not it will in its current form is still an open-ended question," Frost said. "Book conservation may bend more toward skills like ceramics and weaving, which used to be areas of craft but are now more art than craft."