David Bennett, a geography professor and director of the geoinformatics subtrack, examines the environmental impacts of humans on landscapes.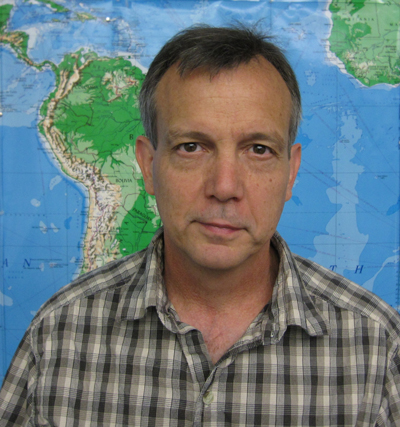 Bennett uses a computer program derived from geographic information science (GIScience) to observe how certain decisions affect the ecosystem and particular aspects of our environment, such as water quality.
"Everything is connected to something else in a geographic context and we have to understand those environmental relationships," Bennett said. "It tells us a lot about how cities operate and how natural resources are used, and the impact of humans on the world."
Bennett's interest in GIScience began during his tenure as an urban planner in Cedar Rapids. His experiences as a planner helped him see value in further study in geography.  When he decided to go back to school, GIScience was an emerging technology that quickly grabbed his attention.  He soon realized he thoroughly enjoyed research and decided to remain in academia.
Bennett's current research includes the Clear Creek Watershed project, a study of the impact of biofuel production, which relies on maximizing land use to gain the most agricultural product per acre. Bennett studies the impact of such farming practices on both water quality and soil sustainability. His aim is to discover information that could help balance the need to increase soil productivity with the need to preserve water quality. This work is part of an interdisciplinary research project funded by the National Science Foundation Cyber-enabled Discovery and Innovation program. The research team includes Drs. Jerry Schnoor (PI), Marian Muste, and Andrew Kusiak from UI and Dr. Silvia Secchi from the Southern Illinois University Carbondale.
In this research, he uses an agent-based modeling program that simulates human behaviors in particular scenarios, such as those that might occur in cities or on farms.  Using the information obtained through the program, Bennett and others weigh the pros and cons of different decision pathways and their impact on the simulated scenarios in the study. The program allows researchers to gather geographic statistics and patterns that develop in cities (e.g., crime, transportation, congestion, socio-economic status) or rural areas (e.g., agricultural production, soil loss, water quality). 
Bennett's team also uses agent-based modeling to study changes in landscape and wildlife in Montana and around the Yellowstone region. Gathering data in this manner allows the researchers to examine whether changes may be the result of human actions.
Factors such as hunting laws and private land ownership impact the migration and land availability for animals there, including elk and wolves.  
Bennett said GIScience today is largely a location-based technology, seen in everyday objects such as smartphones or Google Earth, something that has developed a common place in society. "You don't have to be a computer geek anymore to figure out how to use it, it's just there," Bennett said.
Though today's technology is vastly improved from the days of hand-drawn data and pieced-together mapping, researchers are still working to improve their ability to represent spatial systems that are complex, dynamic and highly influenced by human decision-making. Bennett said his fellow researchers continue to seek ways to push GIScience forward by merging that technology with tools such as agent-based modeling. After 20 years in research, Bennett remains at the UI because of its reputation and history of allowing and encouraging such frontend development of GIScience and other tools necessary for advancing geography research.